A new wave of activists is calling for global action and cooperation to phase out fossil fuels.
These calls are amplifying the push for a Fossil Fuel Non-Proliferation Treaty ahead of the long-awaited COP26 set for Glasgow, Scotland in November this year.
The Treaty aims to be a complementary mechanism to the Paris Agreement by directly addressing the fossil fuel industry and putting the just transition at its core.
This November, 195 countries are set to gather in Glasgow, Scotland for the long-awaited COP26, the 26th annual summit of the United Nations Climate Change Conference. Together, they will work to deliver on their Paris Agreement commitments by reviewing and ratcheting up their climate plans for the upcoming decade, a critical move as extreme weather and climate action failure top the World Economic Forum's 2021 global risk list.
But the Paris Agreement, important as it is, does not reference fossil fuels as the main contributors to climate change.
This omission has been receiving growing attention. It has been highlighted by the annual Production Gap Report, which is put together by leading research institutions and experts, in collaboration with the UN Environment Programme (UNEP). Civil society groups, and many of the particularly climate-vulnerable Pacific Island countries, have also called attention to the omission.
Recently, a new wave of activists (from young people to Indigenous Peoples, peace groups and labour unions) have joined cities, parliamentarians, scientists and over 101 Nobel Laureates in calling for global action and cooperation on the question of fossil fuel production.
They recognise that the Paris Agreement requires a complementary mechanism to drive a global and equitable transition away from coal, oil, and gas production, and are calling for a Fossil Fuel Non-Proliferation Treaty.
What's the World Economic Forum doing about the transition to clean energy?
Moving to clean energy is key to combating climate change, yet in the past five years, the energy transition has stagnated.
Energy consumption and production contribute to two-thirds of global emissions, and 81% of the global energy system is still based on fossil fuels, the same percentage as 30 years ago. Plus, improvements in the energy intensity of the global economy (the amount of energy used per unit of economic activity) are slowing. In 2018 energy intensity improved by 1.2%, the slowest rate since 2010.
Effective policies, private-sector action and public-private cooperation are needed to create a more inclusive, sustainable, affordable and secure global energy system.
Benchmarking progress is essential to a successful transition. The World Economic Forum's Energy Transition Index, which ranks 115 economies on how well they balance energy security and access with environmental sustainability and affordability, shows that the biggest challenge facing energy transition is the lack of readiness among the world's largest emitters, including US, China, India and Russia. The 10 countries that score the highest in terms of readiness account for only 2.6% of global annual emissions.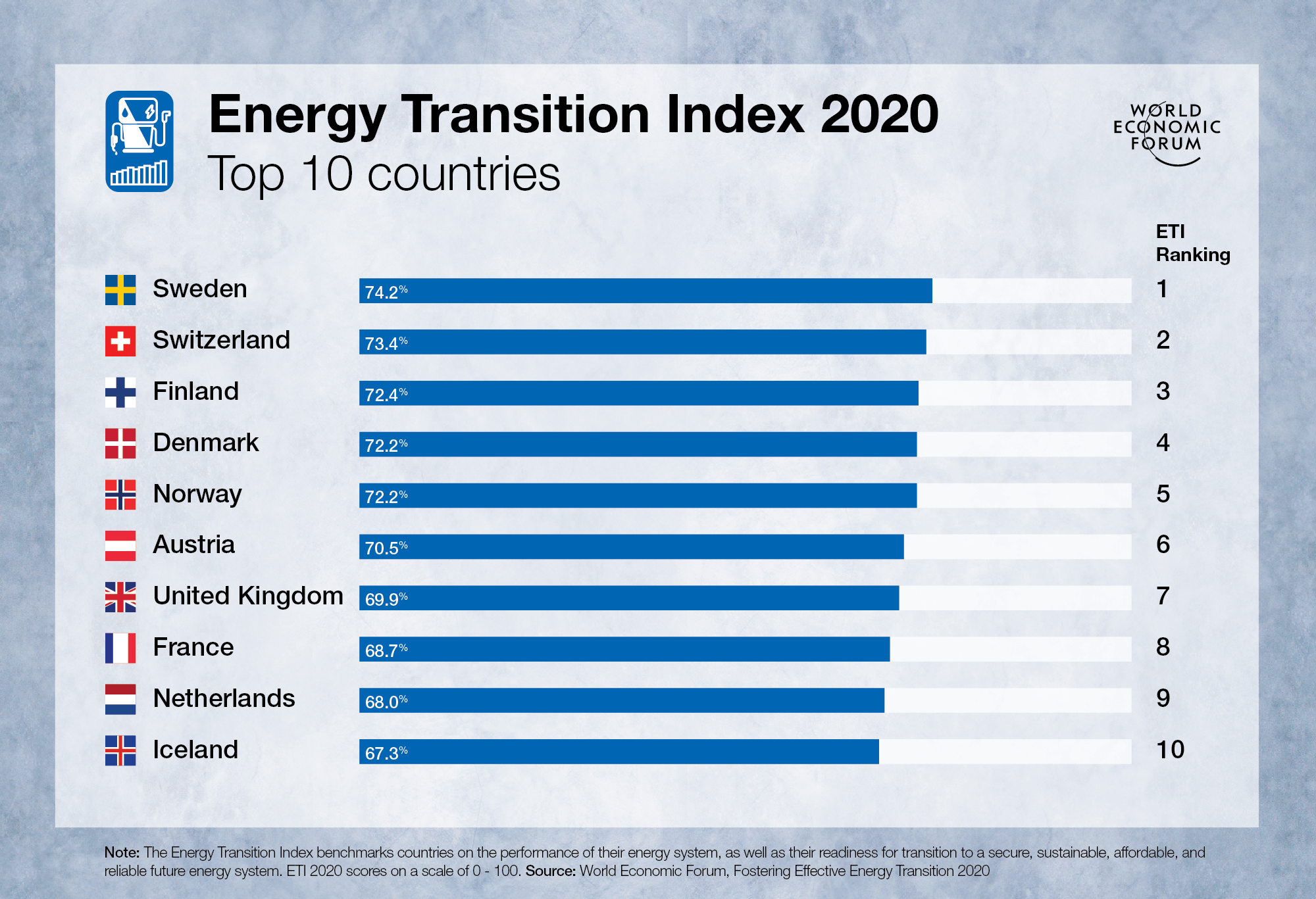 Additionally, the Mission Possible Platform (MPP) is working to assemble public and private partners to further the industry transition to set heavy industry and mobility sectors on the pathway towards net-zero emissions. MPP is an initiative created by the World Economic Forum and the Energy Transitions Commission.
Is your organisation interested in working with the World Economic Forum? Find out more here.
Slow transition
Instead of approving new coal mines and funding new gas and oil projects, governments should divert their resources to accelerate a green recovery post-COVID
This reinforces why we urgently need international action like the Fossil Fuel Non-Proliferation Treaty. There are two main reasons why the world needs to act fast. Firstly, the fossil fuel system underpins so much of our existing economies. If we leave this to the market alone, energy industry leaders might not act fast enough. This will slow the transition to green energy and cause countries to miss their targets.
Secondly, the transition will be disruptive for many economies, particularly for the 400 million people who live in countries that are highly dependent on oil sales for government revenue.
Fossil Fuel Non-Proliferation Treaty provides a model for international cooperation
The 1.5°C pathway is becoming increasingly narrow. The latest Intergovernmental Panel on Climate Change (IPCC) report notes that the globe has already warmed by 1.2°C degrees. The Secretary-General of the United Nations António Guterres has said that the IPCC report must "sound a death knell for coal and fossil fuels before they destroy our planet".
There is precedent for international cooperation in a time of crisis, and the current scale of climate disaster calls for a global solution that addresses the fossil fuel industry directly.
Fifty years ago, nations came together to face another existential global threat: nuclear weapons. They agreed to stop the new production of arms, reduce existing stockpiles, and promote peaceful technologies via the Nuclear Non-Proliferation Treaty. The original Fossil Fuel treaty came into effect in 1970 and is still in place today, after being ratified by 191 nations. However, it was recently been augmented by a new treaty, inspired by the Nobel Prize-winning International Campaign Against Nuclear Weapons.
Applying this model to address the rapid proliferation of fossil fuels can serve as a complement to the Paris Agreement, a sort of dual model whereby both emissions and production can be tackled as part of a cohesive whole. Thus, the Fossil Fuel Non-Proliferation Treaty proposal rests on three pillars:
Ending fossil fuel expansion
The first pillar (non-proliferation) has seen great momentum in the past couple of months. The International Energy Agency (IEA) has found that new fossil fuel expansion conflicts with Paris goals and G7 members have agreed to stop financing new coal projects. In addition, many jurisdictions are banning new fossil fuel permits. But there is still a long way to go because some countries are still approving new drilling.
Phasing out existing production
It is also widely agreed in the scientific community that we need to defuse the fossil-fuel threat by winding down existing stockpiles and limiting the production of fossil fuels in line with the best available climate science - nations will need to negotiate and agree on the principles underpinning this process to make sure it's fair and fast.
Managing a just global transition
This must be done through a process of international cooperation, which places equity at the core. Wealthy producing countries need to lead the way by sharing the benefits and burdens of transition with poorer nations, workers, and fossil-fuel dependent communities, many of whom will be particularly vulnerable to the impacts of climate change should we overshoot our 1.5°C temperature goal.
For the world to limit the global temperature rise to 1.5 °C, climate action must be equitable. It must be based on countries' fair share of expected climate action, their historical contribution to climate change, and their capacity to act. This means richer countries must reduce the production of fossil fuels at a faster rate than poorer countries, which require greater support to transition. It is also imperative to redirect finance and subsidies from fossil fuels to renewable energy.
A growing international movement
COP26 can be an opportunity for world leaders to go over and above commitments to limit greenhouse gas emissions and include commitments to cut down fossil fuel production. This will pave a pathway for an international framework to scale up action so that the world can move past coal, oil, and gas - fairly, fast, and forever.