The Seychelles has the highest GDP per capita of any African economy, according to the IMF.
The island nation off the coast of East Africa returned a figure of US$15,400 in the IMF's latest World Economic Outlook. The World Bank highlights the role of tourism in the country's economic growth. This has driven foreign investment, particularly in hospitality.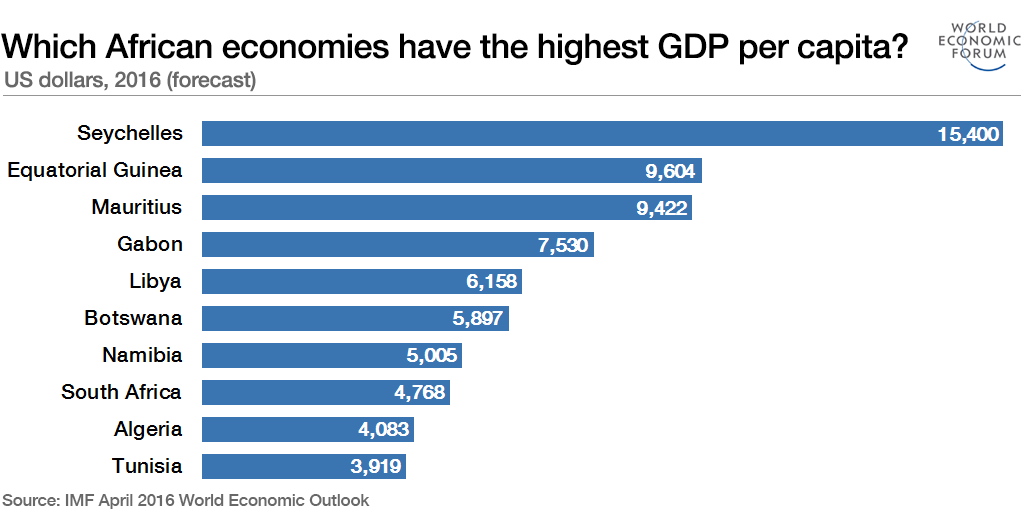 GDP per capita takes a country's gross domestic product and divides it by its midyear population. This IMF measure assesses it in terms of current US dollars.
The measure allows us to see a country's economic performance relative to the size of its population.
Ensuring that economic growth benefits the whole population is a concern the world over. As the World Economic Forum's Inclusive Growth and Development Report 2015 highlights, "there is no bigger policy challenge preoccupying leaders around the world than expanding social participation in the process and benefits of economic growth and integration".
Failure to evenly distribute the wealth generated by economic progress can lead to significant problems. Research suggests that income inequality has the potential to cause economic and social unrest, and indeed hinder the economy in the future.
The World Economic Forum on Africa will bring together regional and global leaders to discuss the challenges and opportunities faced by the continent. Central to this will be agreeing on actions to deliver shared prosperity.