The open-plan format that dominated traditional office design for the past century is being consigned to the dustbin of architectural history.
Gone with it are many clerical, secretarial and accounting-type jobs. Today's offices need to cater to 21st century roles: web designer; content maker; app producer; data scientist, to name but a few.
Unlike generations of white-collar workers before them, modern employees want – and often demand – flexible spaces that are conducive to thinking and that help them perform the tasks required of them. These might include soundproof booths, soft-seating areas or standing desks.
Additionally, many companies are complaining of difficulty hiring and retaining millennials; and a barn-like office with little daylight and row upon row of desks is unlikely to help. In a Forbes blog, Erika Andersen, author of Growing Great Employees: Turning Ordinary People Into Extraordinary Performers, wrote that for this new generation of workers "meaning, flexibility and challenge are key to engaging their hearts and minds".
Some companies use their modern office layouts as a recruitment tool. Video tours of Microsoft's offices led by interns sell the benefits of green spaces, free drinks machines and games rooms. "We have five cafes, a Starbucks and a Costa," one intern enthused about Microsoft UK's Reading campus.
Office redesigns, backed by science
Meanwhile, research shows that features of modern offices, such as natural daylight, windows with views of trees and plants and better air quality can all help employees think, remember, concentrate and perform better. Improvements such as better lighting and less carbon dioxide boost productivity and reduce staff sickness levels, the studies suggest.
Professor Stephen Heppell, an expert who advises schools, companies and other organizations on how to create flexible work and learning spaces, said many of the innovations of the past 20 years originated in education systems. "It's interesting that when you walk into the Googles and Facebooks, everything looks like what you'd see in high-achieving schools."
Ambient factors such as the amount of carbon dioxide in the air, the light levels, how warm offices are and their sound levels need to be better understood by companies, Heppell says.
He is running a project, Learnometer, which looks at how environmental factors may harm a child's school performance, but has used it with other organizations, including the UK's Hockey Squad.
Crucial to improving that space was the development of different "zones" for different purposes, better reflective paint on the walls to improve light levels, and improved air quality.
Innovative companies have embraced the theory that playful features within an office can boost creativity.
"The inventors of graphene [a material discovered in the UK that is 1mm thick and could transform sectors such as such as electronics, energy, health and construction] came across it in their play time," Heppell says.
Google pioneered the trend for slides and ping-pong tables. And one of its London offices features beach huts and dodgem cars as well as slides.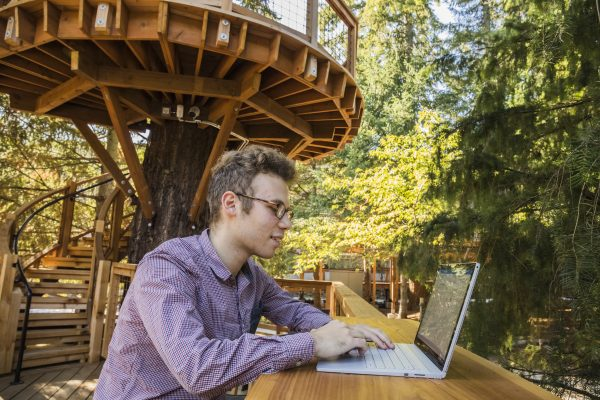 An overlooked facet of office transformation may be how you describe it. Instead of "open plan", which Heppell says conjures up images of poor 1960s design, bad acoustics and uninspiring paintwork, he prefers "agile".
This word, too, he said, underlines what executives want to achieve as it is all conducive to improving workers' "smart thinking".
"After all," he said, "we have computers to do the 'dumb' thinking for us. What else is left?"
The rise and fall of open-plan traditional office designs
1854: the idea was mooted in a UK civil service report: "For the intellectual work, separate rooms are necessary so that a person who works with his head may not be interrupted; but for the more mechanical work, the working in concert of a number of clerks in the same room under proper superintendence, is the proper mode of meeting it…"
1887: a civil service commission "strongly recommend . . . concentrating a number of clerks in large rooms. Supervision would thus be much better effected and by fewer hands."
Late 1800s-early 1900s: US engineer Frederick Taylor, a leader of the Efficiency Movement that sought to eliminate economic waste, designed early open-plan offices.
1950s: Bürolandschaft, a type of office-planning (literally "office-landscape") evolved in Germany. According to website Open Work Space Design, the concept "used organic groupings of desks in patterns designed to encourage conversation and create a happier workforce".
1970s-1980s: companies moved to "cube"-style arrangements, which provided more privacy but which businesses used to cram as many workers into confined spaces as possible. This antagonized staff and didn't foster cooperation as intended.
2000-today: offices moved to multipurpose spaces, comfy seating areas, and games rooms. Though associated with Silicon Valley's tech scene, the idea can be found in corporate settings globally.