How does research and innovation in Europe compare to the rest of the world? The Science, Research and Innovation Performance of the EU 2018 (SRIP) Report suggests that while the continent is a leader in science, it is falling behind other regions in how it develops and invests in innovation. These seven charts help us to understand the state of play with science and innovation in Europe:
1. The effect of low productivity growth
Low productivity growth is preventing more robust growth in Europe. Despite the rise of several new technologies with the potential to bring large gains in productivity, such as the Internet of Things or artificial intelligence (AI), productivity growth has been sluggish owing to the slow diffusion of innovations.
Europe is a research powerhouse and a global leader in high quality science
3. A follower in entrepreneurship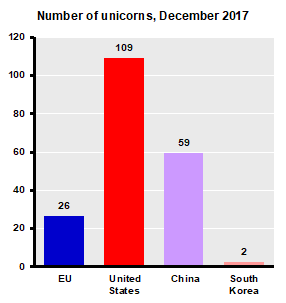 Europe fails to transform leadership in science into leadership in innovation and entrepreneurship. None of the world's top 15 companies by market capitalization are European and in December 2017 Europe had just 26 unicorns (private companies with a market valuation above $1 billion). In comparison, the US had 106 and China had 59.
4. Falling behind in business R&D
Business research and development in Europe significantly lags behind third countries. It accounts for 1.3% of Europe's GDP, while in the US, Japan and South Korea it rises to 2%, 2.6% and 3.3% respectively.
5. Outstripped in venture capital
The venture capital that is crucial to ensure innovation investment is five times higher in the US than in Europe
6. The role of universities
Universities in Europe need to modernize and become more entrepreneurial to support the innovations of the future. Just 15 unicorn founders have a European university as their alma mater compared with 146 who attended a US institution.
7. Zombie firms and poor distribution of resources
Persistent rigidities in how markets function affect the effective redistribution of resources towards more innovative and productive companies. In Greece, Italy and Spain, for example, 28%, 19% and 15.5% of all is sunk into "zombie firms" - companies that are unable to cover their interest payments for three consecutive years