The "Mad Men" era may be long gone, but the advertising industry continues to portray women in outdated gender roles.
In an effort to provoke discussion about modern-day sexism, Eli Rezkallah, a Lebanon-based artist and photographer, flipped the gender roles in a series of images that recreate sexist ads from the 1950s and 1960s.
Rezkallah said inspiration for his photo series, titled "In a Parallel World", came from overhearing a conversation at a family gathering.
These are just a few examples of retro sexist ads recreated by Rezkallah:
"Last Thanksgiving, I overheard my uncles talk about how women are better off cooking, taking care of the kitchen, and fulfilling their 'womanly duties'," he wrote on his website.
"Although I know that not all men think that way, I was surprised to learn that some still do so I went on to imagine a parallel universe, where roles are inverted, and men are given a taste of their own sexist poison."
Rather than intending to shock, Rezkallah said the aim of the photos was to "question modern-day sexism, showing it through a humorous light to spark a conversation through role play".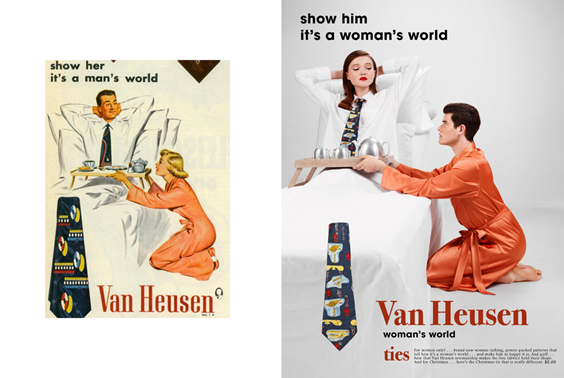 The photographs, whilst framed as satire, serve as a stark reminder of just how prevalent sexism was in the advertising world in the mid-20th century.
And although the industry has come a long way since then, sexism persists in advertising today.
Earlier this year, the UK's Committee of Advertising Practice (CAP) ran a public consultation on new rules to tackle harmful gender stereotypes in advertising, and create strict guidelines for advertisers on how the rules would be interpreted in practice.
Outlining the toxic effect of sexist advertising, Ella Smillie, CAP's gender stereotyping project lead, said: "Evidence strongly indicates that particular forms of gender stereotypes in ads can contribute to harm for adults and children by limiting how people see themselves and how others see them and the life decisions they take."
In the age of #MeToo, which has seen women empowered to speak up and call out sexual harassment, advertising may be forced to rethink its mantra of "sex sells".