In the space of 25 years, China will have gone from having virtually no solar panels to leading the world by a margin of more than 100%.
As countries around the world continue to increase their solar capacity, Wood Mackenzie predicts 2020 will be the last year of big growth in the industry.
China's huge and rapidly developing population makes it the biggest energy growth market globally - although it is likely to be overtaken by India in the not-too distant future.
China already has more solar capacity than any other country in the world, and is home to several massive solar farms, including the world's largest in the Tengger Desert. The country - the biggest clean energy investor in the world - is looking to dramatically increase the proportion of renewable energy in its power mix.
Solar is a small proportion of the country's overall energy mix, though. In 2016, coal was a clear leader in terms of installed capacity, according to IEA data. Coal held around 60% of the share, compared to around 5% for solar.
What's the World Economic Forum doing about the transition to clean energy?
Moving to clean energy is key to combating climate change, yet in the past five years, the energy transition has stagnated.
Energy consumption and production contribute to two-thirds of global emissions, and 81% of the global energy system is still based on fossil fuels, the same percentage as 30 years ago. Plus, improvements in the energy intensity of the global economy (the amount of energy used per unit of economic activity) are slowing. In 2018 energy intensity improved by 1.2%, the slowest rate since 2010.
Effective policies, private-sector action and public-private cooperation are needed to create a more inclusive, sustainable, affordable and secure global energy system.
Benchmarking progress is essential to a successful transition. The World Economic Forum's Energy Transition Index, which ranks 115 economies on how well they balance energy security and access with environmental sustainability and affordability, shows that the biggest challenge facing energy transition is the lack of readiness among the world's largest emitters, including US, China, India and Russia. The 10 countries that score the highest in terms of readiness account for only 2.6% of global annual emissions.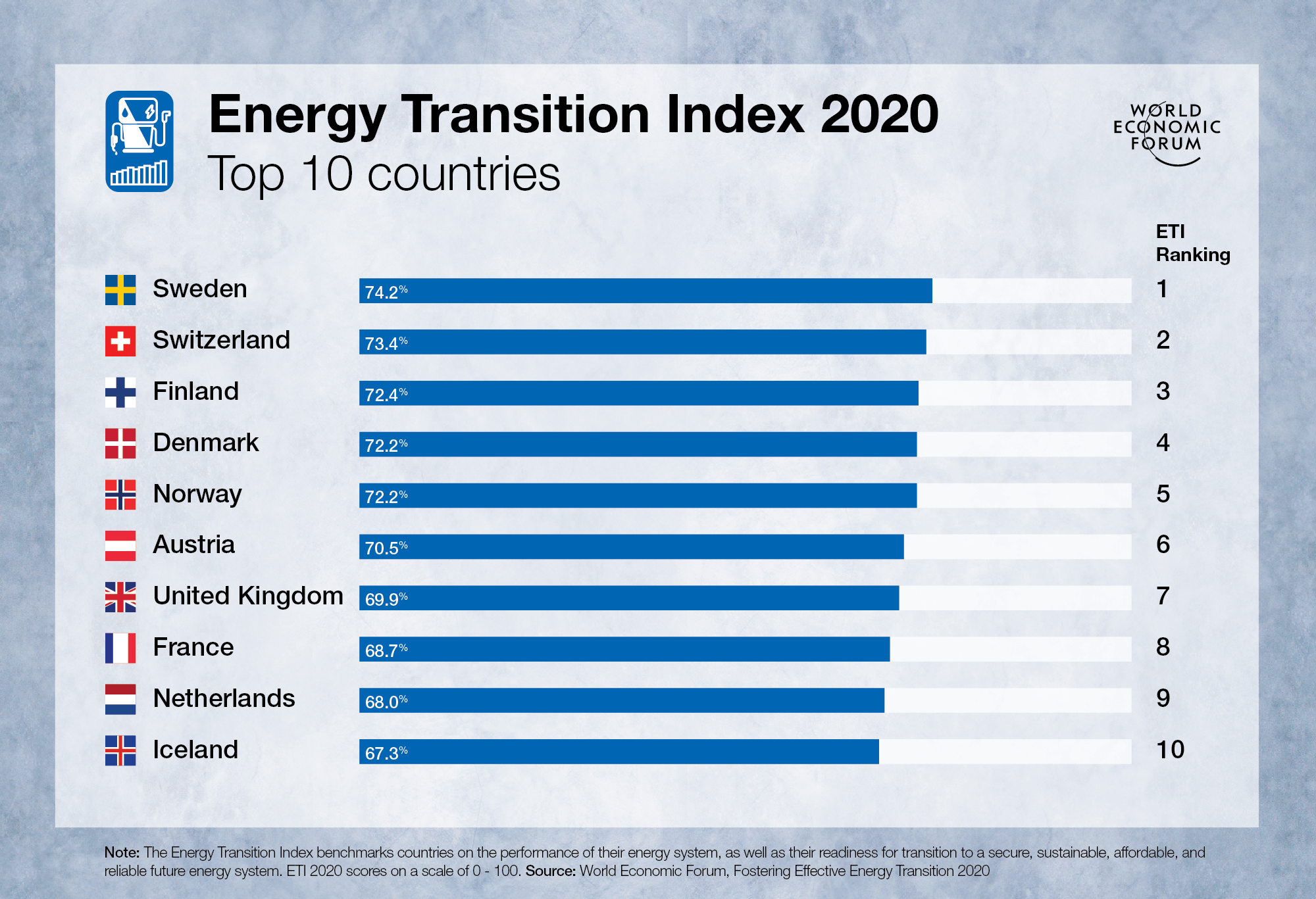 Additionally, the Mission Possible Platform (MPP) is working to assemble public and private partners to further the industry transition to set heavy industry and mobility sectors on the pathway towards net-zero emissions. MPP is an initiative created by the World Economic Forum and the Energy Transitions Commission.
Is your organisation interested in working with the World Economic Forum? Find out more here.
The picture is changing though. China's coal consumption has been steadily falling for some years, and alongside heavy renewables investment domestically and abroad, it has repeatedly pledged to cut back its use of dirty energy.
This said, China remains heavily reliant on fossil fuel imports. And the Institute for Energy Economics and Financial Analysis recently demonstrated the Asian power was funding a quarter of coal plants being built outside its own borders.
In contrast to countries such as Germany, Switzerland, Spain and South Korea, China is also continuing to invest in nuclear power.
China's growing renewable energy supply will allow it to become more energy independent, and, according to a report by the Global Commission on the Geopolitics of Energy Transformation and the International Renewable Energy Agency, will put it in a very influential position as the world's renewable energy superpower.
What is AMNC, the World Economic Forum's meeting in China?
The World Economic Forum's Annual Meeting of the New Champions focuses on leadership, innovation and entrepreneurship.

More than 2,000 participants, including leading experts in science and technology, attend the meeting in Dalian, People's Republic of China. They will take part in over 100 working sessions.
The meeting pools ideas and galvanizes progress towards a building a future where entrepreneurship serves everyone in society. The key focus areas are: Fostering Agile Industry Leadership, Achieving Technology Leadership, Sustaining Economic Leadership and Promoting Responsible Leadership.
Find out more about AMNC on TopLink and contact us to learn more about who can attend.
This will give China a competitive trading advantage and place it in a leading position when it comes to the manufacture of clean energy technology.