It's been said that a picture is worth a thousand words.
When Ed Hawkins, a professor of climate science at Reading University in the UK, wanted to find the simplest way to tell the story of global warming, he turned to an image.
His climate stripes graphic shows how average temperatures have risen over more than a century, going from dark blue to dark red. It paints a stark and unmistakable picture of how our planet is heating up.
The image has been made available as a download from Prof. Hawkins' website. And it's begun to take on a life of its own, appearing on T-shirts and other items of clothing, along with the hashtag #ShowYourStripes.
Someone even painted their Tesla electric car in the climate stripes pattern.
"What I've learnt from this is that you don't need the numbers to get the message across. The colours will do that," Prof. Hawkins told BBC News.
What's the World Economic Forum doing about the transition to clean energy?
Moving to clean energy is key to combating climate change, yet in the past five years, the energy transition has stagnated.
Energy consumption and production contribute to two-thirds of global emissions, and 81% of the global energy system is still based on fossil fuels, the same percentage as 30 years ago. Plus, improvements in the energy intensity of the global economy (the amount of energy used per unit of economic activity) are slowing. In 2018 energy intensity improved by 1.2%, the slowest rate since 2010.
Effective policies, private-sector action and public-private cooperation are needed to create a more inclusive, sustainable, affordable and secure global energy system.
Benchmarking progress is essential to a successful transition. The World Economic Forum's Energy Transition Index, which ranks 115 economies on how well they balance energy security and access with environmental sustainability and affordability, shows that the biggest challenge facing energy transition is the lack of readiness among the world's largest emitters, including US, China, India and Russia. The 10 countries that score the highest in terms of readiness account for only 2.6% of global annual emissions.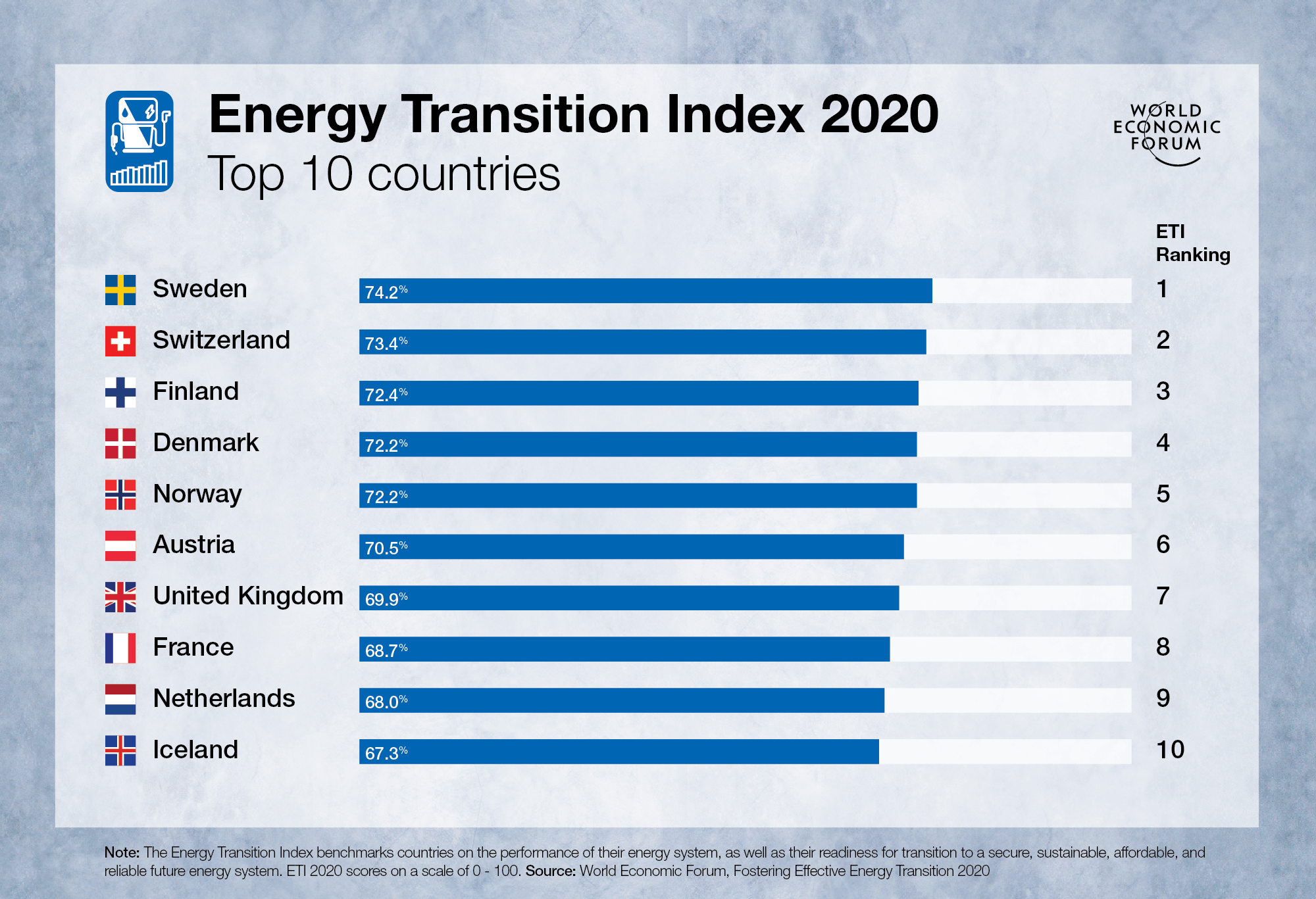 Additionally, the Mission Possible Platform (MPP) is working to assemble public and private partners to further the industry transition to set heavy industry and mobility sectors on the pathway towards net-zero emissions. MPP is an initiative created by the World Economic Forum and the Energy Transitions Commission.
Is your organisation interested in working with the World Economic Forum? Find out more here.
Join the Voice for the Planet movement
Launched by the World Economic Forum's Global Shapers Community at Davos in 2019 and in partnership with the Netflix and World Wildlife Fund "Our Planet" series, it encourages people to make commitments to change the way they eat, embrace renewable energy, restore nature in their communities, change what they buy and ask their government leaders to act.