This daily round-up brings you a selection of the latest news updates on the COVID-19 coronavirus pandemic, as well as tips and tools to help you stay informed and protected.
Top stories: confirmed cases reach 10 million, lockdowns are being reinstated, and the WHO warns that the pandemic is actually speeding up.
1. How COVID-19 is affecting the globe
2. WHO: Pandemic is not even close to being over
In a media briefing on 29 June, the World Health Organization's Director-General Tedros Adhanom Ghebreyesus reflected on the six-month anniversary of the outbreak.
"The critical question that all countries will face in the coming months is how to live with this virus. That is the new normal," he said.
"The hard reality is: this is not even close to being over. Although many countries have made some progress, globally the pandemic is actually speeding up."
He listed the five priorities that every country must focus on to save lives:
1. Empower communities to understand what they can do to stay healthy: from hand hygiene and physical distancing, to wearing masks when appropriate and staying home if you feel sick.
2. Suppress transmission by improving surveillance to find cases: Tracing and quarantining contacts is the "single-most important intervention for breaking chains of transmission".
3. Save lives through early identification and clinical care, such as providing oxygen and dexamethasone to people with severe and critical cases, and looking after high-risk groups. Dr Tedros praised Japan for having a low death rate, given its elderly population.
4. Accelerate research: "We've learned a lot about this virus, but there's still a lot we don't know."
5. Strong political leadership: "National unity and global solidarity are essential to implementing a comprehensive strategy to suppress transmission, save lives and minimize the social and economic impact of the virus."
What is the World Economic Forum doing to manage emerging risks from COVID-19?
The first global pandemic in more than 100 years, COVID-19 has spread throughout the world at an unprecedented speed. At the time of writing, 4.5 million cases have been confirmed and more than 300,000 people have died due to the virus.
As countries seek to recover, some of the more long-term economic, business, environmental, societal and technological challenges and opportunities are just beginning to become visible.
To help all stakeholders – communities, governments, businesses and individuals understand the emerging risks and follow-on effects generated by the impact of the coronavirus pandemic, the World Economic Forum, in collaboration with Marsh and McLennan and Zurich Insurance Group, has launched its COVID-19 Risks Outlook: A Preliminary Mapping and its Implications - a companion for decision-makers, building on the Forum's annual Global Risks Report.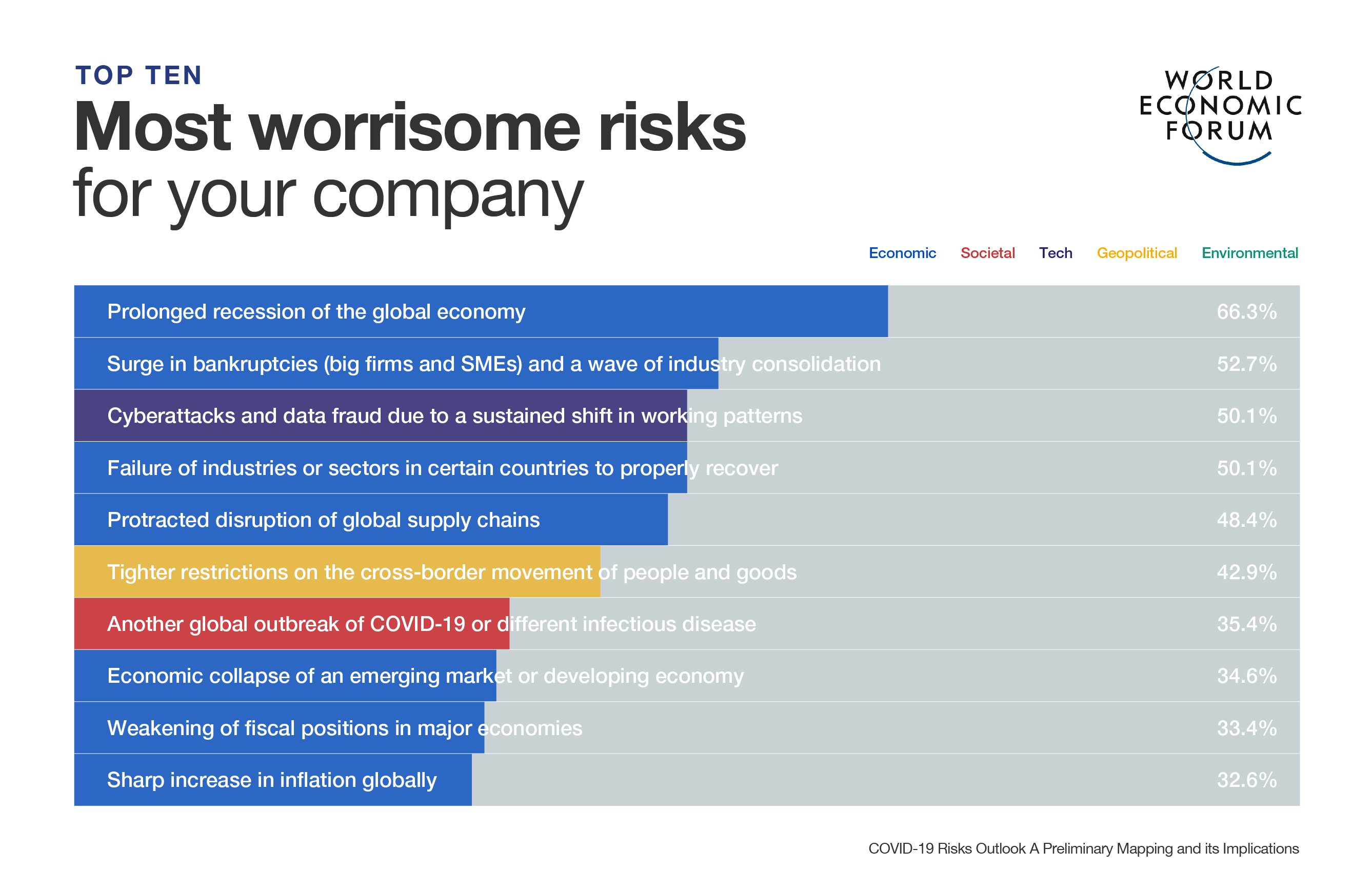 3. Swiss study of soldiers shows social distancing slows spread of virus
Researchers looked at 508 soldiers, who were mostly male with a median age of 21, before and after social distancing was implemented.
Thirty percent of the 354 soldiers who were infected before social distancing started fell ill. In a group of 154 soldiers, where infections appeared after social distancing began, no one developed COVID-19 - even though the virus was detected in their noses.
The scientists concluded: "Social distancing not only can slow the spread of SARS-CoV-2 in a cohort of young, healthy adults but can also prevent the outbreak of COVID-19 while still inducing an immune response and colonizing nasal passages.
"Viral inoculum during infection or mode of transmission may be key factors determining the clinical course of COVID-19."