This daily round-up brings you a selection of the latest news updates on the COVID-19 coronavirus pandemic, as well as tips and tools to help you stay informed and protected.
Top stories: The IMF has lowered its growth forecast, the UK starts human trials on a vaccine, and US governors order two-week quarantine for visitors from eight states.
1. How COVID-19 is affecting the globe
Confirmed cases of coronavirus around the globe have surpassed 9.4 million, according to Johns Hopkins University. More than 482,000 people are known to have died from the virus, while over 4.7 million are known to have recovered.
Vietnam's Prime Minister Nguyen Xuan Phuc said the country would not open to international tourists yet, over fears of a second wave of infections. There have been no deaths in the country and just over 350 confirmed cases.
2. US governors order quarantine from hotspot states
The governors of north-east states New York, New Jersey and Connecticut have ordered visitors from eight US states to be quarantined on arrival, reports Reuters, as the country recorded its second highest daily increase since March.
New Jersey Governor Phil Murphy said the tri-state quarantine mandate was "the smart thing to do".
"We have taken our people, the three of us from these three states, through hell and back, and the last thing we need to do right now is subject our folks to another round," he said.

The states whose visitors need to quarantine for 14 days are determined by a formula based on the number of new cases. Currently quarantine applies to visitors from Alabama, Arkansas, Arizona, Florida, North Carolina, South Carolina, Texas and Utah, as well as tri-state residents returning from those areas.
New York Governor Andrew Cuomo said those caught defying the quarantine rule would face $1,000 fines for a first offense and $5,000 for repeat offenses.
What is the World Economic Forum doing to manage emerging risks from COVID-19?
The first global pandemic in more than 100 years, COVID-19 has spread throughout the world at an unprecedented speed. At the time of writing, 4.5 million cases have been confirmed and more than 300,000 people have died due to the virus.
As countries seek to recover, some of the more long-term economic, business, environmental, societal and technological challenges and opportunities are just beginning to become visible.
To help all stakeholders – communities, governments, businesses and individuals understand the emerging risks and follow-on effects generated by the impact of the coronavirus pandemic, the World Economic Forum, in collaboration with Marsh and McLennan and Zurich Insurance Group, has launched its COVID-19 Risks Outlook: A Preliminary Mapping and its Implications - a companion for decision-makers, building on the Forum's annual Global Risks Report.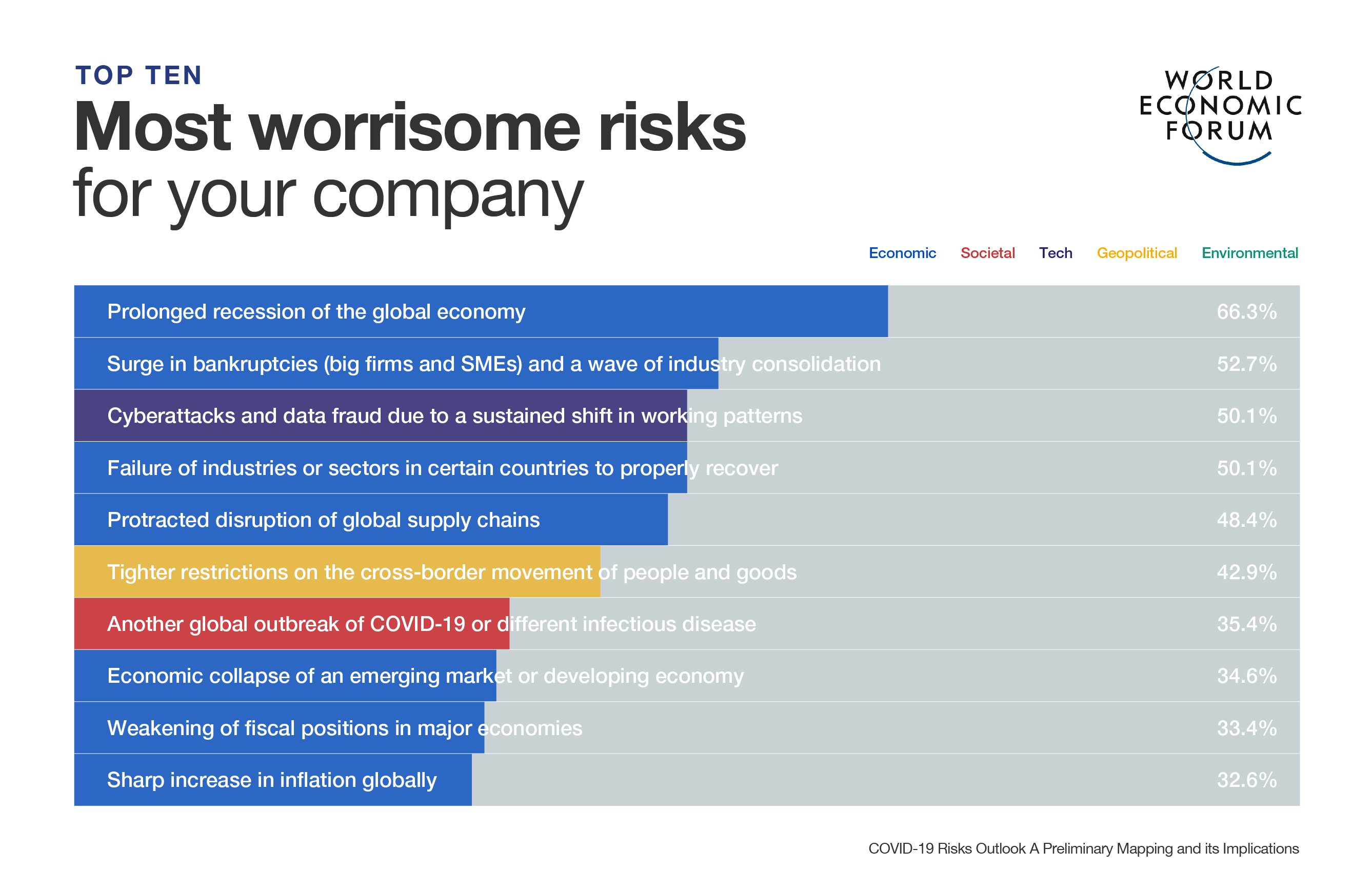 3. WHO warns of oxygen shortages
Director-General Dr Tedros Adhanom Ghebreyesus warned of a shortage of oxygen concentrators to treat those with severe COVID-19.
At the World Health Organization's media briefing on 24 June, he said the WHO estimates that at the current rate of about 1 million new cases a week, the world needs about 620,000 cubic meters of oxygen a day, which is about 88,000 large cylinders.
But many countries are now experiencing difficulties in obtaining oxygen concentrators,
as demand is outstripping supply.
Dr Tedros said: "WHO and our UN partners are working with manufacturers across the world through a variety of private sector networks to buy oxygen concentrators for countries that need them most."
He added the WHO expects the total number of coronavirus cases to reach 10 million within the next week.
In the first month of the outbreak, less than 10,000 cases were reported, compared to almost 4 million cases in the past month.