Many abandoned mines are full of water, which is kept warm by the heat of the Earth.
A mine in north-east England is expected to provide enough heat for 1,500 homes.
Around 30 mine water heating schemes are currently planned across the UK.
Other countries with mining industries could use the sustainable technology to reduce carbon emissions.
Many of those homes could soon be enjoying low-carbon, sustainable heating through a technology that could have a global impact.
The secret is mine water: vast underground reservoirs that have collected as abandoned coal mines have flooded. Thanks to the temperature of the Earth's crust, the water is warm - warm enough to heat a house, with a little assistance from technology.
Many mine water-powered heating projects are planned in Britain for the coming years - pumping up water, heating homes and sending it back down for reheating: a circular model that other mining nations could replicate.
The mine water heating process
One project will see 1,500 new homes built in Seaham Garden Village in north-east England. When completed, they will have radiators filled with water heated geothermally, in the nearby disused Dawdon mine.
The scheme is an elegant solution, as the water from the mine was being pumped to the surface for treatment anyway - mine water being so salty it can sometimes contaminate underground drinking water supplies.
The pumping process helps further warm water already heated by underground temperatures to a constant 18-20 degrees Celsius.
Mine water heating Schemes have big potential
However, the UK government is upbeat about the potential of larger schemes. "I think it's potentially transformational," Energy Minister Kwasi Kwarteng told BBC News.
"We have this huge historic legacy in terms of coal, and being able to use that footprint and turn it into a source of green energy – that's incredibly positive."
If mine water schemes were scaled up and replicated globally they could potentially help reduce one of the biggest demands for fossil fuels.
Time for a Great Reset
Mine water heating schemes could help prioritize sustainable development in the wake of the COVID-19 pandemic.
The World Economic Forum is calling for a Great Reset - a commitment to build a fairer, more sustainable and more resilient future following the coronavirus crisis.
"We only have one planet and we know that climate change could be the next global disaster with even more dramatic consequences for humankind," said Professor Klaus Schwab, World Economic Forum Founder and Executive Chairman. "We have to decarbonize the economy in the short window still remaining and bring our thinking and behaviour once more into harmony with nature."
Britain's coal story
In recent decades, the UK's coal industry has declined dramatically - from fuelling an industrial revolution to an increasingly minor resource in power generation today, as gas and renewables take its place.
What's the World Economic Forum doing about the transition to clean energy?
Moving to clean energy is key to combating climate change, yet in the past five years, the energy transition has stagnated.
Energy consumption and production contribute to two-thirds of global emissions, and 81% of the global energy system is still based on fossil fuels, the same percentage as 30 years ago. Plus, improvements in the energy intensity of the global economy (the amount of energy used per unit of economic activity) are slowing. In 2018 energy intensity improved by 1.2%, the slowest rate since 2010.
Effective policies, private-sector action and public-private cooperation are needed to create a more inclusive, sustainable, affordable and secure global energy system.
Benchmarking progress is essential to a successful transition. The World Economic Forum's Energy Transition Index, which ranks 115 economies on how well they balance energy security and access with environmental sustainability and affordability, shows that the biggest challenge facing energy transition is the lack of readiness among the world's largest emitters, including US, China, India and Russia. The 10 countries that score the highest in terms of readiness account for only 2.6% of global annual emissions.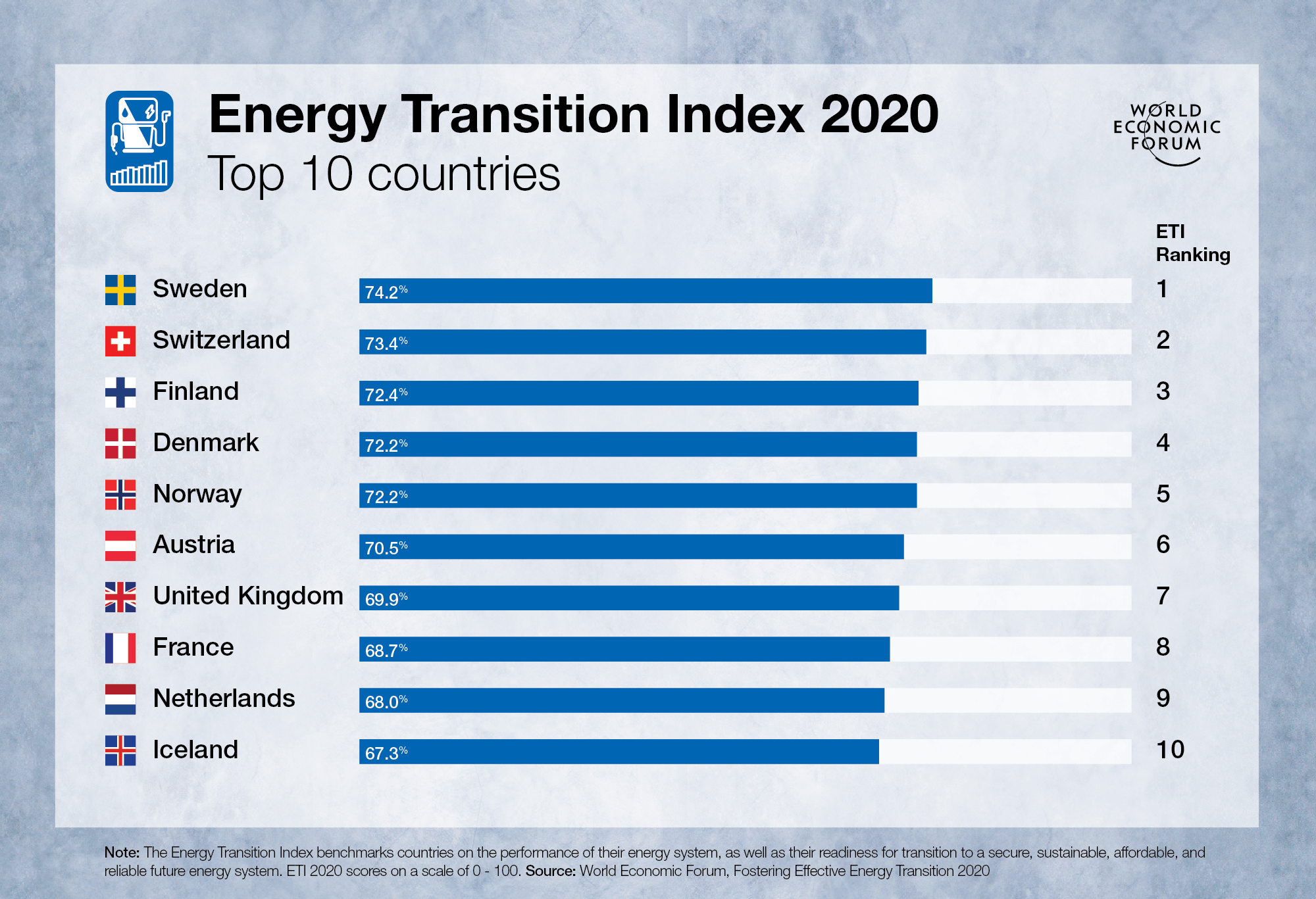 Additionally, the Mission Possible Platform (MPP) is working to assemble public and private partners to further the industry transition to set heavy industry and mobility sectors on the pathway towards net-zero emissions. MPP is an initiative created by the World Economic Forum and the Energy Transitions Commission.
Is your organisation interested in working with the World Economic Forum? Find out more here.
However, the extensive coal industry of the past has left a huge legacy: a network of deep mines, containing a resource few would have predicted might one day have a value - flood water.
There is also a legacy of people - with millions living around old mines, in communities that grew because of the coal industry. And after the hardship caused by industrial decline, those communities now stand to benefit.