Beaches will look different this summer as lockdowns end: prepare to sunbathe behind perspex screens or in marked-off safe zones, and to book a spot.
In Portugal, there's an app to tell you which beaches are safe to visit, whilst in Los Angeles you must wear a facemask even when sunbathing.
Police drones will monitor beaches in Florida to enforce social distancing.
Fun in the sun is set to be a little less carefree this summer. As lockdowns lift, beaches are implementing a range of measures to keep people safe.
So from distancing drones to roped-off safe zones, here's how your next trip could look.
1. Sunbathing behind screens
Social distancing screens are moving out of shops and restaurants and onto the beach. The Greek island of Santorini has installed Perspex screens around sun loungers on the popular Perissa beach.
2. Beach full? Ask the app
Recent events in the UK and Spain, where police have intervened to reduce the pressure on overcrowded beaches, demonstrate how desperate locked-down citizens are to get to the coast. Some visitors said they had not realised how busy beaches would be until they arrived.
Portugal has devised a tech solution to the problem: an app that uses mobile-phone data and information from beachfront businesses to measure how many people are on a beach. It warns would-be visitors that the beach is full before they set off.
3. Tanning yourself with a face mask
When it comes to getting an even suntan, few people worry about their faces. You may have to take off your sunglasses but that's about it. This year, though, compulsory face masks are likely to lead to some interesting tanning challenges.
The Spanish resort of Benidorm is distributing face masks free to all its citizens; tourists and locals alike will be required to wear one while walking on the beach to their allocated sunbathing spot. But once inside their safe space, they can take it off.
At Canet d'en Berenguer on Spain's Mediterranean coast, and north of Valencia, sunbathers must use a downloadable app to book one of 5,000 daily places on the beach. Each visitor will be given two square metres of sand, marked off with plastic netting.
Over on Spain's Atlantic coast, the resort of Sanxenxo is allocating places on its beach on a "first come, first served" basis. And in the UK, anyone wanting to visit the beach at West Wittering in Sussex must book one of a restricted number of spaces using a popular car-parking app.
What is the World Economic Forum doing to manage emerging risks from COVID-19?
The first global pandemic in more than 100 years, COVID-19 has spread throughout the world at an unprecedented speed. At the time of writing, 4.5 million cases have been confirmed and more than 300,000 people have died due to the virus.
As countries seek to recover, some of the more long-term economic, business, environmental, societal and technological challenges and opportunities are just beginning to become visible.
To help all stakeholders – communities, governments, businesses and individuals understand the emerging risks and follow-on effects generated by the impact of the coronavirus pandemic, the World Economic Forum, in collaboration with Marsh and McLennan and Zurich Insurance Group, has launched its COVID-19 Risks Outlook: A Preliminary Mapping and its Implications - a companion for decision-makers, building on the Forum's annual Global Risks Report.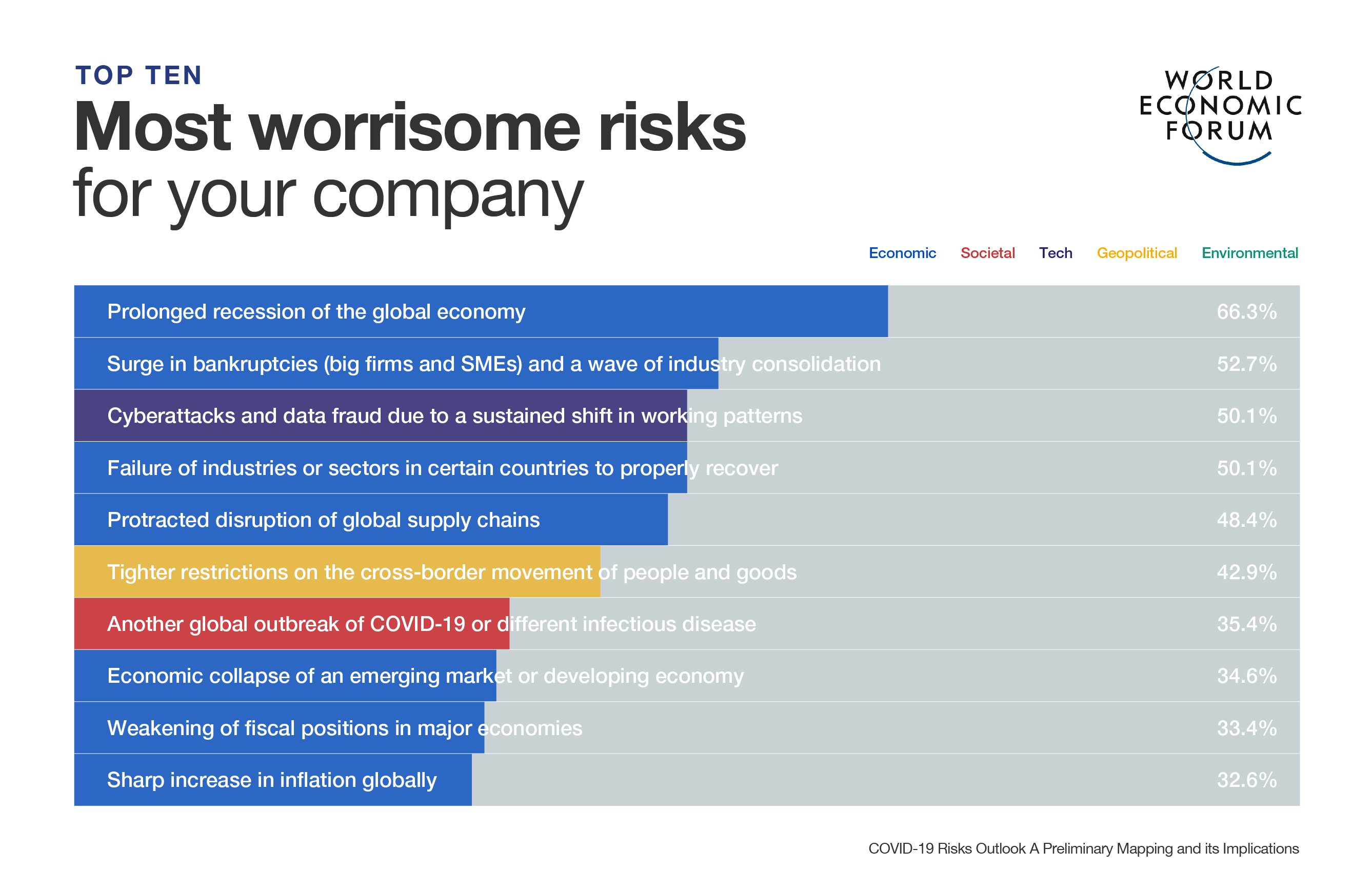 Keep your distance on Florida's Daytona Beach or you risk a voice from above telling you to move away from your neighbours. The city authorities are using a spy in the sky to enforce social distancing on the beach and in local parks.
Drones, operated by the local police department, will patrol over the beach monitoring the behaviour of sunbathers. As well as a loudspeaker and a regular camera, they are equipped with a heat sensor to spot anyone who may be infected with COVID-19.
The drones were originally designed for use in disaster relief. The emergency department in Volusia County, which includes Daytona Beach, also hired a light plane to tow a banner over the beach to remind groups of sunseekers to keep ten feet (three metres) apart.