30 July marks six months since the World Health Organization announced that coronavirus was a global concern.
In the half-year since then, worldwide cases are close to 17 million, with more than 660,000 deaths.
Ongoing vigilance, social distancing and contact tracing will be key as the virus continues to accelerate and vaccines remain a distant hope.
We have just passed a grim milestone: 30 July marked six months since COVID-19 was first recognised as an issue of international concern.
A lot has changed in that time. Back in January, when the World Health Organization (WHO) declared a public health emergency, there were fewer than 100 cases outside of China – and no deaths. Now, close to 17 million cases have been reported around the world, and more than 660,000 deaths.
In a speech acknowledging the landmark, WHO Director-General Dr Tedros Adhanom Ghebreyesus highlighted the ongoing need for vigilance and preventative measures as the virus continues to accelerate.
"Although our world has changed, the fundamental pillars of the response have not: political leadership and informing, engaging and listening to communities. And nor have the basic measures needed to suppress transmission and save lives: find, isolate, test and care for cases – and trace and quarantine their contacts. Keep your distance from others. Clean your hands, avoid crowded and enclosed areas and wear a mask where recommended."
The battle to get the virus under control
It's the sixth time WHO has declared a public health emergency of international concern – the highest level of alarm under international law – but it is "easily the most severe", said Dr Ghebreyesus.
He highlighted the efforts of countries such as Cambodia, New Zealand, Rwanda, Thailand, Vietnam, and islands in the Pacific and Caribbean in preventing large-scale outbreaks. Meanwhile, Canada, China, Germany and the Republic of Korea have managed to bring outbreaks under control.
What is the World Economic Forum doing to manage emerging risks from COVID-19?
The first global pandemic in more than 100 years, COVID-19 has spread throughout the world at an unprecedented speed. At the time of writing, 4.5 million cases have been confirmed and more than 300,000 people have died due to the virus.
As countries seek to recover, some of the more long-term economic, business, environmental, societal and technological challenges and opportunities are just beginning to become visible.
To help all stakeholders – communities, governments, businesses and individuals understand the emerging risks and follow-on effects generated by the impact of the coronavirus pandemic, the World Economic Forum, in collaboration with Marsh and McLennan and Zurich Insurance Group, has launched its COVID-19 Risks Outlook: A Preliminary Mapping and its Implications - a companion for decision-makers, building on the Forum's annual Global Risks Report.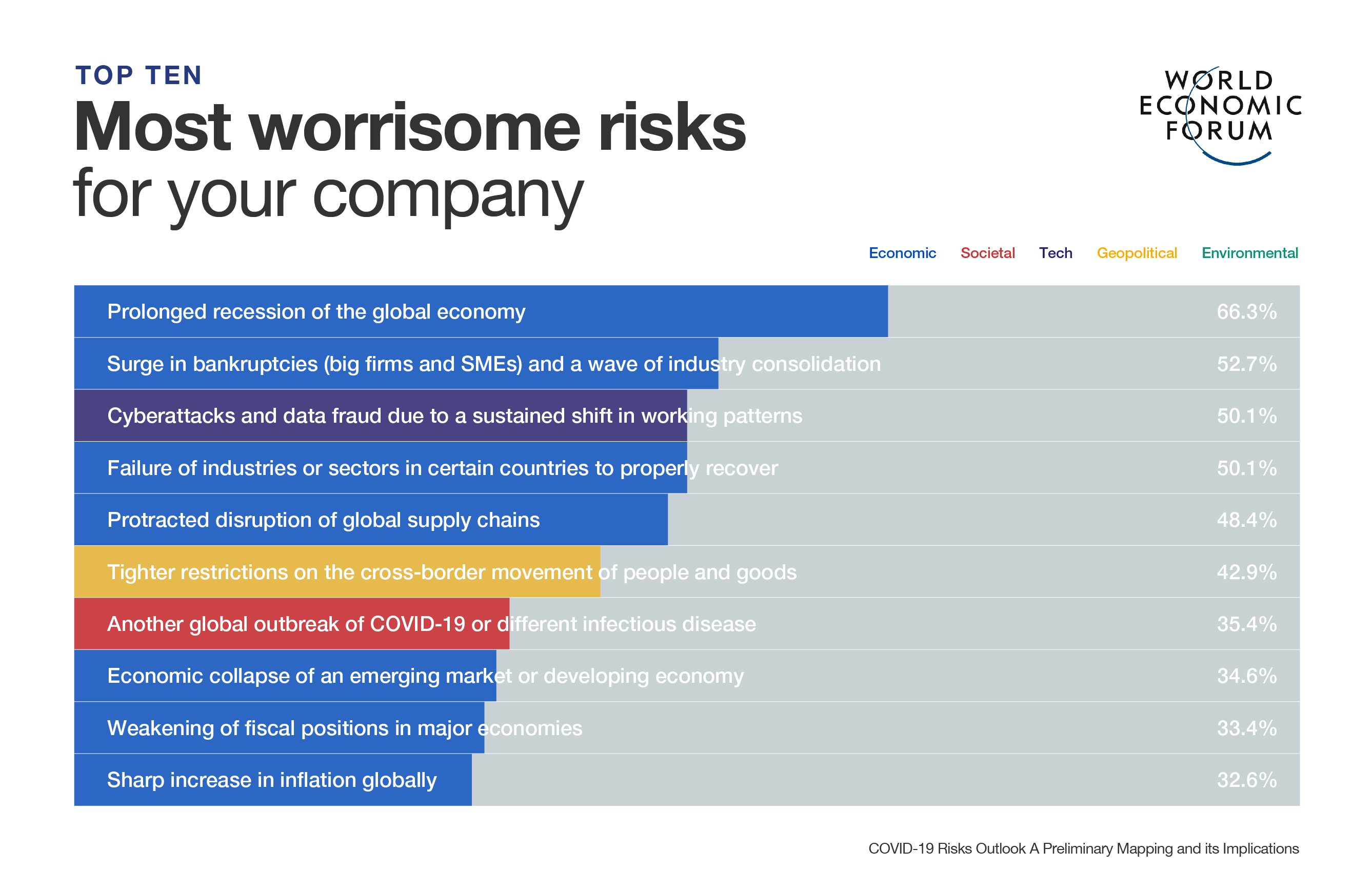 But, while across Europe there has been a relaxation of lockdowns in recent weeks, hotspots in some areas and countries have led to restrictions being reimposed. And there are pockets of outbreaks even in countries which otherwise have the virus under control.
The work to develop vaccines continues at an accelerated pace, with both Moderna and Pfizer launching 30,000 subject trials with a view to progressing to widespread use by the end of the year.
But with the virus continuing to spread rapidly in many parts of the world, the vaccine can't come fast enough – and is unlikely to be the panacea. Avoiding the spread through social distancing and contact tracing remains the best weapon in countries' armouries for now.
Dr Ghebreyesus concluded: "The COVID-19 pandemic is illustrating that health is not a reward for development, it's the foundation of social, economic and political stability. We are not prisoners of the pandemic. Every single one of us can make a difference. The future is in our hands."