This daily round-up brings you a selection of the latest news updates on the COVID-19 coronavirus pandemic, as well as tips and tools to help you stay informed and protected.
Top stories: Record numbers affect Australia, Brazil, France and others; one death every minute in the US; Russia readies its vaccine.
1. How COVID-19 is affecting the globe
One week after exceeding the 15 million mark, the number of confirmed COVID-19 cases around the world has now passed another milestone, reaching 17 million according to the Johns Hopkins University School of Medicine. The death toll now stands at over 667,000.
The harrowing effects of COVID-19 in the developing world were laid bare when procurement issues contributed to seven babies being stillborn at a hospital in Zimbabwe on a single night. The BBC reports one doctor saying surgical intervention was delayed by a lack of staff, who are on strike because of a lack of personal protective equipment.
What is the World Economic Forum doing to manage emerging risks from COVID-19?
The first global pandemic in more than 100 years, COVID-19 has spread throughout the world at an unprecedented speed. At the time of writing, 4.5 million cases have been confirmed and more than 300,000 people have died due to the virus.
As countries seek to recover, some of the more long-term economic, business, environmental, societal and technological challenges and opportunities are just beginning to become visible.
To help all stakeholders – communities, governments, businesses and individuals understand the emerging risks and follow-on effects generated by the impact of the coronavirus pandemic, the World Economic Forum, in collaboration with Marsh and McLennan and Zurich Insurance Group, has launched its COVID-19 Risks Outlook: A Preliminary Mapping and its Implications - a companion for decision-makers, building on the Forum's annual Global Risks Report.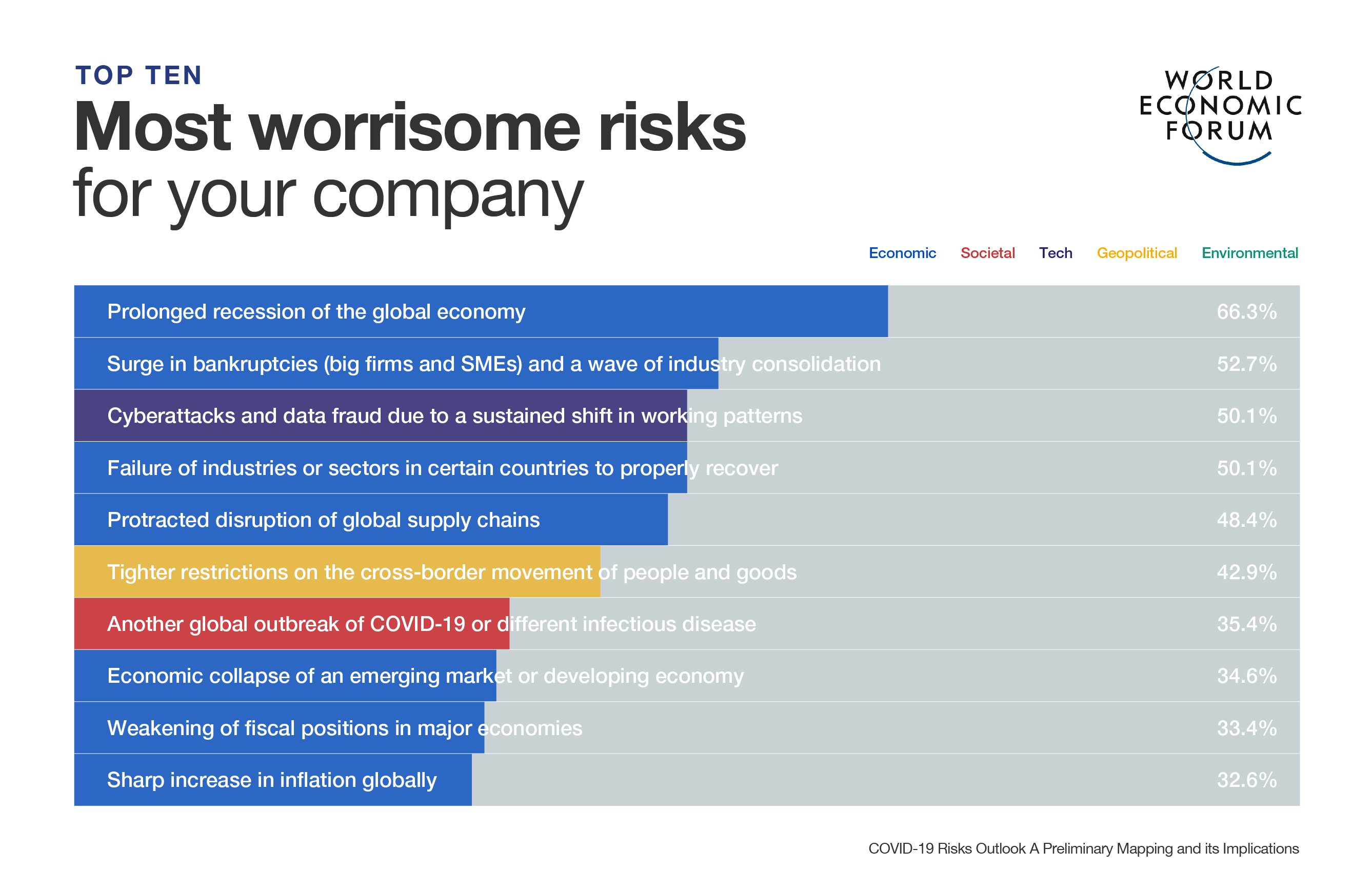 2. WHO official: Herd immunity is not a strategy for success
Simply waiting for herd immunity to set in is not an option according to one expert.
Speaking during a video interview Dr Mike Ryan, Executive Director of the WHO's Health Emergencies Programme, warned it would lead to many more deaths.
Herd immunity is the point at which a disease cannot take hold and spread dangerously because enough people within a given population are immune to it.
For COVID-19 that proportion is believed to be somewhere between 60% and 80%. "Whatever that number is, we're nowhere near it," Dr Ryan said.
Speaking in the same interview, Dr Maria Van Kerkhove, infectious disease epidemiologist with the WHO, emphasised the importance of everyone helping to contain the spread of COVID-19.
"It's a combination of factors that we need – physical distancing alone doesn't work, masks alone don't work; all of these measures need to be used at once," she said.
3. UN chief outlines path to sustainable, inclusive recovery in Southeast Asia
UN Secretary-General António Guterres has called on countries across Southeast Asia to tackle inequality and make sustainability a priority for the post-pandemic recovery.
The region's first priority should be to address inequalities of income, and access to health and social care, he said, whilst calling for short-term stimulus packages and longer-term policy changes.
"The pandemic has highlighted deep inequalities, shortfalls in governance and the imperative for a sustainable development pathway. And it has revealed new challenges, including to peace and security," he continued.
Other priority areas for progress, according to the Secretary-General are digital inclusion and environmentally friendly energy initiatives. According to the International Energy Agency, "Southeast Asia has considerable potential for renewable energy, but (excluding the traditional use of solid biomass) it currently meets only around 15% of the region's energy demand."
But one of the chief areas of concern for the region should be physical security, the reduction of armed conflict and the protection of human rights, Guterres said.
"All governments in the subregion have supported my appeal for a global ceasefire – and I count on all countries in Southeast Asia to translate that commitment into meaningful change on the ground," he added.
"Central to these efforts is the need to advance gender equality, address upsurges in gender-based violence, and target women in all aspects of economic recovery and stimulus plans."