Municipal and local governments can lead the way in driving the transition to clean energy.
Local decision-makers can draw on a range of policies and tools to encourage the necessary changes.
Austin, the state capital of Texas, is a case in point.
I remember attending a conference in Geneva in 2018 – just over a year after the US announced its withdrawal from the Paris Agreement – at which one of the keynote speakers from the US claimed that his government had not done anything for the climate. While the US' withdrawal was quite discouraging to environmentalists everywhere, I felt the perception was a little misleading. Withdrawing from a treaty does have serious consequences but plenty is being done at the level of state and local governments in the US – and these efforts can be overlooked by such a narrative.
For too long we have pinned our hopes on global climate policy, or at least on strategies at a federal or national level, to achieve the clean energy transition. Due to the involvement of multiple stakeholders, each advocating for their disparate interests, the final product too often falls short and is not potent enough to prevent imminent and inevitable climate emergencies. Even during the pandemic, when oil demand and prices crashed to a record low, greenhouse gases were still being emitted and polluting our atmosphere. While a strategy at a global or federal level may assist in uniformity across all states and countries, to suggest that any particular country has not done anything for the environment overlooks and undermines the efforts of state and local governments.
Austin, the capital city of Texas, is a great example. Texas' state government is neither in favour of aggressive statewide renewable portfolio standards (RPS) nor has any intention to introduce carbon pricing at a state level. The state's decision-makers are generally of the view that without 'a thumb on the scale', renewables will soon be the cheapest option and will make commercial sense for users. However, with so many externalities involved, such as subsidies for the oil and gas industry on one hand the expiration of tax incentives for renewables on the other, that is not necessarily the case.
Austin, however, has a strong policy focus on transitioning to clean energy and is, therefore, a model for the rest of the world. To illustrate, not only are all Austin's municipal-owned facilities powered with 100% renewable energy, but the city has also committed that by 2025, 65% of its energy will be sourced from renewable sources. By 2035, it aims to source 100% of its electricity needs from zero-carbon sources. However, the City understands that emissions from the grid are just one source of greenhouse gases and that holistic changes are required in multiple sectors. It intends to reduce its greenhouse gas emissions from 13.7 million metric tons to 4.6 million metric tons in 2040.
However, such initiatives are only possible where the local government – rather than investor-owned utilities – generates and provides electricity to customers. Additionally, it is important to note the role of the dynamic Electric Reliability Council of Texas (ERCOT) market structure and the open transmission access that Texas offers, having made considerable investments in the State's transmission network, that has enabled Austin to pursue its aforementioned goals.
Some argue that rather than an RPS, a well-structured feed-in tariff (FIT) policy would better catalyze the development of renewable sources. This gives investors long-term certainty by guaranteeing above-market rates for a fixed term, which makes it easier for investors to secure financing. Proponents of FIT often cite Germany's example, where instead of an RPS the government adopted a FIT policy that enabled it to surpass all of its targets well ahead of schedule. In 2019, 46% of Germany's total energy came from renewable sources. In the first quarter of 2020, renewable sources were responsible for 52% of Germany's total electricity. Germany's FIT policy is quite dynamic, with around 30 different FITs custom-tailored to cater to the needs of various distinct renewable energy technologies, as well as accounting for variances in characteristics such as size and location.
What's the World Economic Forum doing about the transition to clean energy?
Moving to clean energy is key to combating climate change, yet in the past five years, the energy transition has stagnated.
Energy consumption and production contribute to two-thirds of global emissions, and 81% of the global energy system is still based on fossil fuels, the same percentage as 30 years ago. Plus, improvements in the energy intensity of the global economy (the amount of energy used per unit of economic activity) are slowing. In 2018 energy intensity improved by 1.2%, the slowest rate since 2010.
Effective policies, private-sector action and public-private cooperation are needed to create a more inclusive, sustainable, affordable and secure global energy system.
Benchmarking progress is essential to a successful transition. The World Economic Forum's Energy Transition Index, which ranks 115 economies on how well they balance energy security and access with environmental sustainability and affordability, shows that the biggest challenge facing energy transition is the lack of readiness among the world's largest emitters, including US, China, India and Russia. The 10 countries that score the highest in terms of readiness account for only 2.6% of global annual emissions.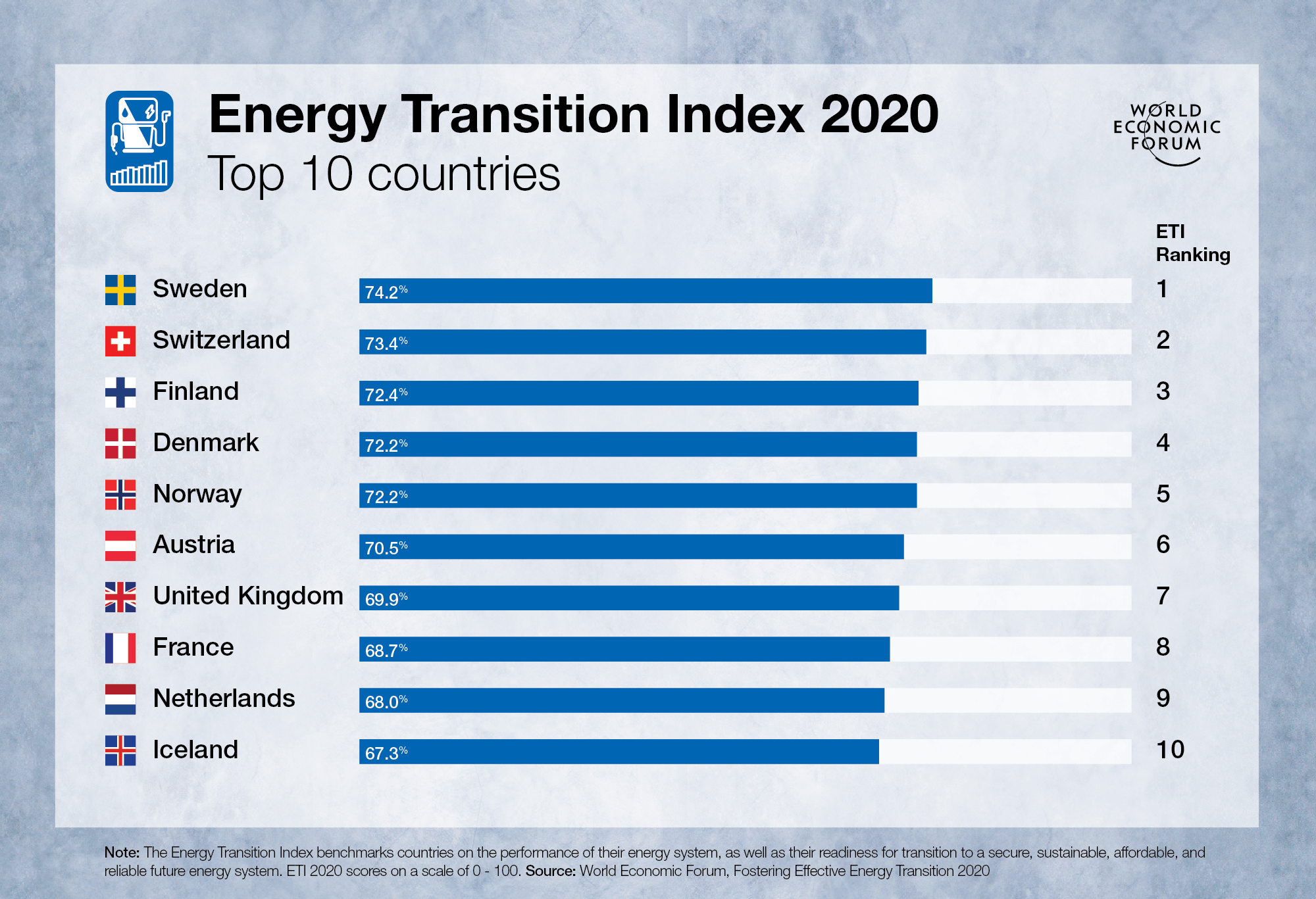 Additionally, the Mission Possible Platform (MPP) is working to assemble public and private partners to further the industry transition to set heavy industry and mobility sectors on the pathway towards net-zero emissions. MPP is an initiative created by the World Economic Forum and the Energy Transitions Commission.
Is your organisation interested in working with the World Economic Forum? Find out more here.
Another bright spot in Germany's story is its wide deployment of solar PVs despite having poorer solar resources. Researchers point towards 'soft costs', such as the cost of financing, permitting, installation and grid access, in addition to well-structured FIT policy, which has driven such widespread deployment. It has been estimated that these soft costs in fact play a more critical role in the deployment of renewable energy resources than financial incentives.
I understand that not every city or local government will be eager to follow the aforementioned examples. If they did, we would have a robust global climate policy – or at least mandates at a federal level. Until then, local alternatives offer a good interim solution that may accelerate the clean energy transition. Such individual, local RPS mandates create a demand for clean energy solutions and if enough local governments were to adopt such policies, the economies of scale might tilt the balance to such an extent that clean energy solutions would also make commercial sense; much as we have seen with the unexpected plummeting of prices for solar panels and their widespread adoption.