Lockdowns have proved that clearer air, cleaner water, and healthier ecosystems are achievable.
Businesses must take this opportunity to build a better, more sustainable, future.
A more harmonized global reporting system for Environmental, Social and Governance activities will help companies achieve these goals.
Growing up in India, I didn't have to look far to see how modern living takes its toll on the environment. For as long as I can remember, the Ganges river, or "Mother Ganga" as we call it, has been considered one of the most heavily polluted rivers on the planet; the result of years of pollution, industrial waste and lax regulation. Yet for millions in India it still serves as a critical source of drinking water, sustenance, and irrigation for crops. In recent months, however, Ganga has also served as a powerful reminder that positive environmental change is still possible.
The lockdown in India meant to slow the spread of COVID-19 had an unexpected silver lining – it cleared up the river. And there have been similar environmental "miracles" in other parts of the world since the pandemic began – proof positive that clearer air, cleaner water, and healthier ecosystems are not only possible, but probable if we act now. Now, it's on us – all of us – to make sure we never go back to the way things were. Anything short of that would be a missed opportunity and, quite frankly, a failure.
As a global community, we have to work together to build a better, more sustainable, future and make that our "new normal". And business can and must lead the way – in part because, by changing our behaviour, we can have the quickest and most significant impact.
It starts, of course, with our own operations. As an original signatory to the UN Global Compact, Deloitte understands that the words corporate and sustainable are not mutually exclusive. We've begun the process of reevaluating and revamping every part of our operations to help combat climate change. That includes transforming our offices, reducing our travel footprint, and converting our own fleet to electric vehicles.
To speed up our progress, we recently expanded our work around the climate crisis with the launch of WorldClimate. It's our commitment to achieve net zero emissions by 2030 – 20 years ahead of the goal set by the Paris Climate Agreement. Through our initiative, we will pull every lever we can to lessen our own impact and contribute to creating and sustaining a livable planet.
Beyond our operations, we're working to empower our people – even when they're not on the job – to lead more sustainable lives. For example, Deloitte Belgium has implemented a Mobility@Deloitte programme, which encourages professionals to opt for electric company cars, riding bikes or taking public transportation to and from home – all to decrease their individual carbon footprints. And, we're sponsoring environmental volunteering and pro bono work.
Finally, we're leveraging our resources and expertise to influence the ecosystems we operate in. That means clients, suppliers, and even our suppliers' suppliers. Our Supplier Code of Conduct and Responsible Business Practices statement both affirm our commitment to working with organizations that share our commitment to the planet. Through a global, strategic service offering, we are providing an expanded suite of professional services and insights to help clients respond and adapt to the challenge of climate change across their business value chain. We want to help our clients contribute to a better society by giving them the right tools to avoid the high risks associated with inaction.
What is the World Economic Forum doing to manage emerging risks from COVID-19?
The first global pandemic in more than 100 years, COVID-19 has spread throughout the world at an unprecedented speed. At the time of writing, 4.5 million cases have been confirmed and more than 300,000 people have died due to the virus.
As countries seek to recover, some of the more long-term economic, business, environmental, societal and technological challenges and opportunities are just beginning to become visible.
To help all stakeholders – communities, governments, businesses and individuals understand the emerging risks and follow-on effects generated by the impact of the coronavirus pandemic, the World Economic Forum, in collaboration with Marsh and McLennan and Zurich Insurance Group, has launched its COVID-19 Risks Outlook: A Preliminary Mapping and its Implications - a companion for decision-makers, building on the Forum's annual Global Risks Report.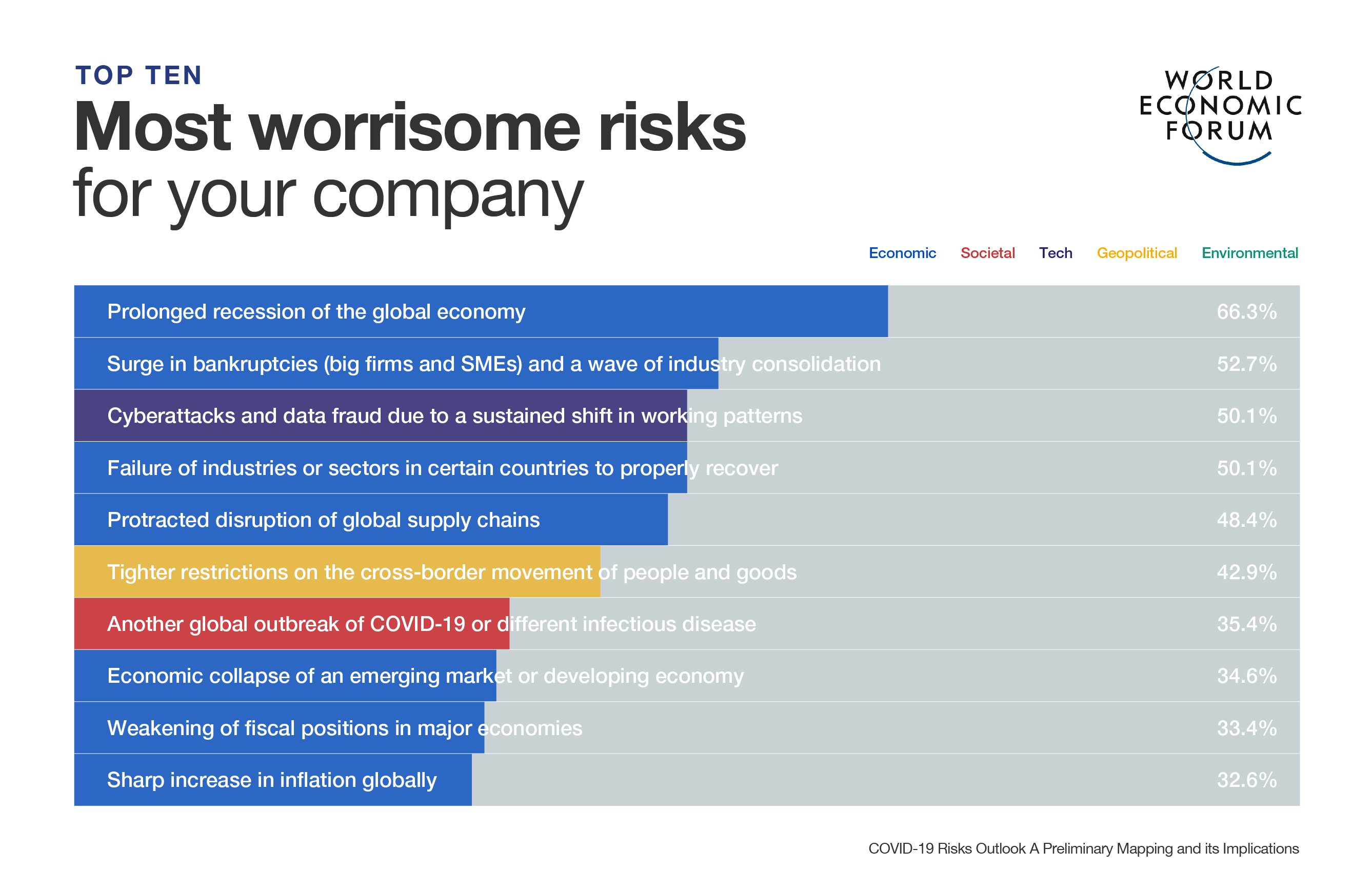 And we are excited to share what we have learned. As part of the World Economic Forum's International Business Council, we are contributing to the development of a more harmonized global reporting system for Environmental, Social and Governance (ESG) activities in corporate disclosures such as annual reports and proxy statements. We are playing a lead role in facilitating greater cooperation and alignment among existing standard setters. And we are looking at how we implement more robust reporting ourselves.
This pandemic is a global tragedy – there is no way around that. But an even greater tragedy would be if the business community were to go back to business as usual knowing what we now know. There is a better way. The journey to a low-carbon future has begun. We just have to be bold enough to embrace the change. There really isn't a choice.
This article appeared on Forbes.