While the world's literacy rate has increased in the last 50 years, the literacy challenge remains significant in sub-Saharan Africa, South Asia, the Middle East and North Africa;
The closure of schools and learning programmes as a result of the COVID-19 pandemic could threaten the progress of literacy;
The best response is to reimagine education and literacy to find new ways of learning post-pandemic.
As we mark International Literacy Day this year, we can appreciate the great progress made in the last 50 years. The world's literacy rate increased from 69% in 1976 to 86% in 2016. Progress has been made in every part of the world, but the literacy challenge remains significant in sub-Saharan Africa (where 64% of people are literate), South Asia (71%), the Middle East and North Africa (80%).
International Literacy Day on 8 September 2020 is a chance to think creatively about how to deliver education and literacy programmes to improve everyone's future. Every country in the world has some portion of its population that is not yet literate. Right now the urgent challenge is to ensure continued progress and not to fall backwards, despite the immense challenges presented by COVID-19.
The pandemic has disrupted school operations and the learning experience, leaving many schools unable to reopen because remote technology is simply inaccessible. Adult literacy programmes have also been suspended. When we read, we step into other worlds and make journeys far beyond our own experience. Today, governments, NGOs, schools and charities find themselves in need of such a transportive journey to reimagine literacy beyond COVID-19.
This year's theme from UNESCO of "Literacy teaching and learning in the COVID-19 crisis and beyond" emphasizes the role of educators and new teaching methods for the "new normal" of this year. It also points to the slow pace or lack of change that has created an educational inequity between developed and developing nations.
This can be an isolating experience for young and adult learners around the world. My grandmother was illiterate. Living through war, famine and poverty, with great fortitude she raised my father alone, from a country boy to the very first college graduate in the village. She changed my father's life and I know first-hand how transformative the power of a basic education can be.
Philanthropy can be a powerful driver of innovation and curiosity
We have seen great innovation in response to the current crisis; International Literacy Day is a moment to take stock and to imagine a new kind of learning.
To be great learners, it is often said, we should remain curious. I spoke to students and college academics recently and shared an inspiring personal moment. A few years ago, I travelled to the North Pole with my friends and family. As we set sail together, we did not know what we would find on the voyage. This voyage is a metaphor for mankind. Indeed – we are all in the same boat, we must care for each other on the journey and remain full of curiosity for the outside world and for the unknown challenges ahead of us.
We must continue to ask questions and seek answers, to show compassion. We must continue to explore if we are to ensure students can acquire the minimum of basic competencies and skills needed to thrive at work and to live in an increasingly complex world.
Philanthropy can be a powerful driver of curiosity. The Yidan Prize recognizes and rewards change-makers with big ideas that could have a profound impact on our future education system.
Academic research and development projects can investigate educational policy that allows policy-makers, educators and the general public to see the evidence for "what works" in the field of education. It can also identify different mindsets that help students in vulnerable communities to stay motivated and resilient and how to change these mindsets in the face of overwhelming pressures. By funding exploratory research, academics can reveal how our brains can learn effectively when impaired by language-based disabilities, like dyslexia. Such discoveries enable transformative educational interventions that have the potential to benefit millions of children worldwide.
Why we shouldn't shy away from new ideas
Children entertain many forms of learning and new ideas and not all learners approach problems in exactly the same way. There is more than one way to learn, more than one way to be intelligent. When we understand this, we can suggest ways of supporting the education environment to overcome the difficulties brought by the pandemic.
Our education systems must, therefore, reckon with the many social, economic and labour-market challenges that lie ahead. The systems in low-income countries face exceptional pressures to enhance the teaching of skills for the 21st century, which include not only basic competencies in literacy and numeracy, but also technical and scientific know-how for problem solving, as well as soft skills for effective teamwork, collaboration and conflict resolution.
A cause for optimism
What we have found with the ongoing interviews with Yidan Prize laureates is they are all, despite the current circumstances, standing together with other great educators to remain hopeful about how the education system and learning experience can change following this crisis.
Like the World Economic Forum's Great Reset, they can imagine a world in which we can seize the opportunity to recalibrate our global system and help mould a future world that is "more equitable, inclusive, sustainable and resilient". The challenges posed by COVID-19 have created a period of discovery, of curiosity, for us to reimagine education.
More than half a century has passed since we celebrated the first international literacy day; let the day we celebrate universal literacy come more quickly.
What is the World Economic Forum doing to manage emerging risks from COVID-19?
The first global pandemic in more than 100 years, COVID-19 has spread throughout the world at an unprecedented speed. At the time of writing, 4.5 million cases have been confirmed and more than 300,000 people have died due to the virus.
As countries seek to recover, some of the more long-term economic, business, environmental, societal and technological challenges and opportunities are just beginning to become visible.
To help all stakeholders – communities, governments, businesses and individuals understand the emerging risks and follow-on effects generated by the impact of the coronavirus pandemic, the World Economic Forum, in collaboration with Marsh and McLennan and Zurich Insurance Group, has launched its COVID-19 Risks Outlook: A Preliminary Mapping and its Implications - a companion for decision-makers, building on the Forum's annual Global Risks Report.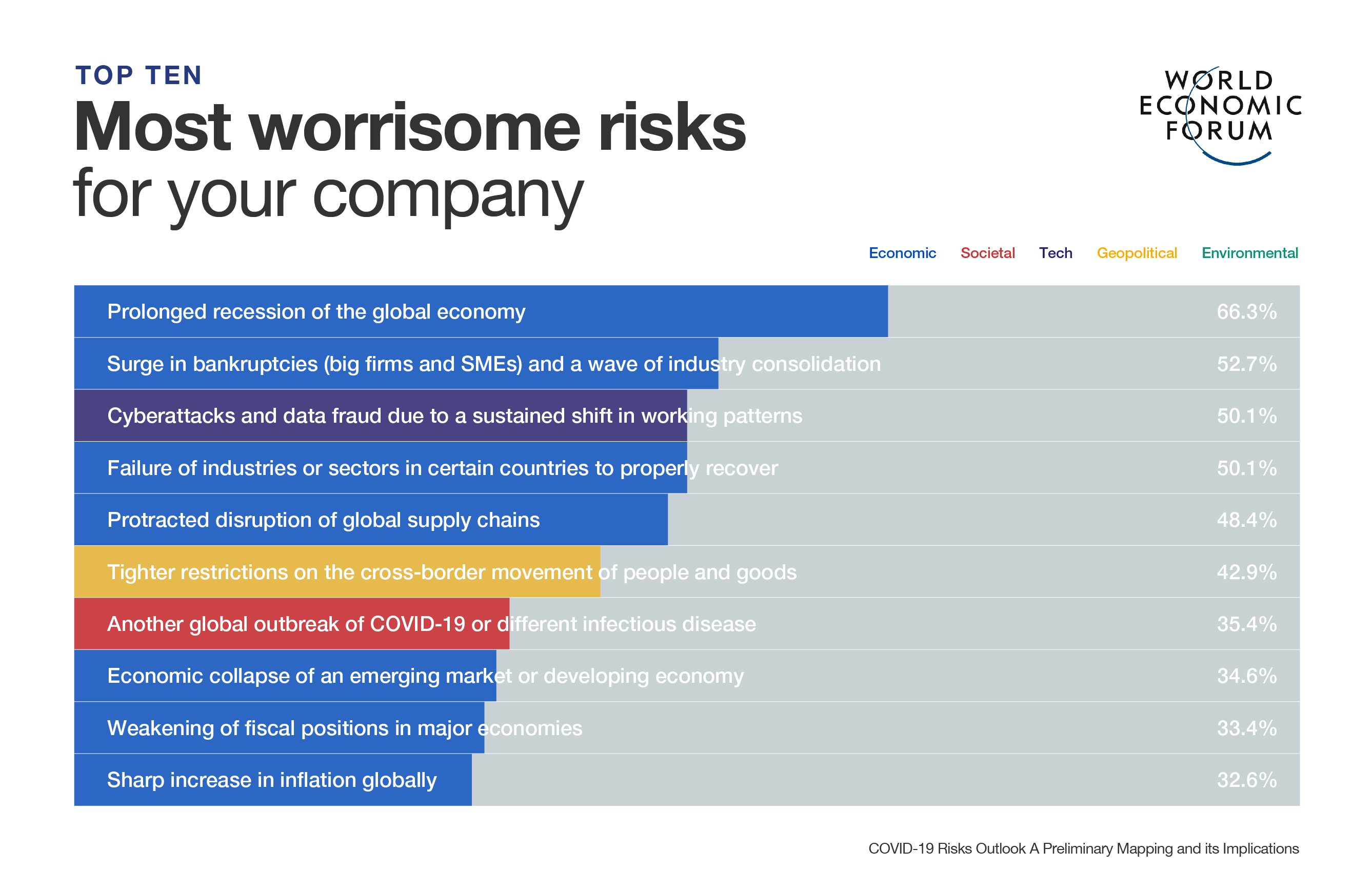 About the Yidan Prize Foundation
Founded in 2016 by Dr Charles CHEN Yidan, a core founder of Tencent, with a mission of creating a better world through education.
The Yidan Prize is an inclusive education award that recognizes individuals or small teams who have contributed significantly to education research and development.
Through a series of initiatives, the prize serves to establish a platform that allows the global community to engage and play a role in education philanthropy.
The Foundation has recently joined the UNESCO Global Education Coalition.