The energy transition represents the most effective response to the current environmental, economic and social crisis.
In these uncertain times, accelerating the energy transition through sustainable investments is a 'no-regrets' course of action.
Sustainable investments can create value not just for shareholders, but for all of us. This is the heart of the system value approach.
2020 will be remembered as the year in which the world was hit by the worst pandemic in recent history, and when global leaders were forced to quickly take decisions that would change our lives in the long-term. The shock of COVID-19 has acted as an extraordinary accelerator of phenomena and trends that were already in motion, such as digitalization and the progressive replacement of fossil fuels with renewable energy sources, creating a new sustainable and inclusive paradigm for businesses, governments, financial markets and wider civil society.
The energy transition, with the opportunities it brings in terms of investment and job creation, represents the most effective response to the current environmental, economic and social crisis. Just look at the funding flows, which are and will be increasingly oriented towards wind, solar and other sectors of the green economy, including electric mobility, storage systems and green hydrogen produced from coupling electrolysers with renewable sources.
The growing penetration of renewables must be read from an economic perspective. The continuous competition within markets has led to a steep reduction in the costs of these technologies, making them more competitive compared to fossil fuel alternatives in many geographies around the world. In addition, these technologies have solid economics, offer a shorter "time to EBITDA", and provide prompt and sustainable solutions to both decarbonization objectives and to increasing energy demand.
But does a shift of energy investments affect only the energy system? Does the energy transition have a role to play in the post-pandemic recovery?
Sustainable investments can create more value not just for organizations themselves, but also for the wider set of stakeholders. This is the underlying rationale of the system value framework, which has been developed by the World Economic Forum's Electricity Industry community, with support from Accenture. The framework more holistically evaluates the economic, environmental, social and technical outcomes of potential energy solutions across markets, aiming to broaden considerations beyond cost to include greater value dimensions. An approach that can be – and should be – applied by both companies and governments to evaluate the impact of new investments and policies respectively.
The system value framework also aligns well with Enel's strategy to take the measurement of societal impact one step further. Enel has adopted an assessment methodology, Total Societal Impact (TSI), that expresses the economic and social benefits of its investments.¹ This integrated approach applies advanced economic models, in line with the best practices adopted by multilateral organizations, with the aim to provide rigorous, reliable and transparent evaluations.
With this model it is possible to measure direct, indirect and induced effects of investment projects on selected contexts which may be linked to other indicators of interest with a flexible approach. For example, this model was applied to evaluate a project in Italy aimed at strengthening the quality of the grid infrastructure, mostly through digitalisation and automation. The results indicated that an initial investment of €1.1 billion ($1.29 billion), compared to a no-investment scenario, could amount to a GDP increase of more than €3.5 billion and the creation of more than 2,700 jobs.²
Another example is the socio-economic impact of Nxuba, a 141 MW wind farm currently in development in South Africa with around $90 million of local capex spent across the construction and operation phases. This investment would amount to a GDP increase of approximately $0.4 billion, and the creation of over 400 jobs over the entire lifecycle of the investment.
What's the World Economic Forum doing about the transition to clean energy?
Moving to clean energy is key to combating climate change, yet in the past five years, the energy transition has stagnated.
Energy consumption and production contribute to two-thirds of global emissions, and 81% of the global energy system is still based on fossil fuels, the same percentage as 30 years ago. Plus, improvements in the energy intensity of the global economy (the amount of energy used per unit of economic activity) are slowing. In 2018 energy intensity improved by 1.2%, the slowest rate since 2010.
Effective policies, private-sector action and public-private cooperation are needed to create a more inclusive, sustainable, affordable and secure global energy system.
Benchmarking progress is essential to a successful transition. The World Economic Forum's Energy Transition Index, which ranks 115 economies on how well they balance energy security and access with environmental sustainability and affordability, shows that the biggest challenge facing energy transition is the lack of readiness among the world's largest emitters, including US, China, India and Russia. The 10 countries that score the highest in terms of readiness account for only 2.6% of global annual emissions.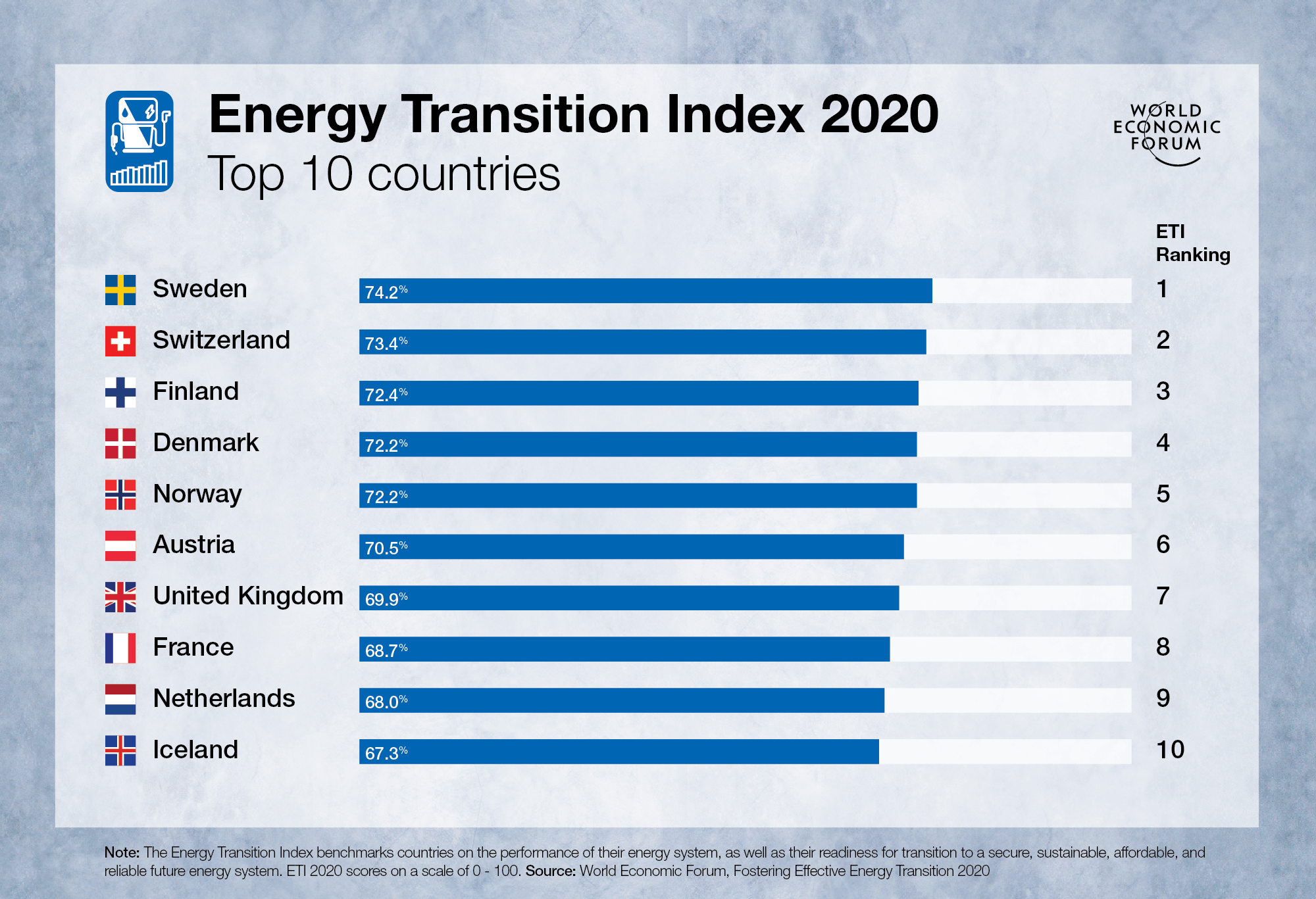 Additionally, the Mission Possible Platform (MPP) is working to assemble public and private partners to further the industry transition to set heavy industry and mobility sectors on the pathway towards net-zero emissions. MPP is an initiative created by the World Economic Forum and the Energy Transitions Commission.
Is your organisation interested in working with the World Economic Forum? Find out more here.
This new approach maintains the key role of technology while integrating it within a more holistic vision, using open governance and circular economy principles to achieve economic competitiveness, environmental sustainability and social inclusion.
The transition towards a mentality in line with a system value approach, both within companies and governments, is addressing the issues we are all facing today, and represents an essential step towards improving the quality of life for the next generation. In these very uncertain times, accelerating the energy transition together with sustainable investments can create value for the wider system at multiple levels.
[1] The TSI methodology currently incorporates economic and social dimensions, with environmental dimensions in development.
[2] As a potential average full-time equivalent for the entire timeframe based on an average salary of €33,000 ($39,000).