This daily round-up brings you a selection of the latest news and updates on the COVID-19 coronavirus pandemic, as well as tips and tools to help you stay informed and protected.
Top stories: Europe reports 200,000 new cases in a day; Eurozone economic recovery at risk; permanent work from home set to double next year.
1. How COVID-19 is affecting the globe
Slovakia is set to shut most of its schools and require people to stay home – apart from work, essential shopping and nature trips – in a partial lockdown.
2. Europe reports 200,000 daily infections
It comes as the region's reported coronavirus cases have doubled in just 10 days, with many countries reporting their highest single-day increases in cases in the past week.
As a region, it's reporting more daily cases than India, Brazil and the United States combined. Although, increased testing compared to the start of the pandemic is likely impacting the figures.
What is the World Economic Forum doing to manage emerging risks from COVID-19?
The first global pandemic in more than 100 years, COVID-19 has spread throughout the world at an unprecedented speed. At the time of writing, 4.5 million cases have been confirmed and more than 300,000 people have died due to the virus.
As countries seek to recover, some of the more long-term economic, business, environmental, societal and technological challenges and opportunities are just beginning to become visible.
To help all stakeholders – communities, governments, businesses and individuals understand the emerging risks and follow-on effects generated by the impact of the coronavirus pandemic, the World Economic Forum, in collaboration with Marsh and McLennan and Zurich Insurance Group, has launched its COVID-19 Risks Outlook: A Preliminary Mapping and its Implications - a companion for decision-makers, building on the Forum's annual Global Risks Report.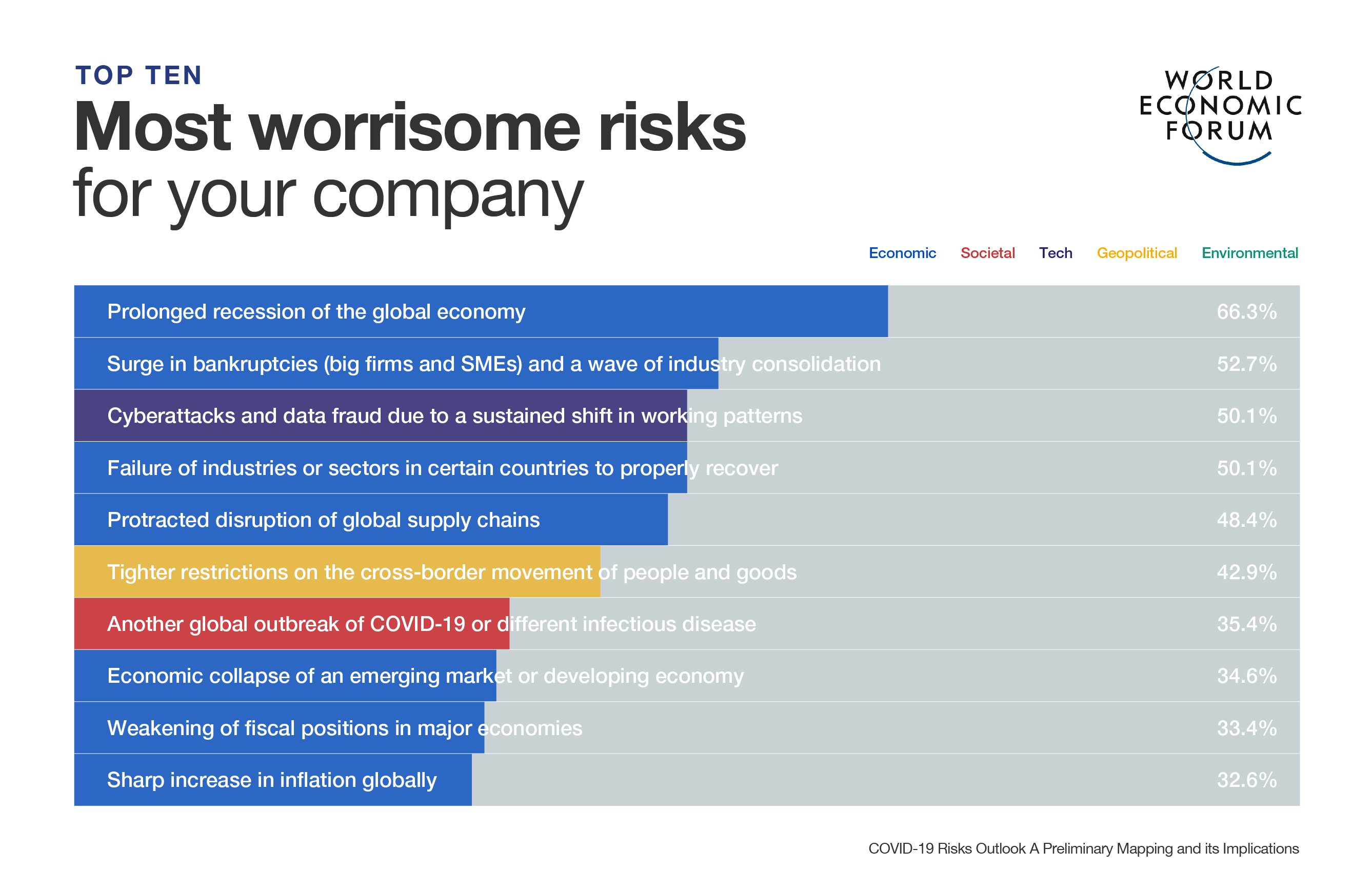 3. Eurozone recovery at serious risk
Nearly 90% of those surveyed said that there was a "high" or "very high" risk that the resurgence of the virus across the region would halt a Eurozone economic recovery.
"The initial rebound from the lockdown was always going to run out of steam but the second wave threatens to push some countries into another recession and will place the Eurozone recovery on hold," said Andrew Kenningham, chief Europe economist at Capital Economics.
"There is a growing risk of more severe lockdowns in the near term; these would cause a double-dip recession, although any contraction in GDP would not be as deep as in the first wave."