The COVID-19 pandemic has affected women's employment disproportionately causing a 'shecession'.
Lack of childcare provision and the collapse of female-centric sectors such as hospitality and leisure mean that many women are without paid work.
The UN's Global Gender Response Tracker has found 20% of countries analyzed had not put in place any gender-specific measures to assist women.
The IMF has called on countries worldwide to form economic policies to prevent the widening of the gender pay gap.
It looks at national measures that are directly addressing women's economic and social security, across three key dimensions: the surge in violence against women and girls, the unprecedented increase in unpaid care work, and the large-scale loss of jobs, incomes and livelihoods.
Why has the impact of the pandemic been worse for women?
For women, the pandemic is having a greater economic knock-on effect because of the impact on childcare provision, being in work that traditionally lacks any social safety nets and the shutting down of typically female-populated industries.
"Despite their enormous contributions to mitigating the impacts of the COVID-19 pandemic, the crisis is threatening to erase decades of progress for women and girls," finds the UN.
And in a podcast for the World Economic Forum, Phumzile Mlambo-Ngcuka, Executive Director of UN Women also warned about the challenges facing gender equality.
Getting things back on track
The Gender Response Tracker has found that 1 in 5 countries analyzed (42 in total) had not put in place any gender-specific measures to assist women and only 12% (25 countries) had addressed all the economic and social security issues. Only one third (60) of countries analyzed had put in measures to support unpaid care, while specific policies to economically support women were extremely rare, making up only 10% of all the measures put in place to counteract the effects of the pandemic.
But there are countries that the rest of the world could learn some lessons from:
Argentina has installed a high number of gender-sensitive measures (26 out of 44 measures overall), which has been attributed to a high number of women in key ministerial positions. Paid leave was extended to various groups, including pregnant women, those with dependent children requiring care, and women in the informal economy such as domestic workers. Firstly in April, then again in June and August, a lump-sum payment of 'Emergency Family Income' (Ingreso Familiar de Emergencia) was provided to low-income households, and has been estimated to reach 9 million people. New legislation denotes that those working remotely and responsible for children under 13 or disabled persons have a right for reasonable schedules to coincide with their care responsibilities.
According to the tracker, Ethiopia has put 10 measures in place, five of which are regarded as gender-sensitive, largely through the Productive Safety Net Project (PSNP) which targets low income households (often female-headed) to elevate them out of poverty. Recipients of the programme received an advance of three months' payments while on leave from their public work obligations and were also allowed to withdraw 50% of their savings (an encouraged aspect of the programme) to cover expenses.
The World Economic Forum's Global Gender Gap Report 2020 - published in December 2019, just before the crisis - showed that the time it would take to reach gender parity had shortened from 108 years to 99.5.
This was in part due to greater political representation and the 'role model effect'. But in the area of economic participation and opportunity, progress had actually regressed - with a massive 257 years before gender parity can be achieved.
The main reasons for this were that women have greater representation in roles being automated; not enough women are entering professions where wage growth is the most pronounced (including technology), and "women face the perennial problem of insufficient care infrastructure and access to capital".
The pandemic recession will only make this worse. Most previous recessions have primarily impacted male employment as they've hit sectors that overwhelmingly employ men, such as construction and manufacturing.
Due to the impact of suspended education, lack of social provision and the comprehensive shut down of industries that proportionally employ more women - hospitality, catering, leisure, domestic labour - vast numbers of women have been unable to work.
Helping women back to work
Kristalina Georgieva, the IMF's Managing Director, wrote: "It is crucial that policymakers adopt measures to limit the scarring effects of the pandemic on women."
In the short-term, these could include "extending income support to the vulnerable, preserving employment linkages, providing incentives to balance work and family care responsibilities, improving access to healthcare and family planning, and expanding support for small businesses and the self-employed".
What is the World Economic Forum doing to manage emerging risks from COVID-19?
The first global pandemic in more than 100 years, COVID-19 has spread throughout the world at an unprecedented speed. At the time of writing, 4.5 million cases have been confirmed and more than 300,000 people have died due to the virus.
As countries seek to recover, some of the more long-term economic, business, environmental, societal and technological challenges and opportunities are just beginning to become visible.
To help all stakeholders – communities, governments, businesses and individuals understand the emerging risks and follow-on effects generated by the impact of the coronavirus pandemic, the World Economic Forum, in collaboration with Marsh and McLennan and Zurich Insurance Group, has launched its COVID-19 Risks Outlook: A Preliminary Mapping and its Implications - a companion for decision-makers, building on the Forum's annual Global Risks Report.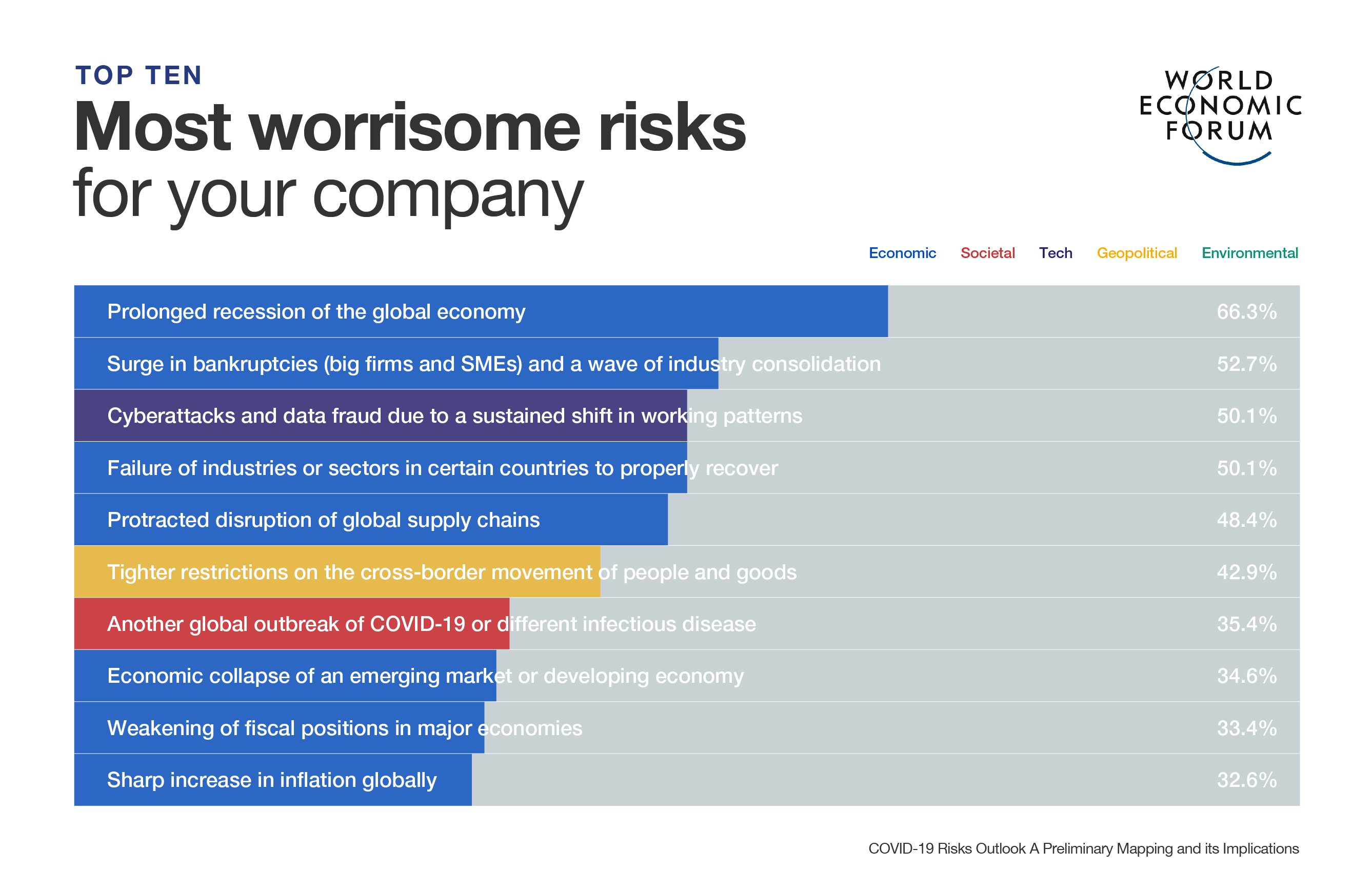 In the long-term, effective gender-responsive fiscal policies, such as investing in education and infrastructure, subsidizing childcare, and offering parental leave could "not only lift constraints on women's economic empowerment, they are necessary to promote an inclusive post-COVID-19 recovery".
And, as findings from the Global Gender Response Tracker show, the measures being taken now will only be effective if they are sustained over time and properly financed.
Further recommendations include treating gender-violence services as essential parts of COVID-19 plans and supporting female participation in leadership and decision-making with regard to COVID-19 response.