Almost two-thirds of new cars sold in Norway in September were electric.
When hybrids are included, the total jumps up to 89%.
Norway leads the world in the percentage of electric and hybrid cars on its roads.
But now the government is reducing the tax breaks that have fueled the electric boom.
Some say it's time electric cars paid their fair share of the cost of the roads.
Norway's electric car market is powering ahead, with most new cars registered in September either fully electric or hybrids.
It's a trend that looks set to continue. The latest data from OFV, the Norwegian Road Traffic Council, shows that by mid-October fully electric cars had already accounted for almost 65% of sales.
Norway has long been hailed as a leader in the race to adopt electric cars, and it provides many incentives and benefits – including big reductions in purchase and road tax – for those who buy and drive them. Electric cars also enjoy cuts of at least 50% to parking, toll road and ferry charges.
Norway's goal is for all new cars sold in the country after 2025 to be electric. And as its plan continues to pick up speed, it says the incentives driving the boom will be brought more into line with what other road users pay.
From next year, it will increase the road tax rate for electric vehicles – which currently benefit from discounts of up to 90% – to $229 a year, the same as for motorcycles.
"Electric cars make about as much noise as other cars at speeds above 50 km/h, they whirl up road dust, struggle just as much on the road and take up as much space as other cars," he says. "This is a step in the right direction, especially because the share of electric cars in new car sales is now about 50%, and is expected to increase in the coming years."
What's the World Economic Forum doing about the transition to clean energy?
Moving to clean energy is key to combating climate change, yet in the past five years, the energy transition has stagnated.
Energy consumption and production contribute to two-thirds of global emissions, and 81% of the global energy system is still based on fossil fuels, the same percentage as 30 years ago. Plus, improvements in the energy intensity of the global economy (the amount of energy used per unit of economic activity) are slowing. In 2018 energy intensity improved by 1.2%, the slowest rate since 2010.
Effective policies, private-sector action and public-private cooperation are needed to create a more inclusive, sustainable, affordable and secure global energy system.
Benchmarking progress is essential to a successful transition. The World Economic Forum's Energy Transition Index, which ranks 115 economies on how well they balance energy security and access with environmental sustainability and affordability, shows that the biggest challenge facing energy transition is the lack of readiness among the world's largest emitters, including US, China, India and Russia. The 10 countries that score the highest in terms of readiness account for only 2.6% of global annual emissions.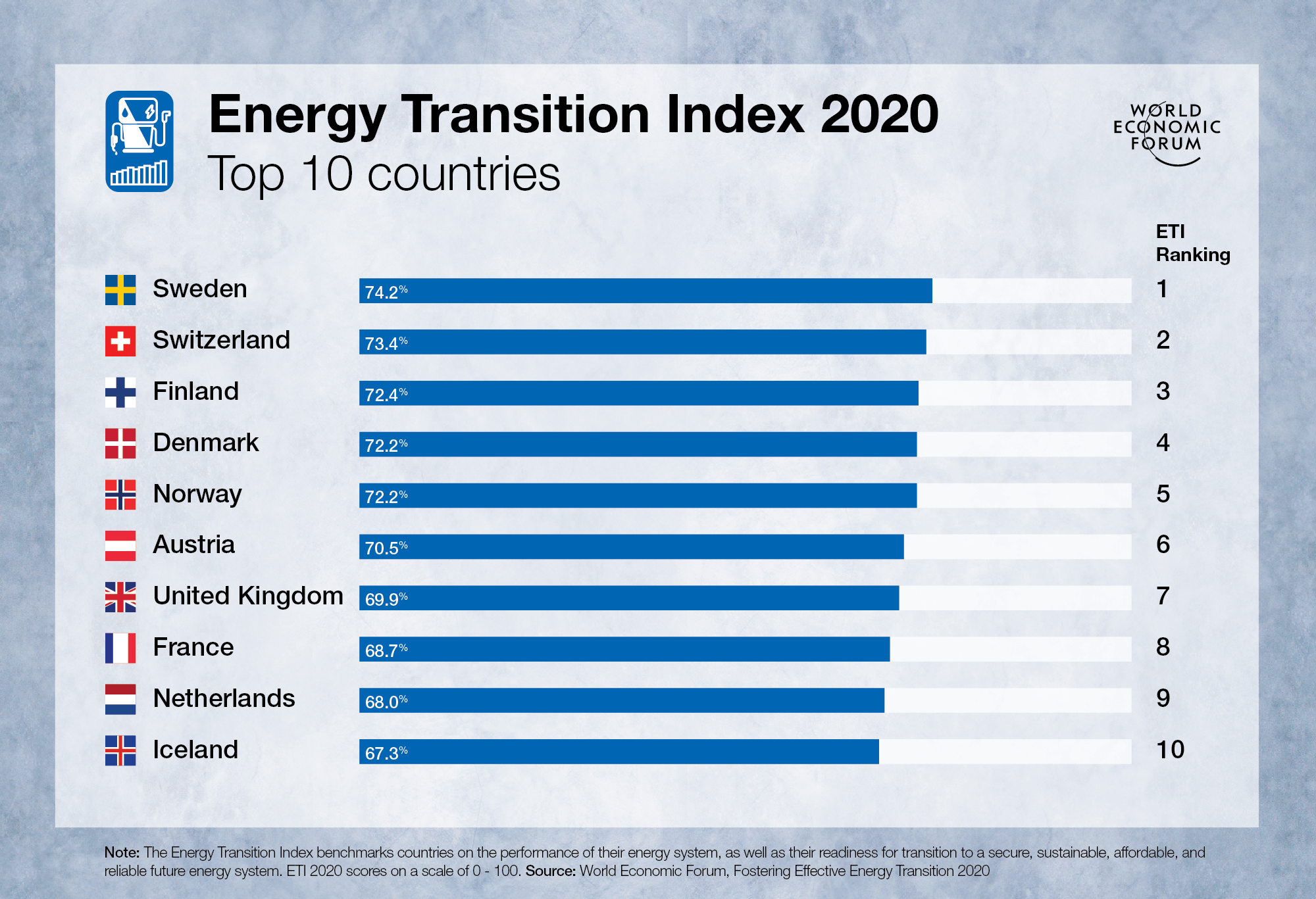 Additionally, the Mission Possible Platform (MPP) is working to assemble public and private partners to further the industry transition to set heavy industry and mobility sectors on the pathway towards net-zero emissions. MPP is an initiative created by the World Economic Forum and the Energy Transitions Commission.
Is your organisation interested in working with the World Economic Forum? Find out more here.
Even with the slightly higher taxes, electric vehicles will still be cheaper to own than fossil-fuel cars, Thorsen says. And that argument is borne out by new data from car-leasing company LeasePlan.
The data also shows that running a mid-sized electric car is now cost-competitive with fossil-fuel vehicles in 14 European countries including France, Germany, Spain and the UK.