The COVID-19 pandemic and economic downturn pose a huge challenge to start-ups, but the right policies can turn the crisis into an opportunity for innovation.
Abu Dhabi's government is strengthening and diversifying its start-up scene, investing in businesses and new technologies that could solve pressing problems such as food and water security and the distribution of health equipment.
It is also supporting existing start-ups, using its innovation infrastructure to deliver assistance such as covering the rent of start-up employees
The global pandemic continues to pose an enormous challenge to businesses. Weathering the current climate is particularly difficult for the many start-ups that provide energy and new ideas to the world's economies.
In the COVID-19 crisis, cities such as Abu Dhabi show how the pandemic could be a pivotal moment of opportunity for this generation's start-ups, entrepreneurs and small- and medium-sized enterprise. Under the steerage of HH Sheikh Mohamed bin Zayed Al Nahyan, Crown Prince of Abu Dhabi, the Abu Dhabi government recently announced 16 new initiatives to support businesses through these tough times. They include a 3 billion dirham SME Credit Guarantee Scheme, managed by Abu Dhabi Investment Office (ADIO) to support SMEs, as well as tax and insurance exemptions, waivers and fee reductions. Additionally, initiatives have included supporting the tourism and entertainment sectors through a suspension on fees and reductions in rent.
What is the World Economic Forum doing to manage emerging risks from COVID-19?
The first global pandemic in more than 100 years, COVID-19 has spread throughout the world at an unprecedented speed. At the time of writing, 4.5 million cases have been confirmed and more than 300,000 people have died due to the virus.
As countries seek to recover, some of the more long-term economic, business, environmental, societal and technological challenges and opportunities are just beginning to become visible.
To help all stakeholders – communities, governments, businesses and individuals understand the emerging risks and follow-on effects generated by the impact of the coronavirus pandemic, the World Economic Forum, in collaboration with Marsh and McLennan and Zurich Insurance Group, has launched its COVID-19 Risks Outlook: A Preliminary Mapping and its Implications - a companion for decision-makers, building on the Forum's annual Global Risks Report.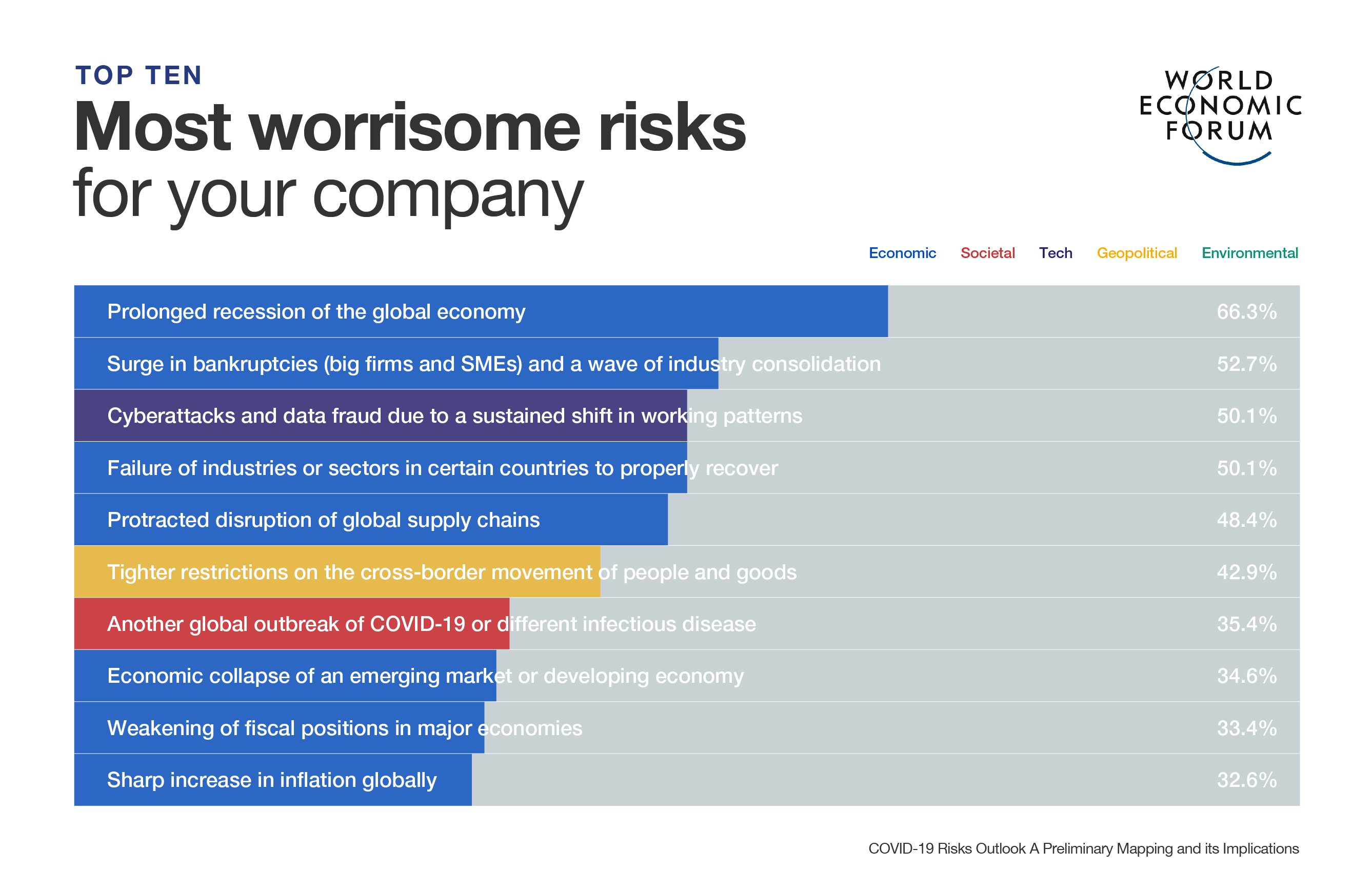 As a result, innovation hub Abu Dhabi can serve as an example for cities looking to support entrepreneurship during the pandemic while safeguarding their existing investments and strategic priorities. With this support in place, business owners can use their creativity, flexibility and vision to help solve the world's most pressing challenges.
Here are five concrete challenges cities can take to help start-ups tackle to help businesses – and the world – thrive.
Challenge #1: Startups can need special support for financing.
Problem: Loans can be difficult to secure even in good times and startups during the pandemic are burdened with a number of unexpected costs as they pivot to serve the changing needs brought by the pandemic.
Solution: The Industrial Development Bureau (IDB) of the Abu Dhabi Department of Economic Development (ADDED) signed a new Memorandums of Understanding (MoUs) with 10 leading national banks in the UAE aimed at enhancing the credit environment for Abu Dhabi's industrial and commercial sectors to provide a platform to connect banks for the ease of facilitating bank loans. The move further seeks to promote competitiveness among banks and encourage them to develop innovative financing products and services for various sectors in the emirate.
These MoUs will help create a credit environment that is conducive for investments in the industrial sector, noting that this latest initiative will further ensure a safe and smooth investment environment for Foreign Direct Investments (FDI) which is one of the key drivers in spurring economic activities and enhancing the industrial sector's supply chain which include logistics services, supply activities, promotion, distribution, and packaging. This support will also contribute to improving the efficiency in finance and banking facilities and services for local exporters. Cities looking support small businesses will need to find similar options that ensure businesses have access to the loans they need to thrive.
Challenge #2: Staying focused on long-term priorities is difficult during unpredictable times.
Problem: Many cities and countries have been forced to delay or derail longer-term sustainability plans, making those goals all the more difficult to reach when the pandemic subsides.
Solution: Start-ups are a vital part of Abu Dhabi's plan to diversify its oil-based, public sector-led economy by 2030, and shift towards a knowledge-based model. To this end, Abu Dhabi has created a range of new incentives for start-ups to create sustainable solutions. It recently launched the Alpha Wave Innovation Fund, a venture fund of 1.1 billion United Arab Emirates dirham (AED) that targets Indian and southeast Asian start-ups. Led by ADQ, one of the region's largest holding companies based in Abu Dhabi, the fund aims to be a vehicle to invest in start-ups that will generate sustainable, long-term financial returns and bring young entrepreneurs to Abu Dhabi.
The city is also supporting a special sustainability hub, understanding the key role hubs of researchers, officials and business owners have on fuelling innovation. The ADQ-backed start-ups will be located at Masdar City, one of the world's most sustainable urban communities, a low-carbon development made up of a rapidly growing clean-tech cluster. It is already home to more than 600 science, technology and renewable energy companies, including multi-sector leader Honeywell, which now produces coronavirus-suitable N95 face masks. The Mubadala company Masdar, one of the world's foremost renewable energy investors, is also based there.
Lastly, the city has increased its support for start-ups innovating in high-productivity sectors such as agricultural technologies, health technologies and educational technologies. In April, we announced four agritech investments, funded through the $272 million Agritech Incentive Programme. They include vertical farming groups Madar Farms and Aerofarms, fertilizer start-up RNZ, and Responsive Drip Irrigation. That latter uses new irrigation technology to allow plants to self-regulate the delivery of water and nutrients. This will accelerate the growth of an agricultural ecosystem that is locally relevant, globally exportable and has the potential to solve regional challenges, such as food security. As the COVID-19 crisis has shown, being able to produce food in the region is of special importance in times when traditional supply lines are affected. The investments will also create highly-skilled jobs.
Challenge #3: Entrepreneurs have more financial challenges than ever.
Problem: Most entrepreneurs fund their businesses with savings or loans from friends and family. Such money is hard to come by during a global recession with widespread unemployment that dampens innovation.
Solution: To tackle this problem, Abu Dhabi created special communities to ensure changemakers can spend more time innovating and less time worrying about their next funding boost. Hub71, Abu Dhabi's global tech ecosystem, has recently announced support measures for more than 75 start-ups in its community. This includes covering housing and WeWork x Hub71 office-space rental costs for five months for all start-up employees. Further support will be re-evaluated on a monthly basis, depending on the latest developments. This support is being offered to a range of innovative start-ups from Healthtech to Edtech and Fintech, at a time when the world is looking for innovative ideas that can redefine sectors like healthcare, education and financial services.
Hub71 provides start-ups with access to capital, market opportunities, talent and mentorship, and a business-friendly environment, helping entrepreneurs develop, scale and build transformative businesses. The start-ups that are part of its dynamic community have raised over $139 million to date. It is supported by strategic partners such as Mubadala Investment Company, Abu Dhabi Global Market (ADGM), Microsoft and Abu Dhabi Investment Office, and part of Abu Dhabi's government's accelerator program Ghadan21.
One of these partners, Mubadala Investment Company, recently launched a 920 million dirham MENA tech fund. This includes a fund of funds for venture capital in the region and a direct investment fund for innovative start-ups based out of Hub71.
Ecosystems like Hub71 show how a robust innovation infrastructure can come to the rescue when a crisis hits. Abu Dhabi invested in Hub71 well before the coronavirus pandemic. In the current situation, the network doubles as a uniquely efficient and transparent way of delivering support to start-ups and funding new projects.
Challenge #4: Start-up banking can be costly and complicated.
Problem: Running a start-up often involves time-consuming red tape and unhappy surprises, even without a pandemic. Results of a whitepaper published by Hub71 revealed that 30% of start-ups in the emirates find themselves unable to open a domestic bank account, and for those who are successful, it takes on average 63 days to open an account. This is due to stringent documentation processes and lengthy 'know your customer' procedures that differ from bank to bank. As a result, many start-ups turn to foreign banks to conduct daily transactions, subjecting them to additional charges, creating unnecessary overhead for fledgling businesses. According to MAGNiTT, a startup data platform, 48 percent of start-ups this spring said revenue generation was their major concern, which has since been exasperated by an environment of increased economic hardships caused by the pandemic.
Solution: Hub71 recently joined forces with two key banks in the region, Mashreq Bank and First Abu Dhabi Bank, to recommend solutions that address the problems faced by start-ups when opening a bank account in the United Arab Emirates. The proposed solution will offer start-ups the ability to open a bank account in less than five days with simplified paperwork and better coordination between different entities.
To develop further banking solutions, the UAE will also join forces with start-ups in the fintech sector as well as other corporate partners and licensing entities. The solutions will ensure that UAE banks fully comply with set regulations while simultaneously allowing start-ups quick access to funds from pre-approved investors and a suite of banking services for their day-to-day business needs.
Challenge #5: Local start-ups overlook solutions for global needs.

Problem: During the pandemic, it's easy to focus on the local impact start-ups can have to serve immediate needs. Still, such focus can overlook the greater opportunity to build solutions that scale and that can tackle global problems.
Solution: As the COVID-19 crisis has created massive global demand for health- and education-related (healthtech and edtech) technologies, Hub71 is prioritizing global healthtech and edtech start-ups with the potential to support the private and public sectors as they adapt to the challenges of COVID-19. These include start-ups such as Aumet, which connects 50,000 global medical manufacturers with distributors for essential items such as personal protective equipment.
In less than one month, the Abu Dhabi Telemedicine Centre reported a 2,000% increase in telemedicine; and Artificial Intelligence is being used to accelerate drug discovery in a wide range of fields. The new environment is forcing healthcare providers to rethink how they deliver services, with remote diagnostics and consultation now a reality for many patients and healthcare practitioners requiring new, innovative and safe digital tools.
Aumet founder Yahya Aqel described Hub71 as a perfect launchpad for its transformative technologies: "We see Abu Dhabi as a safe, well-connected and supportive place to do business – a springboard to scale our business operations globally."
Start-up hubs, government institutions and financial organizations each have a specific, separate role to fulfil in a crisis, but their true potential is only realized when they work together and connect their unique capacities and expertise.
Start-ups are known for their creativity, unconventional thinking and flexibility, skills that will be deeply necessary in tackling the unprecedented upheaval caused by this new virus. Governments and financial institutions, in their roles, are essential for creating systems that allow start-ups to thrive and be nimble as they test new solutions.
The pandemic is a moment of urgency where we can seize opportunities that go beyond mere financial returns. Done right, successful early-stage start-up support is also an investment in reducing the effects of climate change, developing much-needed health solutions, bringing people together, creating jobs, and delivering value to both people and the planet. Cities and hubs that support these long-term goals will truly support sustainable innovation.