1.5 billion cases and 7.6 million malaria deaths have been averted since 2000.
Africa has cut its malaria death toll by 44% over the same period.
But funding slowed in recent years, and COVID further hampered progress.
The global 2020 target for reducing malaria cases will be missed by 37% and the mortality reduction target will be missed by 22%, WHO predicts.
More investment in research and development is needed.
Malaria will probably kill more people than COVID-19 in sub-Saharan Africa this year, according to the World Health Organization.
In its World Malaria Report 2020, the WHO says unprecedented success in controlling the disease over the past 20 years has stalled, with the COVID-19 pandemic threatening to further disrupt life-saving programmes that deliver insecticide-treated mosquito nets, diagnostics and medicines.
Malaria is a preventable but life-threatening disease transmitted by the bites of infected female Anopheles mosquitoes. It killed 409,000 people last year and an estimated two-thirds of deaths are among children under the age of five.
Since 2000, the global response to malaria has averted 1.5 billion cases and 7.6 million deaths. Twenty-one countries have eliminated malaria over the same period and the African Region, which accounted for 94% of cases in 2019, has cut its malaria death toll by 44%, from an estimated 680,000 in 2000 to 384,000 in 2019.
"However, progress has slowed in recent years, particularly in countries with a high burden of the disease," the WHO says.
"A funding shortfall at both the international and domestic levels poses a significant threat to future gains. In 2019, total funding reached $3 billion against a global target of $5.6 billion. Funding shortages have led to critical gaps in access to proven malaria control tools."
The annual estimate of malaria cases – there were 229 million in 2019 – has remained virtually unchanged over the past four years. The WHO is projecting that the global 2020 target for reducing malaria cases will be missed by 37% and the mortality reduction target will be missed by 22%.
On top of this, the WHO is concerned that even moderate COVID-19-related disruptions in access to effective malaria treatment could lead to a considerable loss of life. The report finds, for example, that a 25% disruption in access to effective antimalarial treatment in sub-Saharan Africa could lead to 46,000 additional deaths.
In fact, malaria could kill more people than COVID-19 in sub-Saharan Africa this year, according to Pedro Alsonso, director of WHO's malaria programme. "It's very likely that excess malaria mortality is larger than the direct COVID mortality," Alsonso said.
The WHO is calling on countries and global health partners to step up the fight against malaria and says a key strategy to reignite progress is the 'high burden to high impact' (HBHI) response. This is led by 11 countries – including 10 in sub-Saharan Africa – that account for approximately 70% of the world's malaria burden.
What is the World Economic Forum doing to manage emerging risks from COVID-19?
The first global pandemic in more than 100 years, COVID-19 has spread throughout the world at an unprecedented speed. At the time of writing, 4.5 million cases have been confirmed and more than 300,000 people have died due to the virus.
As countries seek to recover, some of the more long-term economic, business, environmental, societal and technological challenges and opportunities are just beginning to become visible.
To help all stakeholders – communities, governments, businesses and individuals understand the emerging risks and follow-on effects generated by the impact of the coronavirus pandemic, the World Economic Forum, in collaboration with Marsh and McLennan and Zurich Insurance Group, has launched its COVID-19 Risks Outlook: A Preliminary Mapping and its Implications - a companion for decision-makers, building on the Forum's annual Global Risks Report.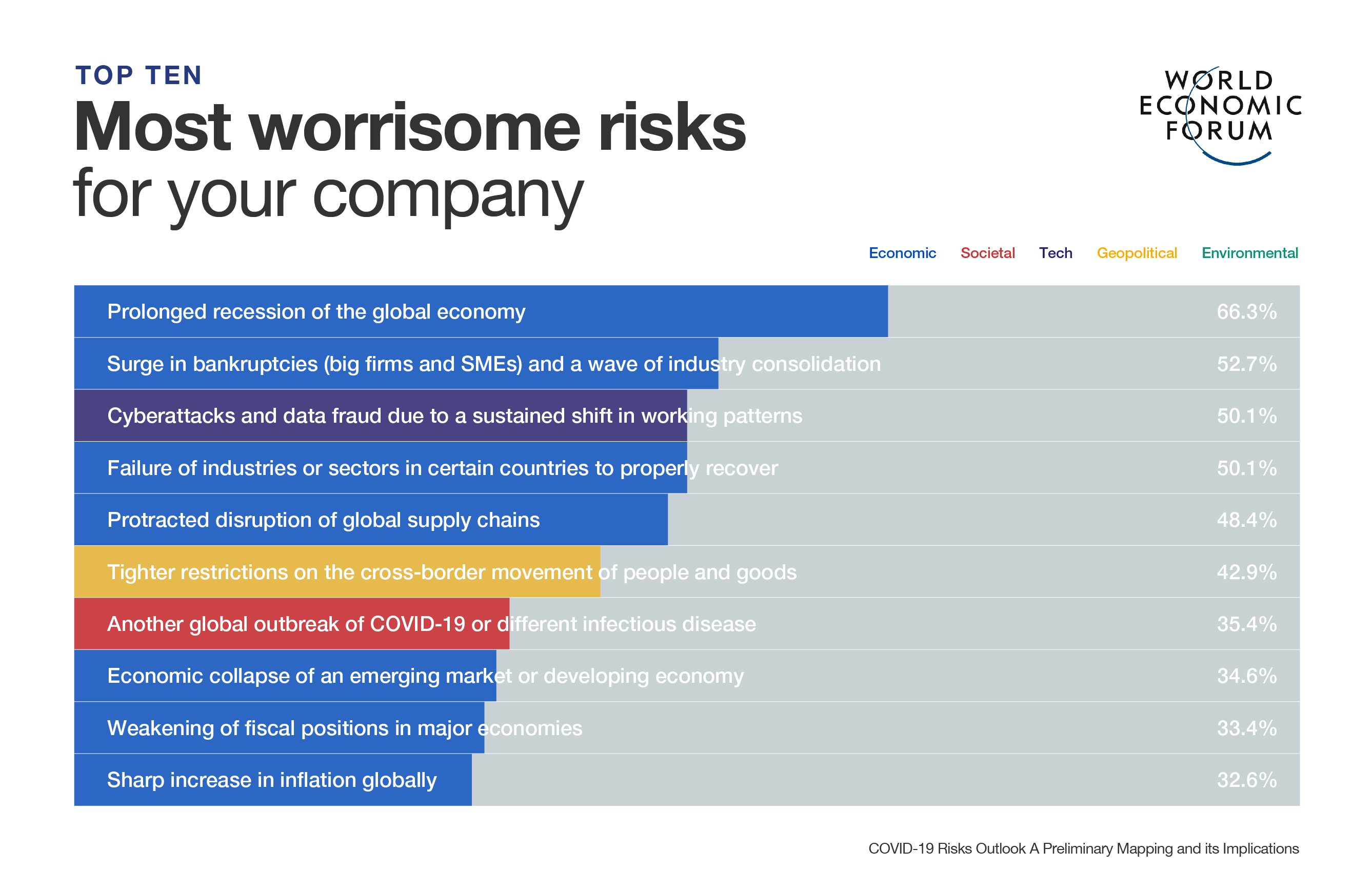 Instead of a 'one-size-fits all' approach to malaria control, these countries have been opting for tailored responses based on local data and intelligence.
"While it is too early to measure the impact of the HBHI approach, the report finds that deaths in the 11 countries were reduced from 263,000 to 226,000 between 2018 and 2019," WHO says. "India continued to make impressive gains, with reductions in cases and deaths of 18% and 20%, respectively, over the past two years."
Recommendations in the World Malaria Report 2020 include improving surveillance, monitoring and evaluation, and strengthening the health workforce and malaria expert base.
Eliminating malaria in all countries, especially those with a high disease burden, is likely to require tools that are not available today, the WHO says.
In September 2019, WHO Director-General Tedros Adhanom Ghebreyesus issued a "malaria challenge", calling for more investment in the research and development of new malaria-fighting tools and approaches.
This message was reinforced in the April 2020 report of the the WHO Strategic Advisory Group on malaria eradication, which highlighted six main areas of focus: