A new report outlines the shipping industry's plans for decarbonization.

Five ways governments and city leaders should be collaborating on decarbonization.

Emissions cuts in line with Paris Agreement would see benefits 'within two decades'
The world is going through intense change. There are tremendous challenges, from the immediate shock of the pandemic to the longer-term effects of climate change. But if there is uncertainty, 2020 also showed what the world can achieve when it works together. For COVID-19, the rapid development, delivery and supply of vaccines in parts of the world brings hope of an end to the global pandemic. For climate change, last year, more and more governments and businesses set goals in line with the Paris Agreement.
Almost 1,400 businesses, more than 450 cities and 120 countries are part of the largest ever alliance committed to reducing the amount of greenhouse gases in the atmosphere by 2050 – in other words, achieving net-zero emissions in just a few decades. Such goals demand broad collaboration.
Indeed, it is in this spirit that the World Economic Forum brings together business, government and civil society for its annual Davos meeting, which for many years has been held in Switzerland, but next week will be virtual. This digital event launches The Great Reset initiative, which highlights how the world has a unique opportunity to make crucial choices that can shape its recovery post-pandemic. There is a pressing need for collaboration on all fronts.
Collaborative action
In April last year, Shell announced its own ambition to be a net-zero emissions energy business by 2050 or sooner, in step with society and its customers. This will require working with others in a way—and at a scale—that we have not seen before.
In 2020, we published the Decarbonising Shipping: All Hands on Deck report. This amplified Shell's work with customers and partners in sectors where it is hardest to reduce carbon emissions. The report helped to inform Shell's strategy about how we find different ways to work across sectors and encouraged carbon reduction commitments such as the Sea Cargo Charter. This is a group of the world's largest energy, agriculture, mining and commodity trading companies working side by side to collect emissions data from the ships we charter.
The aim is to publish data every year and track progress in lowering emissions. The report with the shipping sector was Shell's first. Today we publish our second report, this time focusing on the road freight sector: Decarbonising Road Freight: Getting into Gear. Both are jointly produced with Deloitte.
What can the industry do?
Trucks move almost everything that modern society depends on. Road freight has played a vital role in the pandemic, with the use of home delivery services increasing greatly during local and national lockdowns in many countries. With around 3 million companies operating around 217 million vehicles, the sector accounts for about 9% of global carbon dioxide emissions. This is more than shipping and aviation combined – and the demand for road freight is expected to more than double by the mid-2040s. This is huge. So how can a sector made up of so many different parts work together to take the steps needed to reduce emissions?
This new report, Decarbonising Road Freight: Getting into Gear, is driven both by urgency and the need for collaboration. It is based on more than 150 interviews across the industry, from logistics companies to vehicle manufacturers and regulators, and it shows an industry ready for action. The report identifies 22 solutions that can help the sector start reducing emissions right now and increase the speed of the transition to low- and zero-emission vehicles.
To see a higher-resolution version of this graphic, please click here.
The solutions include immediate action through the increased use of existing technology, such as battery-electric technology for the shorter-range, lighter vehicles used in cities. Also in the short term, the solutions include greater adoption of lower-carbon fuels such as biofuels, liquefied natural gas (LNG) and bio-LNG. And in the longer term, they include hydrogen as a fuel for heavier trucks that travel further with greater loads.
These solutions also include more focused regulation, increased production of low-carbon vehicles and improved infrastructure to sustain their growth. The principle of collaboration runs throughout. As a major operator of trucks, Shell must play its part too in reducing emissions. Today, we are also publishing a companion report Decarbonising Road Freight: Shell's Route Ahead, which sets out the action we are taking in this sector. Shell uses a contracted fleet of around 3,000 heavy-duty trucks to deliver fuel to almost all of its 45,000 retail sites worldwide. By 2030, Shell aims to reduce this fleet's average emission intensity by 30%.
As well as supplying fuels, lubricants and vehicle charging services, Shell is also expanding its hydrogen projects, from production to refuelling networks. Shell has around 50 hydrogen fuelling stations for light-duty vehicles across the world and has approved the construction of over 50 more. The majority of the 50 additional sites will be in California, where with our partners we are also developing three sites for truck refuelling.
What's the World Economic Forum doing about the transition to clean energy?
Moving to clean energy is key to combating climate change, yet in the past five years, the energy transition has stagnated.
Energy consumption and production contribute to two-thirds of global emissions, and 81% of the global energy system is still based on fossil fuels, the same percentage as 30 years ago. Plus, improvements in the energy intensity of the global economy (the amount of energy used per unit of economic activity) are slowing. In 2018 energy intensity improved by 1.2%, the slowest rate since 2010.
Effective policies, private-sector action and public-private cooperation are needed to create a more inclusive, sustainable, affordable and secure global energy system.
Benchmarking progress is essential to a successful transition. The World Economic Forum's Energy Transition Index, which ranks 115 economies on how well they balance energy security and access with environmental sustainability and affordability, shows that the biggest challenge facing energy transition is the lack of readiness among the world's largest emitters, including US, China, India and Russia. The 10 countries that score the highest in terms of readiness account for only 2.6% of global annual emissions.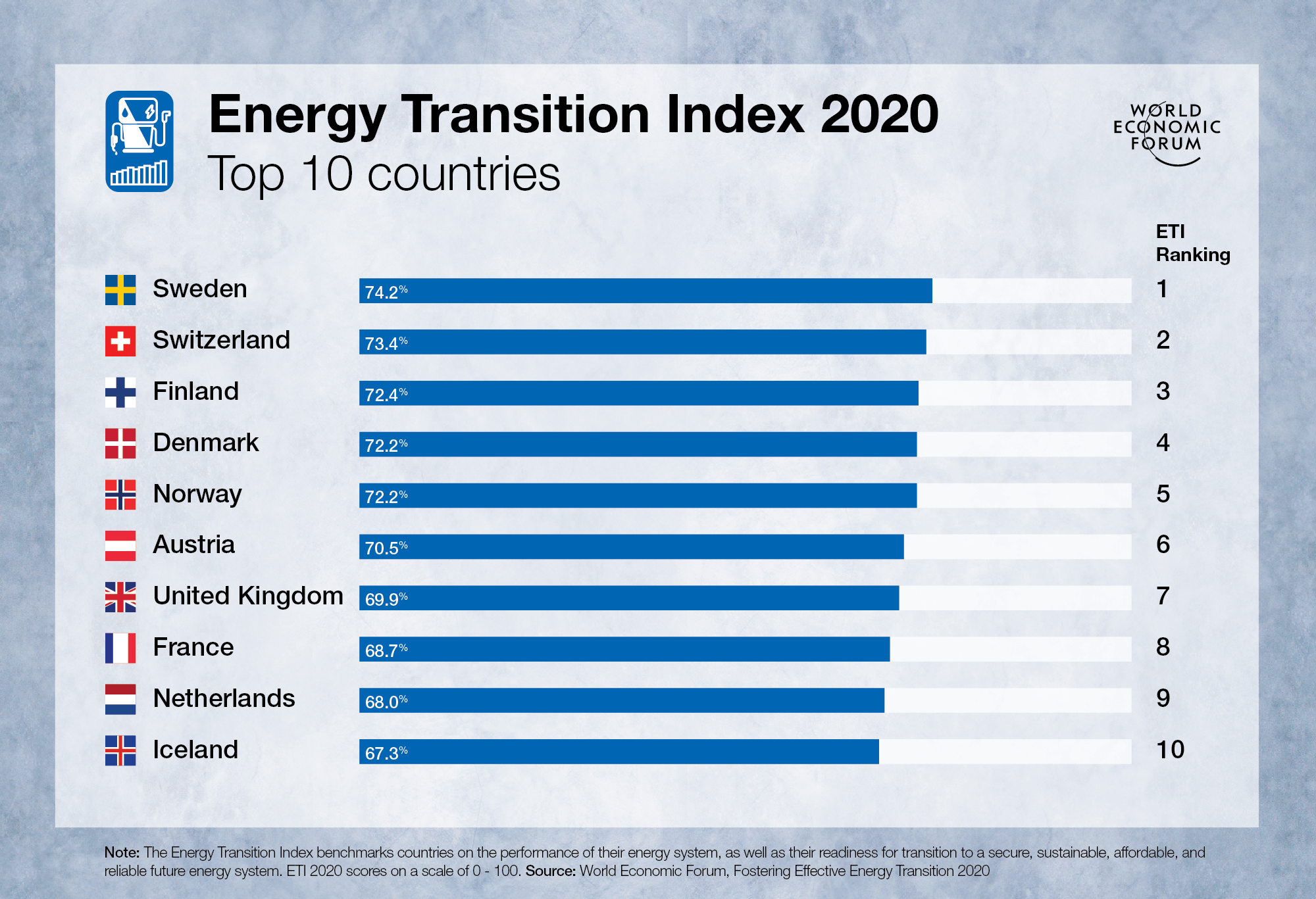 Additionally, the Mission Possible Platform (MPP) is working to assemble public and private partners to further the industry transition to set heavy industry and mobility sectors on the pathway towards net-zero emissions. MPP is an initiative created by the World Economic Forum and the Energy Transitions Commission.
Is your organisation interested in working with the World Economic Forum? Find out more here.
The future of freight
Last year, Shell agreed to work with Daimler Truck AG, the Volvo Group and others to help create the conditions for the mass-market introduction of heavy-duty hydrogen trucks in Europe. This is in line with the European Union's ambition of net-zero emissions by 2050. We also signed a joint statement as part of the European transport sector, alongside vehicle manufacturers, technology providers and refuelling infrastructure companies. This set a target of having 100,000 hydrogen fuel cell heavy-duty trucks on the roads from 2030 onwards, and up to 1,500 hydrogen refuelling stations by 2030.
Shell is also rapidly expanding its electric vehicle charging network, which currently consists of more than 200,000 public and private charge points across the world. It is also working with the fast-charging network operator IONITY to open 350 350kW chargers at 60 Shell sites in the next 12 months alone.
We continue to work across sectors, with partners, customers and wider society to help to find the best ways to get to net-zero. The Forum is one of many organisations we work with. We are part of its Road Freight Zero coalition, which brings business leaders from across industry, including the transition finance community, policy makers and other experts, to establish how we can take joint action that scales up zero-emissions fleets and infrastructure in line with the Paris Agreement.
I am greatly optimistic about what can be achieved. The road freight report reflects the industry's plan of action – a path towards net-zero emissions by 2050 in the road freight sector. I believe this is possible because of the steps the industry has already taken and its determination to go even further. The report shows an industry that is not only engaged and prepared to change but getting into gear for the journey ahead.
Legal Disclaimer: More details on the announcement are available here. It is important to note that as of January 21, 2021, Shell's operating plans and budgets do not reflect Shell's Net-Zero Emissions ambition. Shell's aim is that, in the future, its operating plans and budgets will change to reflect this movement towards its new Net-Zero Emissions ambition. However, these plans and budgets need to be in step with the movement towards a Net-Zero Emissions economy within society and among Shell's customers. The companies in which Royal Dutch Shell plc directly and indirectly owns investments are separate legal entities. In this post "Shell", "Shell Group" and "Royal Dutch Shell" are sometimes used for convenience where references are made to Royal Dutch Shell plc and its subsidiaries in general. This Decarbonising Road Freight: Getting into Gear report contains forward-looking statements (within the meaning of the U.S. Private Securities Litigation Reform Act of 1995) concerning the financial condition, results of operations and businesses of Royal Dutch Shell. All statements other than statements of historical fact are, or may be deemed to be, forward-looking statements. Forward-looking statements are statements of future expectations that are based on management's current expectations and assumptions and involve known and unknown risks and uncertainties that could cause actual results, performance or events to differ materially from those expressed or implied in these statements. Forward-looking statements include, among other things, statements concerning the potential exposure of Royal Dutch Shell to market risks and statements expressing management's expectations, beliefs, estimates, forecasts, projections and assumptions. There are a number of factors that could affect the future operations of Royal Dutch Shell and could cause those results to differ materially from those expressed in the forward-looking statements included in this report. Readers should not place undue reliance on forward-looking statements. Risk factors that may affect future results are contained in Royal Dutch Shell's Form 20-F for the year ended December 31, 2019 (available at www.shell.com/investors and www.sec.gov). These risk factors also expressly qualify all forward-looking statements contained in this report and should be considered by the reader. Each forward-looking statement speaks only as of the date of this report, January 21, 2021.