In a world disrupted by pandemics, climate change and civil unrest, we need responsible business leaders to act in the interests of society.

Research into leadership, by Russell Reynolds Associates and the United Nations Global Compact, highlights the importance of a 'sustainable mindset'.

Four key leadership attributes, outlined here, can help drive this transformation.
The past year has highlighted what will likely be an ongoing challenge for years to come: the increasing frequency of challenges leaders must face that impact the economy, environment and society simultaneously. From pandemics to large-scale environmental disasters, to uprisings over societal injustice, it is clear that we need problem-solvers who can transcend silos – we call those people sustainable leaders.
Last year, Russell Reynolds Associates partnered with the United Nations Global Compact on a major research effort to identify and understand sustainable leaders in the business world. Our work involved in-depth analysis of executives at organizations around the world and long conversations with more than 50 CEOs and board directors who have long track records of achievements in both sustainability and corporate performance – demonstrating that success in one area doesn't have to come at the expense of the other.
Our work highlighted the importance of a sustainable mindset – a purpose-driven belief that business is not a commercial activity divorced from the wider societal and environmental context in which it operates. But a sustainable mindset on its own is not enough – it has to be paired with the right skill set, specifically four leadership attributes that can drive transformation inside and outside the organization:
Multi-level systems thinking: sustainable leaders go beyond a deep understanding of their own organizational system and incorporate the interplay with the larger business, societal and environmental systems around them. Critically, they cut through that complexity to drive targeted decisions and actions that turn sustainability into a competitive advantage.
Stakeholder inclusion: sustainable leaders do not manage stakeholders, they include them. They understand a wide range of viewpoints in order to drive decision-making with all those stakeholders in mind and, where possible, actively involve those stakeholders in actioning the decisions and sharing in the benefits.
Disruptive innovation: transformation may be easy to talk about, but it is tough to deliver. Sustainable leaders possess the courage to challenge traditional approaches and a willingness to disrupt their business and industry—they ask why it cannot be done differently. They cut through bureaucracy and make bold investments that eliminate the trade-off between profitability and sustainability.
Long-term activation: sustainable leaders do not simply have an orientation toward the long-term, they set audacious goals and drive concerted action to surpass them. To do this requires a great deal of courage to stay the course in the face of setbacks and to make decisions that may be unpopular with short-term-oriented stakeholders.
What is the World Economic Forum doing to manage emerging risks from COVID-19?
The first global pandemic in more than 100 years, COVID-19 has spread throughout the world at an unprecedented speed. At the time of writing, 4.5 million cases have been confirmed and more than 300,000 people have died due to the virus.
As countries seek to recover, some of the more long-term economic, business, environmental, societal and technological challenges and opportunities are just beginning to become visible.
To help all stakeholders – communities, governments, businesses and individuals understand the emerging risks and follow-on effects generated by the impact of the coronavirus pandemic, the World Economic Forum, in collaboration with Marsh and McLennan and Zurich Insurance Group, has launched its COVID-19 Risks Outlook: A Preliminary Mapping and its Implications - a companion for decision-makers, building on the Forum's annual Global Risks Report.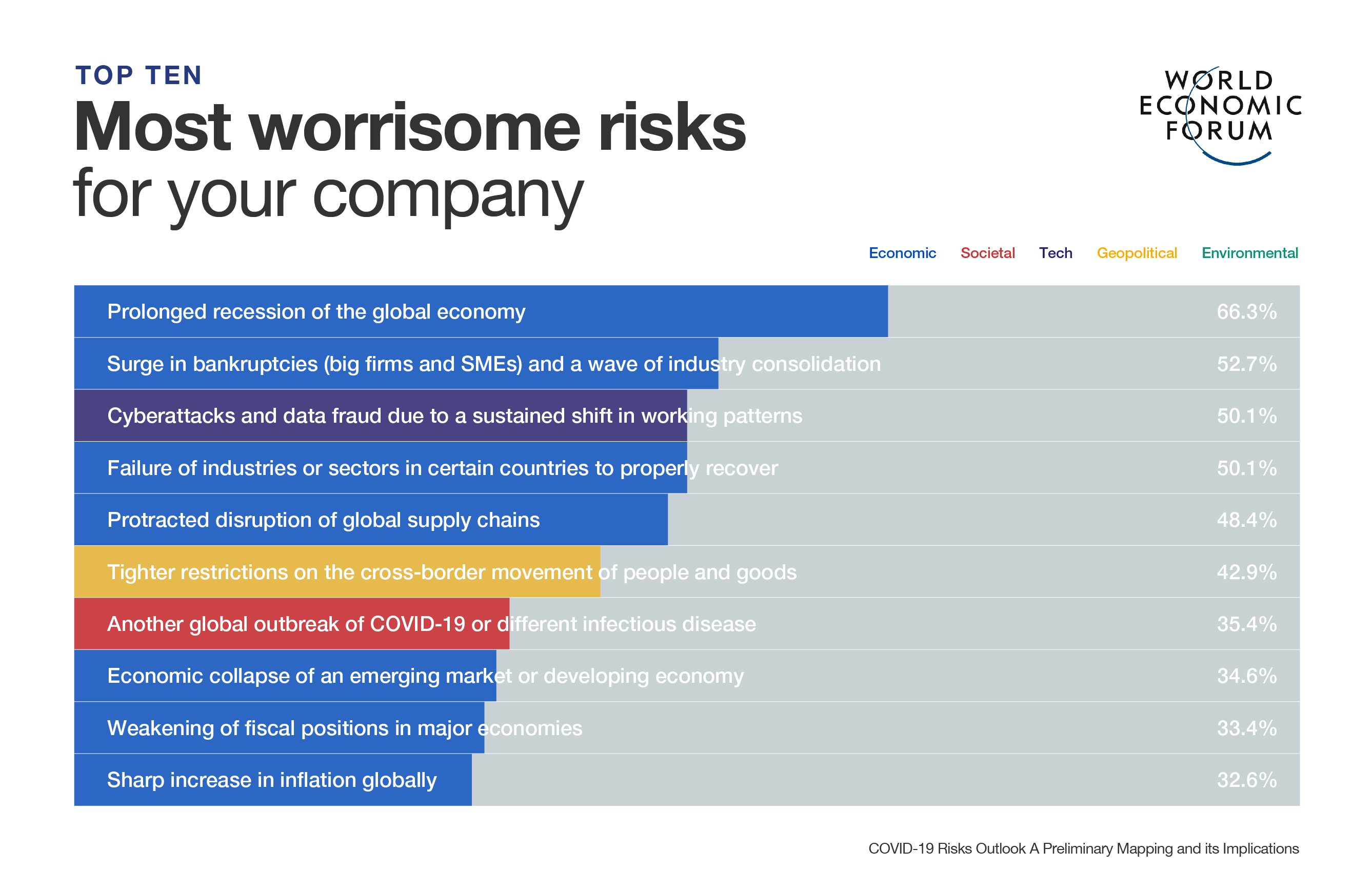 While sustainable leaders all demonstrate these skills, they didn't all develop them in the same way or at the same time. In fact, our research shows that there are three fundamental types of sustainable leaders:
The Born Believers: 45% of sustainable leaders described having a passion for the environment or social issues from an early age.
The Convinced: 43% described an increased understanding of the strategic importance of sustainability as they grew in their careers.
The Awoken: just 13% described a pivotal moment of realization, prompted by some major event or experience.
There is strong evidence that work experience contributes to someone becoming a sustainable leader. Our research shows that sustainable leaders were three times more likely than other executives to have worked on two or more continents (45% vs. 16%). One in three had worked in the Global South during their careers (excluding those from there), compared to only one in 10 of other executives. These experiences likely broaden an executive's understanding of different people and cultures and raise awareness of societal issues they may not have previously experienced firsthand.
Sustainable leaders were also more than twice as likely as others to have had significant career experience in two or more functions (64% vs. 30%) and were notably more likely to have had experience in operations and supply chain (55% vs. 32%). These work experiences furnish leaders with a broader perspective on their business and industry, and the operations and supply chain findings suggest that a deep understanding of business networks and corporate partnerships is helpful.
All of this data tells us two very important things: firstly, there are likely more sustainable leaders in your organization today than you might think, and secondly, we have the opportunity to shape and grow more sustainable leaders in our ranks by converting people into the 'Convinced' and 'Awoken' categories.
Here are three ways companies can take action today:
Create opportunities, for instance, involving travel to less prosperous regions, where employees can learn firsthand about the positive and negative impacts of your company and its operations on people and the environment.
Establish processes and funding for employees who want to invest in developing new business practices or products which may have startup costs but will ultimately result in long-term sustainable benefits.
Celebrate the sustainable leaders in your organization and be vocal about the value they are creating for your organization and society at large.
What have you seen your company do to help embed sustainable leadership traits into your organization?