African cities are forecast to be home to an extra 950 million people by 2050, according to the OECD.
Sustainable energy thinktank REN21's Renewables in Cities: 2021 Global Status Report highlights actions being taken towards green energy transition in six cities on the continent.
Transport is often a key driver of total final energy demand, prompting some municipalities to introduce greener schemes.
With more than half of the world's population living in cities, urban areas will play an important role in accelerating the global uptake of renewables – particularly in Africa.
The continent is home to the fastest-growing urban population in the world, with African cities expected to be home to an extra 950 million people by 2050, according to the Organisation for Economic Co-operation and Development (OECD).
Here is what six African cities are doing to transition to renewables, as outlined in the report.
With a dedicated energy and climate change unit, Cape Town is a pioneer in providing affordable and secure energy access in a country where coal made up 83% electricity generation in 2016, with renewables accounting for just 8%.
Transport is the main driver of the city's energy demand, so it is exploring the production and use of biofuels in transport, using renewables for facilities such as depots and transport interchanges, and replacing the municipal diesel bus fleet with electric buses.
The city is also preparing its power grid for a surge in electric vehicle (EV) use, with energy expected to either be generated by local solar PV capacity or bought.
Cocody has said it will cut carbon emissions by 70% by 2030 as part of its Green City Plan – no mean feat in a rapidly developing city experiencing rising energy demand.
Plans include minimizing local greenhouse gas emissions by up to 90% by 2030, while also creating hundreds of thousands of new jobs and encouraging citizens to embrace sustainable lifestyles.
Measures will also include installing 5,000 solar lamp posts and supplying 200,000 solar PV power kits to households. Some 300,000 efficient cooking stoves, which run on ethanol procured from local sugar-cane manufacturers, are also being distributed to homes.
The Senegalese capital wants 15% of its local electricity production to come from renewables by 2035, and it is looking to cut reliance on diesel power generation from 90% in 2013 to 5% in 2035.
Dakar's climate plan is being developed as part of its pledge under the C40 Cities Leadership Programme to be net-zero carbon by 2050.
As elsewhere, transport dominates Dakar's energy demands, reflecting its deteriorating roads and ageing vehicle fleet. The city has an ambitious mobility and urban planning strategy to address these issues and reduce air pollution.
In 2016, the Ugandan capital developed its first energy and climate change action plan, which aims to accelerate deployment of renewables, support the green economy and promote more environmentally friendly public transport.
The strategy is consistent with a nationwide policy to reduce Uganda's over-reliance on hydropower – which made up 90.5% of the national electricity supply in 2018 – by diversifying its energy mix.
Transport accounts for 45% of Kampala's total energy demand and measures to mitigate this include implementing an air quality monitoring and assessment system and promoting electric mobility to gradually replace conventional commercial motorcycles – a source of noise and air pollution, petrol demand and traffic jams.
This town north of the capital, Lomé, is growing at a rate of 2.8% a year and has minimal industrial activity, with its economy largely built on agriculture.
Biomass in the form of wood and charcoal is the dominant fuel, accounting for 64% of energy consumption. To improve energy access and development, Tsévié introduced a three-year municipal energy programme aimed at developing sustainable biomass use, deploying distributed rooftop solar PV, boosting adoption of electric motorcycles and a gradual shifting to public transport.
The municipality has already distributed 8,200 efficient stoves to reduce the use of biomass in household cooking and water heating.
What's the World Economic Forum doing about the transition to clean energy?
Moving to clean energy is key to combating climate change, yet in the past five years, the energy transition has stagnated.
Energy consumption and production contribute to two-thirds of global emissions, and 81% of the global energy system is still based on fossil fuels, the same percentage as 30 years ago. Plus, improvements in the energy intensity of the global economy (the amount of energy used per unit of economic activity) are slowing. In 2018 energy intensity improved by 1.2%, the slowest rate since 2010.
Effective policies, private-sector action and public-private cooperation are needed to create a more inclusive, sustainable, affordable and secure global energy system.
Benchmarking progress is essential to a successful transition. The World Economic Forum's Energy Transition Index, which ranks 115 economies on how well they balance energy security and access with environmental sustainability and affordability, shows that the biggest challenge facing energy transition is the lack of readiness among the world's largest emitters, including US, China, India and Russia. The 10 countries that score the highest in terms of readiness account for only 2.6% of global annual emissions.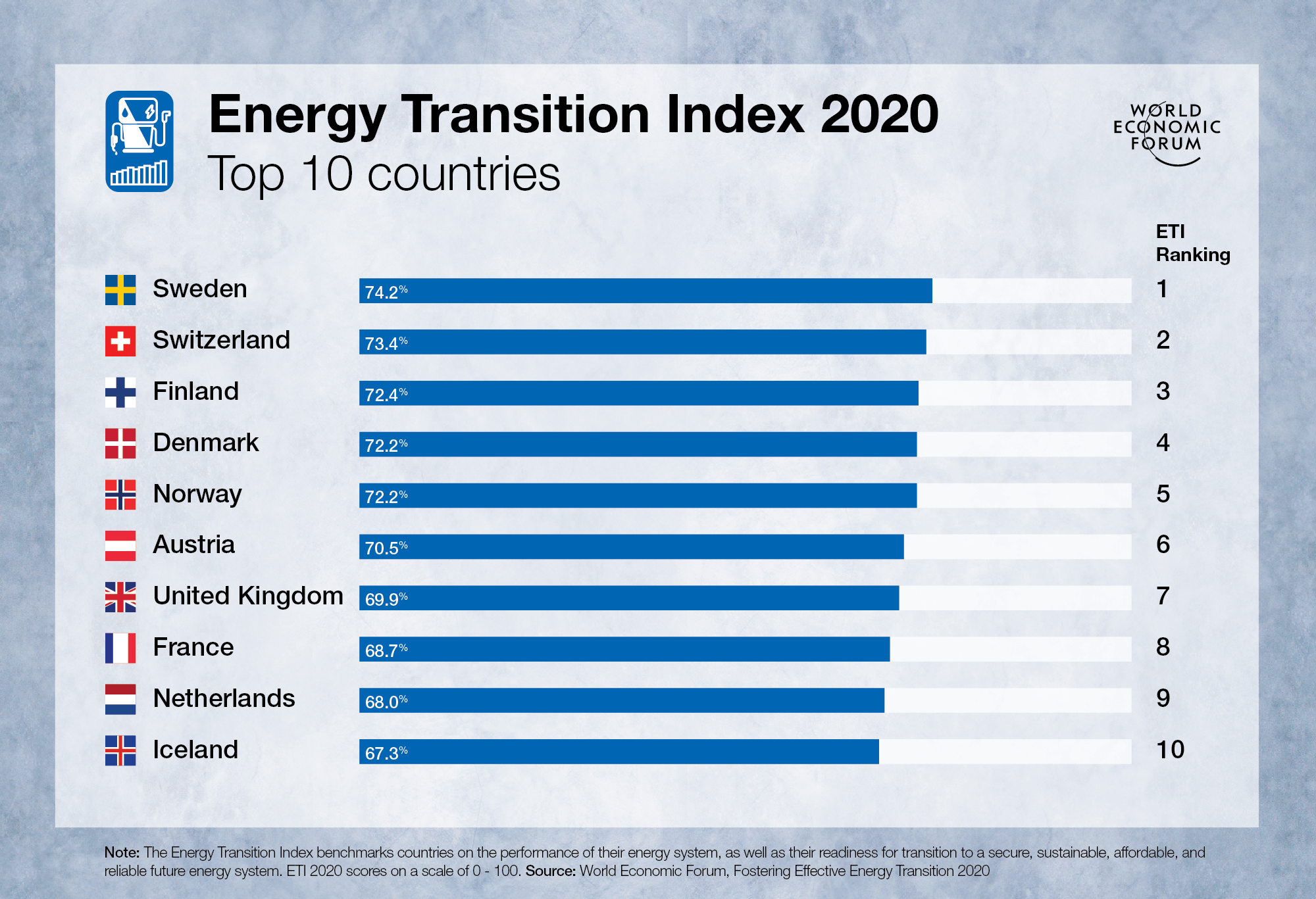 Additionally, the Mission Possible Platform (MPP) is working to assemble public and private partners to further the industry transition to set heavy industry and mobility sectors on the pathway towards net-zero emissions. MPP is an initiative created by the World Economic Forum and the Energy Transitions Commission.
Is your organisation interested in working with the World Economic Forum? Find out more here.
Yaoundé IV is one of seven communes of the Cameroonian capital, and hydropower makes up 73% of the power generation mix, with oil and gas accounting for the remaining 27%.
Cameroon plans to reduce carbon emissions by 32% by 2035 by deploying more renewables, particularly hydropower and solar PV. In 2020, Yaoundé IV adopted an energy and climate action plan which outlines how it will cut carbon emissions and boost energy access by 2030.
Initiatives include installing 3,000 solar street lights, fitting 30 municipal buildings with distributed rooftop solar PV equipment, and building nine micro biogas plants.