It's now clear that renewable energy, energy efficiency and electrification must be the drivers of the deep decarbonization we need.
New analysis from IRENA finds that renewables are now the cheapest form of energy - and capacity is set to rise significantly over the next few decades.
Addressing climate change requires us to decarbonize both energy supply and demand by 2050. The US, Europe and China have committed to net zero or carbon neutrality by mid-century. Others are following suit. This will have a profound effect on the global energy transition, placing electricity as a key vector in decarbonizing the entire energy sector.
Renewable energy and global energy transition
While climate change mitigation is a powerful driver behind the shift away from fossil fuel-based power generation, this is not the only driver. At the same time, renewable power has become the cheapest form of electricity generation and the costs continue to fall thanks to improvements in technology and economies of scale. The share of renewable power continue to rise from year to year, with nearly 30% renewables in the global power mix at present and renewables dominating yearly capacity additions (see Figure 1, below).
New IRENA analysis indicates a continued swift energy transition to renewable power generation worldwide in the coming three decades, with shares of variable (or intermittent) renewables – solar PV and wind – growing especially rapidly. Variable renewables will dominate the world's total power supply by 2050, a major change from today's situation. Yet experience from around the world shows it is possible to operate power systems with high shares of variable renewables, as witnessed in Germany, Ireland and the UK, amongst others. During 2020, despite the COVID-19 pandemic, the share of renewables (mainly variable) in total electricity generation was 40% in Europe, a more than 4% increase in the share in comparison to 2019. Most notably, the share of other generation sources fell in Europe over the same period between 6% and 16%, as in the case of coal-based generation.
Increasing flexibility to smoothen energy transition
The operation of power systems with a high share of variable renewables requires much higher flexibility. Today, dispatchable fossil plants (that is, plants that can generate electricity on demand) provide that flexibility, but this will change going forward as their role declines. IRENA has identified 30 options for increasing flexibility across four main pillars: hardware, markets and regulations, and operational practices and business models (see figure 2, below). This toolkit of options must be deployed in the context of each power system's specific characteristics. Especially the demand side offers interesting possibilities, as the electrification trend results in new loads connected to the system -such as electric vehicles, behind-the-meter batteries and heat pumps- which if operated smartly can support grid balancing. This is helped by rapid digitalization of power systems. Time-of-use pricing, aggregators, Demand Side Management are some of the strategies that benefit from digitalization and smart grids continue to expand worldwide. Still many transmission and distribution grids will require expansion and upgrading in order to deal with the new power system realities.
Also, regulations and grid codes need to be adjusted in order to enable to full deployment of the new flexibility options. This is an area that warrants more attention.
Electrification, including buildings, transport and industry, as well as the production of green hydrogen, will play a key role in a net-zero CO2 emissions future.
IRENA analysis suggests that up to a quarter of all electricity will be used for the production of green hydrogen. At the same time, a massive shift will occur towards electrification of road transportation while synfuels produced from clean hydrogen will play an increasing role in aviation and shipping. Whereas better building efficiency will reduce the need for heating and cooling, this is balanced by a shift to electric heat pumps. The analysis suggests that direct electricity use and indirect electricity use for the production of green hydrogen and derived synfuels may account for 60% of total final energy use by 2050, up from around 21% today. As a consequence, electricity demand will grow 3-4 fold from today's level. This represents a massive shift; the electricity sector will become the central pillar of global energy supply and demand, a much bigger role than it has played in previous decades. Traditional incumbents in the energy sector, such as oil and gas companies, are already eyeing this trend and developing strategies to become electricity market players. It remains to be seen who will become the dominant player in this market in coming decades.
What's the World Economic Forum doing about the transition to clean energy?
Moving to clean energy is key to combating climate change, yet in the past five years, the energy transition has stagnated.
Energy consumption and production contribute to two-thirds of global emissions, and 81% of the global energy system is still based on fossil fuels, the same percentage as 30 years ago. Plus, improvements in the energy intensity of the global economy (the amount of energy used per unit of economic activity) are slowing. In 2018 energy intensity improved by 1.2%, the slowest rate since 2010.
Effective policies, private-sector action and public-private cooperation are needed to create a more inclusive, sustainable, affordable and secure global energy system.
Benchmarking progress is essential to a successful transition. The World Economic Forum's Energy Transition Index, which ranks 115 economies on how well they balance energy security and access with environmental sustainability and affordability, shows that the biggest challenge facing energy transition is the lack of readiness among the world's largest emitters, including US, China, India and Russia. The 10 countries that score the highest in terms of readiness account for only 2.6% of global annual emissions.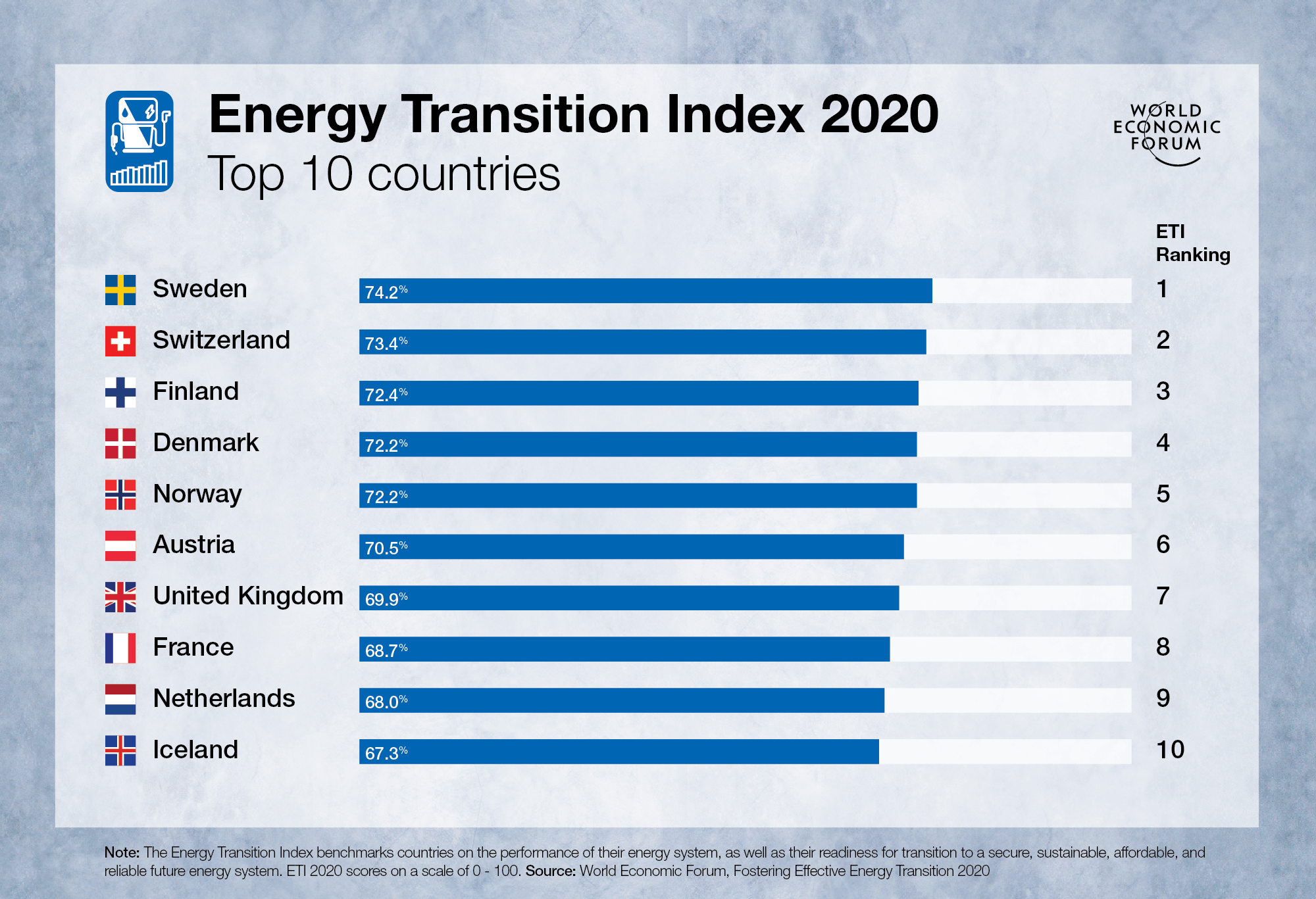 Additionally, the Mission Possible Platform (MPP) is working to assemble public and private partners to further the industry transition to set heavy industry and mobility sectors on the pathway towards net-zero emissions. MPP is an initiative created by the World Economic Forum and the Energy Transitions Commission.
Is your organisation interested in working with the World Economic Forum? Find out more here.
Given the growth in electricity demand and the shift to renewable power a massive expansion of clean power generation will be needed and infrastructure planning must be ramped up accordingly. The investment needs are hefty and it is critical to ensure that the infrastructure rollout speed is commensurate with the needs of the energy transition. This will require further streamlining of planning and approval processes.