Experts brought together by the World Economic Forum outline six paths to a fairer society.
Creating well-paid jobs in the new economy will help reduce inequality.
Greater alignment is needed between employers and educators, to equip students with skills for the new economy.
Governments must also control emerging risks on new frontiers, such as AI.
Read the paper "Building Back Broader: Policy Pathways for a Post-Pandemic Transformation" here.
Fiscal and monetary policy
Protecting populations and economies from the shocks of the pandemic required a range of fiscal and monetary support initiatives, including changes to tax regimes, interest rates and the introduction of furlough programmes for laid-off workers.
While these actions were critical in the early stages of the pandemic, a fundamental shift in approach is now required, according to the white paper. The authors say, "economies should focus on … investing in improving the capabilities of [their] people through education, physical and digital infrastructure and innovation". The report adds, "the recovery phase of the global pandemic must be a call to action for policymakers to face the magnitude of the profound structural reforms required to build more resilient, inclusive and sustainable economies".
The COVID-19 outbreak resulted in the worst employment crisis in living memory. The International Labour Organization (ILO) estimates that 114 million jobs were lost globally in 2020.
As the chart below shows, the reduction in hours worked in the early stages of the pandemic was 10 times bigger than the drop caused by the global financial crisis of 2008.
The Forum's paper warns of further spikes in unemployment as the drawn-out nature of the crisis forces more firms to restructure or close. The report states that, "there is also an urgent need to encourage job creation, especially for youth and other vulnerable groups – quality jobs, with decent wages and working conditions". The report urges governments and businesses to implement minimum wage levels that allow people to live with dignity and provide for their families.
What is the World Economic Forum doing to manage emerging risks from COVID-19?
The first global pandemic in more than 100 years, COVID-19 has spread throughout the world at an unprecedented speed. At the time of writing, 4.5 million cases have been confirmed and more than 300,000 people have died due to the virus.
As countries seek to recover, some of the more long-term economic, business, environmental, societal and technological challenges and opportunities are just beginning to become visible.
To help all stakeholders – communities, governments, businesses and individuals understand the emerging risks and follow-on effects generated by the impact of the coronavirus pandemic, the World Economic Forum, in collaboration with Marsh and McLennan and Zurich Insurance Group, has launched its COVID-19 Risks Outlook: A Preliminary Mapping and its Implications - a companion for decision-makers, building on the Forum's annual Global Risks Report.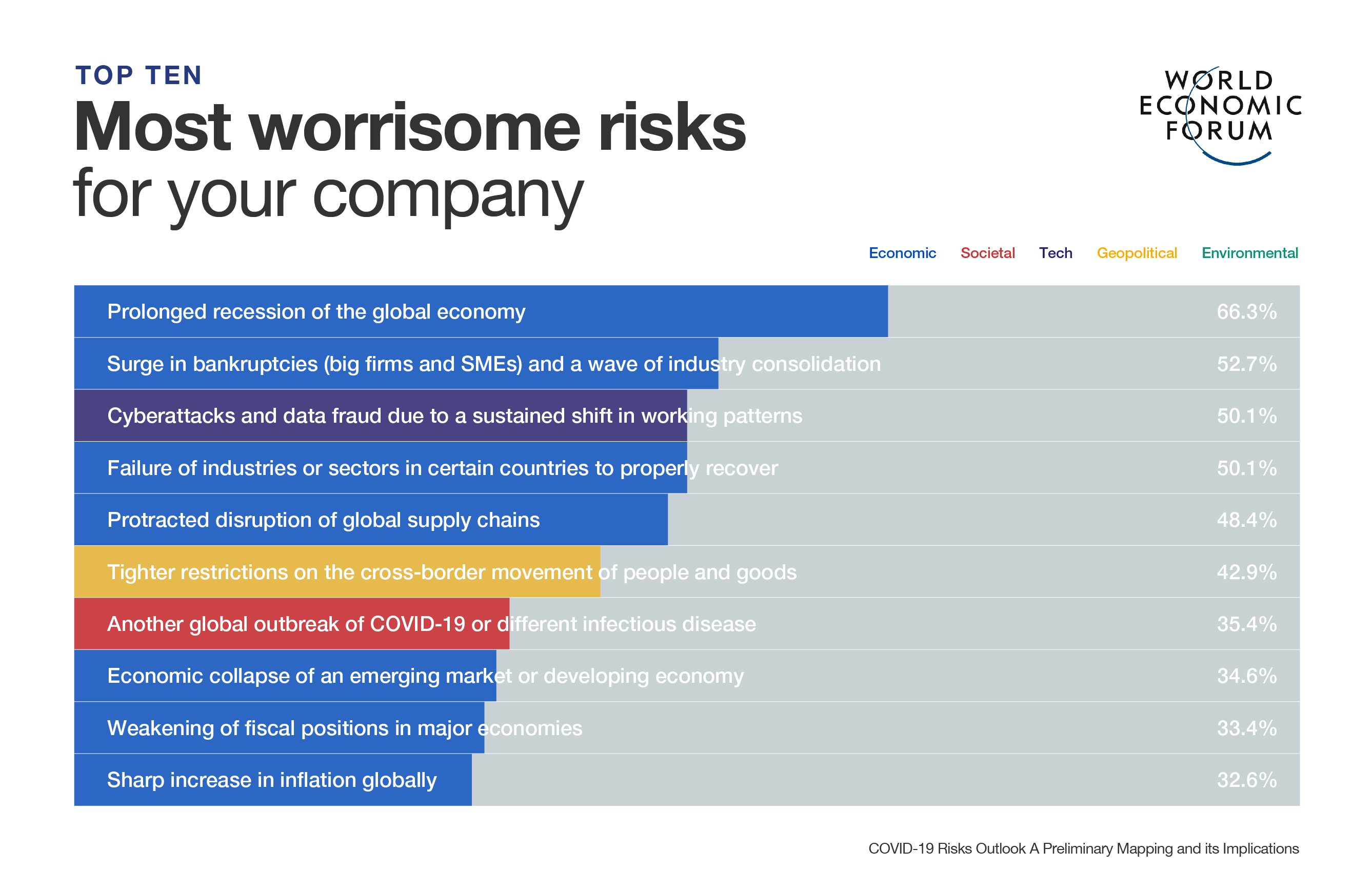 The COVID-19 pandemic forced hundreds of millions of children out of school. The fortunate among them were able to continue their education from home, engaging in online classes via digital devices and fast internet connections. But a stark inequality left many millions of children excluded. They lacked the digital literacy, devices and connections to stay on track with their education.
As the chart below shows, the pandemic has increased the number of children subject to learning poverty in low- and middle-income countries.
In addition to ensuring basic access to education for all, the Forum white paper identifies a need to integrate the skills required in the "new economy" into curricula across all subjects. The report states: "stronger alignment between employers and educators on a common language for skills could create greater labour market efficiency by enabling educators to target employment-relevant skills".
Equity and social justice
"There is nothing inevitable about inequality," the authors state.
They call on all governments to legislate to outlaw all forms of discrimination, citing a range of International Labour Organization conventions as a framework for laws to ensure everyone can contribute equally to the economy and live safe and dignified lives.
The report also raises a challenge to corporates saying, "businesses have a pivotal role to play in advocating for positive societal reform, prioritizing the interests of historically disadvantaged groups and influencing decisions within political, economic and social spheres. Governments can amplify the impact of business activism by setting standards, holding businesses accountable and disseminating effective examples".
The report pulls no punches in setting out the scale of the challenge in modernizing industry and services to create a new, "green and equitable" economy. "The challenges and disruptions that we face today require an economic transformation of a depth and scale that current generations have not witnessed before."
The authors suggest a number of pathways towards creating these new markets. Each of these strategies entails a deep and broad transformation of both public- and private-sector actors, as well as of the relationships between them.
The white paper suggests that neither governments nor business can achieve this complex transition alone, instead concluding that public-private partnerships will be essential to completing the shift effectively. It also remarks on the limitations of current public-private partnership structures, saying: "public-private partnerships around innovation and market-creation have often been too unbalanced, and the benefits of successful projects have not been fairly distributed within the population". To counter these limitations, the report suggests an overhaul to deliver new models with a focus on shared intellectual property rights, a rebalancing of risk and reward and a priority towards sustainability.
As new technologies such as AI and machine learning open up new opportunities, they also create new risks. These are known as 'frontier risks' as they exist beyond known risk frameworks until a new frontier is crossed. The COVID-19 pandemic was a known risk, as was the financial crash of 2008. The militarization of space or the possibility of an attack on humankind by AI weaponry would be classed as frontier risks, according to the authors of the white paper. These risks are characterized by unknown likelihood and impacts, or both.
The report identifies four areas where humans are advancing into areas that could confront us with frontier risks. They include space exploration, geoengineering, social networks and AI and genetic enhancement.
Among a range of recommendations for identifying frontier risks early, the report authors advise: "Governments and international bodies should prioritize closing obvious gaps in legal frameworks governing new frontiers, such as in the realm of space or AI. For instance, the last major treaty governing outer space entered into force more than half a century ago, while space activity has expanded dramatically in the intervening years." Similarly, new technologies need to be regulated against "malicious or unintentionally harmful use", which requires governments to collaborate with the private sector, harnessing the necessary expertise to understand these technologies.
The COVID-19 pandemic is one of those rare events that affects every person on the planet. When the world emerges from the outbreak and its impact begins to recede, building back broader, as the report authors advise, should ensure that every person on the planet is also included in the recovery.
What is the World Economic Forum's Jobs Reset Summit?
The World Economic Forum's Jobs Reset Summit brings together leaders from business, government, civil society, media and the broader public to shape a new agenda for growth, jobs, skills and equity.
The two-day virtual event, being held on 1-2 June 2021, will address the most critical areas of debate, articulate pathways for action, and mobilize the most influential leaders and organizations to work together to accelerate progress.
The Summit will develop new frameworks, shape innovative solutions and accelerate action on four thematic pillars: Economic Growth, Revival and Transformation; Work, Wages and Job Creation; Education, Skills and Lifelong Learning; and Equity, Inclusion and Social Justice.