To meet the Paris Agreement goal of keeping warming below 2 degrees Celsius, it's essential to reduce CO2 emissions from energy-intensive industries.
Carbon capture and storage (CCS) has the potential to remove up to 90-99% of CO2 emissions from an industrial factory.
However, substantial and ongoing government funding will be needed in order to support this.
A critical challenge in meeting the Paris Agreement's long-term goal of keeping global warming well below 2 degrees Celsius is to vastly reduce carbon dioxide (CO2) and other greenhouse gas emissions generated by the most energy-intensive industries. According to a recent report by the International Energy Agency, these industries — cement, iron and steel, chemicals — account for about 20 percent of global CO2 emissions. Emissions from these industries are notoriously difficult to abate because, in addition to emissions associated with energy use, a significant portion of industrial emissions come from the process itself.
For example, in the cement industry, about half the emissions come from the decomposition of limestone into lime and CO2. While a shift to zero-carbon energy sources such as solar or wind-powered electricity could lower CO2 emissions in the power sector, there are no easy substitutes for emissions-intensive industrial processes.
Enter industrial carbon capture and storage (CCS). This technology, which extracts point-source carbon emissions and sequesters them underground, has the potential to remove up to 90-99 percent of CO2 emissions from an industrial facility, including both energy-related and process emissions. And that begs the question: Might CCS alone enable hard-to-abate industries to continue to grow while eliminating nearly all of the CO2 emissions they generate from the atmosphere?
Using an enhanced version of the MIT Economic Projection and Policy Analysis (EPPA) model that represents different industrial CCS technology choices — and assuming that CCS is the only greenhouse gas emissions mitigation option available to hard-to-abate industries — the study assesses the long-term economic and environmental impacts of CCS deployment under a climate policy aimed at capping the rise in average global surface temperature at 2 C above preindustrial levels.
The researchers find that absent industrial CCS deployment, the global costs of implementing the 2 C policy are higher by 12 percent in 2075 and 71 percent in 2100, relative to policy costs with CCS. They conclude that industrial CCS enables continued growth in the production and consumption of energy-intensive goods from hard-to-abate industries, along with dramatic reductions in the CO2 emissions they generate. Their projections show that as industrial CCS gains traction mid-century, this growth occurs globally as well as within geographical regions (primarily in China, Europe, and the United States) and the cement, iron and steel, and chemical sectors.
"Because it can enable deep reductions in industrial emissions, industrial CCS is an essential mitigation option in the successful implementation of policies aligned with the Paris Agreement's long-term climate targets," says Sergey Paltsev, the study's lead author and a deputy director of the MIT Joint Program and senior research scientist at the MIT Energy Initiative. "As the technology advances, our modeling approach offers decision-makers a pathway for projecting the deployment of industrial CCS across industries and regions."
But such advances will not take place without substantial, ongoing funding.
"Sustained government policy support across decades will be needed if CCS is to realize its potential to promote the growth of energy-intensive industries and a stable climate," says Howard Herzog, a co-author of the study and senior research engineer at the MIT Energy Initiative.
What's the World Economic Forum doing about the transition to clean energy?
Moving to clean energy is key to combating climate change, yet in the past five years, the energy transition has stagnated.
Energy consumption and production contribute to two-thirds of global emissions, and 81% of the global energy system is still based on fossil fuels, the same percentage as 30 years ago. Plus, improvements in the energy intensity of the global economy (the amount of energy used per unit of economic activity) are slowing. In 2018 energy intensity improved by 1.2%, the slowest rate since 2010.
Effective policies, private-sector action and public-private cooperation are needed to create a more inclusive, sustainable, affordable and secure global energy system.
Benchmarking progress is essential to a successful transition. The World Economic Forum's Energy Transition Index, which ranks 115 economies on how well they balance energy security and access with environmental sustainability and affordability, shows that the biggest challenge facing energy transition is the lack of readiness among the world's largest emitters, including US, China, India and Russia. The 10 countries that score the highest in terms of readiness account for only 2.6% of global annual emissions.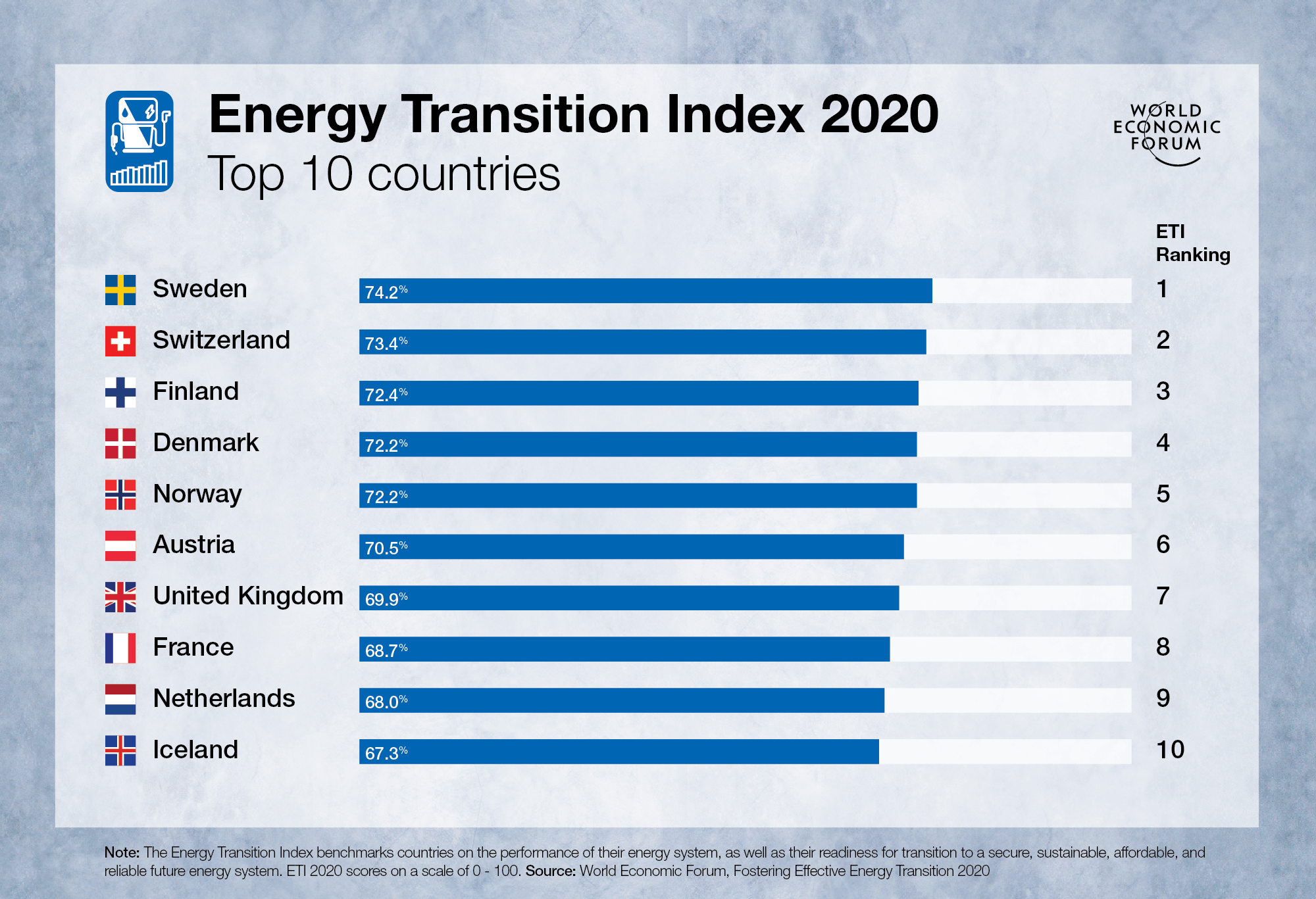 Additionally, the Mission Possible Platform (MPP) is working to assemble public and private partners to further the industry transition to set heavy industry and mobility sectors on the pathway towards net-zero emissions. MPP is an initiative created by the World Economic Forum and the Energy Transitions Commission.
Is your organisation interested in working with the World Economic Forum? Find out more here.
The researchers also find that advanced CCS options such as cryogenic carbon capture (CCC), in which extracted CO2 is cooled to solid form using far less power than conventional coal- and gas-fired CCS technologies, could help expand the use of CCS in industrial settings through further production cost and emissions reductions.
The study was supported by sponsors of the MIT Joint Program and by ExxonMobil through its membership in the MIT Energy Initiative.