Duke infectious disease specialist Dr. Cameron Wolfe looks at COVID-19 vaccine boosters.
He looks at who should get it, who shout wait, and what variables to consider.
Booster shots are already available in some countries and likely to made availabile in others over the coming months.
A third, booster dose of the Pfizer and Moderna vaccines has been approved for some immune-compromised people and appears likely to be available later this year for a broader general American population.
Duke infectious disease specialist Dr. Cameron Wolfe discussed the booster – who should get it, who should wait, and what variables you should weigh when considering it – in a virtual briefing for journalists Wednesday (1 September). Watch the briefing on YouTube.
On a third COVID shot for the immuno-compromised
"It's important because it's all singularly in the direction of improving vaccine responses in these individuals. It's clear that we're trying to carve out a group of individuals who we know to be at severe high risk of COVID. We know on average their response is poorer to vaccines so we're trying to give them a little bit more. That is exactly what we do each year with someone who gets a flu vaccine. We are deliberately putting those individuals ahead of the rest of the general population."
On booster shots being available more widely soon
"Vaccines are driven to protect, ideally, from infection occurring in the first place, but in particular what we've seen from COVID vaccines is there's huge benefit from those who reduce the severity of their infection. We're trying to carve out an understanding of, over time, expected vaccine waning from an immune system point of view."
"What we're starting to see … is that there is a diminished protection that we're seeing at the moment in individuals who were vaccinated many months ago."
"We have not seen a substantial move in the proportion of vaccinated people who get sick enough to be in the hospital. There is a very small number of vaccinated individuals who are sick enough to land in the hospital. So when we talk about boosting for individuals in the general community, I want to be very clear that to me, that is far less important than still reaching those individuals who are not yet vaccinated at all. We need to continue to talk to those individuals about safety data, how robust it is, and the profound difference in their risk of hospitalization and death."
"People who were vaccinated the earliest in the United States were health care workers … and nursing home residents – the most frail and elderly populations. They will also be on the outer edge of time when we look at duration of protection. I'm going to be supportive … that this moves forward because I think those individuals in particular – if there's going to be a larger load to bear for people getting infected and having breakthroughs, it's going to be front and center with health care workers and older adults first. So boosting those individuals early is going to be important."
"We need to see much more data to see what the benefits of boosting is to the overarching general population who are lower risk. A 35-year-old who has gone through and had your two doses of Pfizer vaccine, for example, really has no risk of severe COVID and isn't in a front-line health care working situation, that's' different. I think we need to see a little bit more data to fully understand why that person needs to be boosted."
India's leading COVID-19 last-mile responders
Each of our Top 50 social enterprise last mile responders and multi-stakeholder initiatives is working across four priority areas of need: Prevention and protection; COVID-19 treatment and relief; inclusive vaccine access; and securing livelihoods. The list was curated jointly with regional hosts Catalyst 2030's NASE and Aavishkaar Group. Their profiles can be found on www.wef.ch/lastmiletop50india.
Top Last Mile Partnership Initiatives to collaborate with: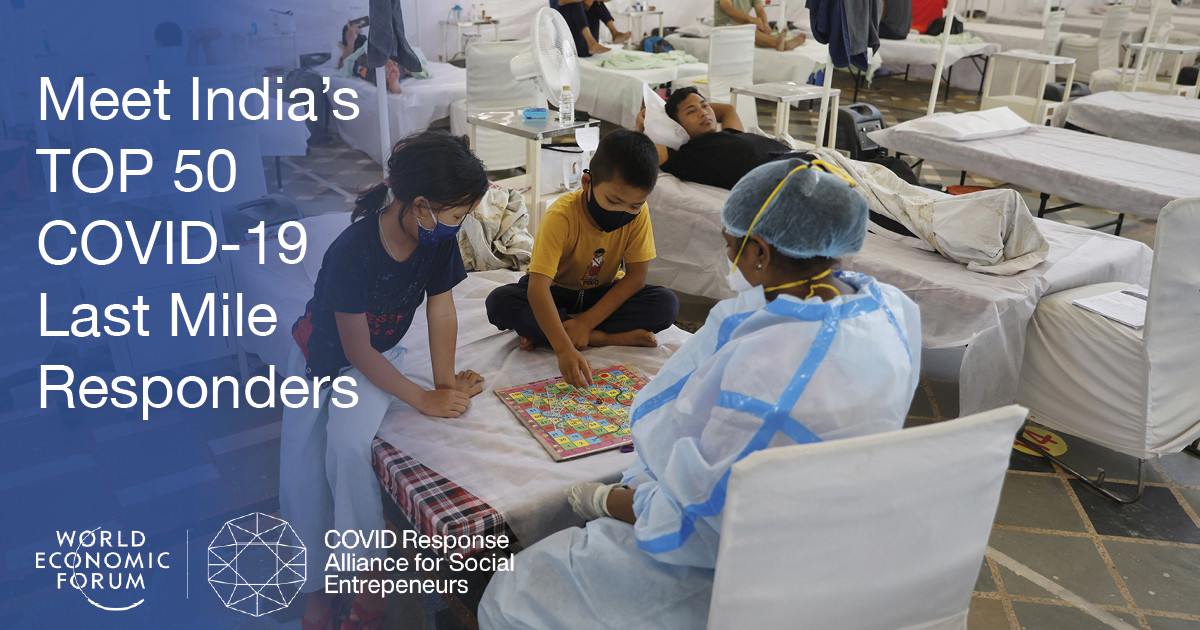 Is a booster the same as the first shots?
"What we're talking about is the same dose you had before. There's no difference. The dose is exactly the same."
"Are we looking for varied boosting doses in a way that responds to the variants occurring around the globe? The answer to that is yes. None of those variant boosters have reached the point of public dissemination yet into the general medical community."
"Is it important to give it right now, or is it better to wait, in fact, for a variant booster that may help us more against current or future variants but might take longer to get? The risk is now. So pragmatically, the right answer is to move forward with the dose that's available."
"Availability now is wide open. All of the tiering and difficulties in terms of structuring access that occurred in December and January as we were ramping up distribution cycles are fortunately non-issues."
On waiting the right interval of time before getting the booster
"The timing is important because ... sometimes waiting a little bit extra time is appropriate to gain the strongest possible response."
"I want to be giving a vaccine that's given for the right beneficial reasons. The end point has to be the prevention of infection and the prevention of hospitalization. So you don't need to do that earlier. I don't think, for example, there's a great reason for an otherwise healthy individual who just was vaccinated with Pfizer or Moderna two months ago, to go back and offer them a third shot, absent some other medical condition, because they will have great protection."
On boosting with a different vaccine from the first doses
"To some extent the answer is that we know what the safety data is, we're following the third being the same as the second and first."
"It's not that we know that there's damaging or safety data aplenty in people who had mixed courses; it's just that we don't know what the data is."
"If we're going to respond in a way that's appropriate and trustworthy, we've got to be data-driven. All the evidence is mounted for people who have taken the same dose."
On the importance of communicating booster shot data clearly in public
"How do we talk about this in a way that displays data as clearly as we can? I think it's been good so far. We haven't seen all the evidence yet that the federal government has quoted us to talk about boosting shots. It will be absolutely crucial ... that it's available to the community so we can have these conversations in a way that helps them make an informed choice. The worst thing for vaccine hesitancy is either incorrect information or a data vacuum because then people make their own stories."
"We need to be very careful about continuing to splay divides in our community, either along racial lines, along ethnic lines or along political lines. The vaccine rollout has done a good job so far in trying to address those head on. We've learned some lessons and we can do better. There's still disparities in terms of vaccine access in different states, vaccine availability and take-up in some communities."