World Space Week 2022: 8 industry leaders explain how to make space travel more sustainable
This article was first published in October 2021 and updated in October 2022.
The theme of this year's World Space Week is 'Space and Sustainability'.
An increasing amount of space debris is endangering satellites and other missions.
Last year, industry actors came together to voice their position on the topic through Space Industry Debris Statement, with an update coming soon.
Here are eight views on how to address space debris.
Earth orbits, and particularly the lower orbits which stretch to approximately 2,000 km above ground, are seeing a growing population of active and defunct satellites as well as debris.
Satellites bring incredible benefits to us all – from connectivity and geo-location services to weather and climate monitoring to earth observation (critical, for example, during different types of disasters).
There are other types of missions to Earth orbits and beyond, such as exploration and scientific ones, increasingly with humans on board.
World Space Week: Space and Sustainability
The current population of space debris, which is growing, is putting in danger all these activities. If large collisions occur, these could result in certain orbits becoming unusable for decades to come.
The World Economic Forum last year convened industry leaders to voice their position through the Space Industry Debris Statement, which called for increased collaboration to reduce space debris, more transparency among operators, an acceleration of the development of technologies and practices for the disposal of spacecraft at end-of-life, and for removal of existing space debris already in orbit. An updated statement will be released in the coming months.
The Forum has also launched the world's first Space Sustainability Rating, as part of a consortium involving European Space Agency, MIT Media Lab, Bryce Tech and University of Texas. It aims to reduce space debris and ensure that rapidly increasing space exploration missions are "managed safely and sustainably". The EPFL Space Center (eSpace) at the Swiss Federal Institute of Technology Lausanne (EPFL) is now leading the project and has launched the SSR publicly this June, with several companies applying to get their own mission ratings already.
Tackling space debris
We spoke to industry leaders for their views on how to address this growing problem. Here are a few of their responses below.
Learn new ways to execute missions
Rick Ambrose, EVP, Lockheed Martin Space
The orbital environment is a globally shared resource, and with an estimated 10,000 new satellites being launched over the next decade, we must take action. The Inter-Agency Debris Coordination Committee (IADC) has made great headway in establishing guidelines, and as industry leaders, we can all leverage the technological solutions we develop to enable data-driven decisions by both our government partners and commercial operators.
Lockheed Martin has developed several capabilities for this dynamic environment. With robust precision and navigation systems embedded in our satellites, advanced software radar systems like Space Fence detecting objects as small as a marble in LEO, and the iSpace software platform cataloging objects and space debris, we are equipping our customers with greater situational awareness and the tools to act. In the future we can continue to propose diverse mission architectures, when the mission allows, to diversify not only the size of the satellite but also the orbit to alleviate pressure in congested zones.
It is imperative the collective space community lean into new ways to execute missions and incorporate strategic end-of-life plans into spacecraft well before launch. As more countries rely on space-based information for national security, broadband communications, and climate intelligence, alignment with consistent standards will help ensure access and functionality for a variety of missions while mitigating the risk of incidents. Through a shared, collaborative approach, we can ensure space remains the ultimate high ground.
Work together to solve the space debris problem
Dawne Hickton, Jacobs EVP and President, Critical Mission Solutions
Jacobs is proud to support this unified effort to establish reasonable norms of behavior for the sustainable exploration and development of space. This next frontier will be even more integral to our daily lives as we expand our activities beyond our home planet. We encourage all parties, both governmental and commercial, to work together to create a sustainable future for all nations and peoples.
Develop sustainable policy
Chris Kemp, Founder, Chairman and CEO, Astra
Astra is proud to join our community as we work together to reduce space debris. Collaboration and the development of sustainable policy play an important role in our mission to improve life on Earth from space.
Enable space traffic management
Will Marshall, CEO and Co-Founder, Planet
Protecting the space environment is of utmost importance to humanity's short-term and long-term success and requires action across several fronts. First and foremost, we must avoid the intentional creation of orbital space debris, including an international ban on kinetic anti-satellite destructions. Second, we must increase our space situational awareness capabilities across government and commercial networks and enable transparent and collaborative space traffic management.
Third, satellite and launch vehicle operators must remove their mission hardware as quickly as possible after the end of missions; this could either be achieved by launching to low orbits and relying on atmospheric drag or active end-of-life deorbiting or graveyard orbiting via onboard propulsion or other methods. And finally, governments must invest in fundamental capabilities to avoid large-scale collisions between defunct objects already in space, such as laser nudging or active space debris removal missions.
Create a level playing field
Jean-Marc Nasr, Head of Space Systems, Airbus
Airbus is working to ensure a sustainable space environment as we believe we have a responsibility toward future generations to protect it. This commitment goes beyond our interest as a commercial organization generating revenues from space, and it is in all our interests to protect this natural resource, similarly to the oceans, since Space is vital to daily life – from weather forecasting to global connectivity, climate change monitoring and navigation.
In a competitive global environment, Airbus calls for a level playing field where the highest standards of sustainability are applicable to all, for the good of all. It goes without saying that Airbus abides by the law and industry best practices i.e. safety, safe removal of satellite and vehicles at the end of their operational life, but is also pushing with the international community to go further. We are helping influence the international space agenda as part of a global team, co-lead by the World Economic Forum, ESA, MIT's Space Enabled Research Group, BryceTech, University of Texas at Austin and the EPFL Space Center (eSpace) at the Swiss Federal Institute of Technology Lausanne (EPFL), to develop the Space Sustainability Rating, and eco-label for space missions."
Create a sustainable ecosystem
Nobu Okada, CEO and Founder, Astroscale
We are at a tipping point for space debris. We also have the benefit of choice – to quickly advance the technologies, policies, and economics that support spaceflight safety and long-term space sustainability, or, to continue observing the problem and bear the consequences of our inaction. Our collective space future depends on this decision as does the ability to reach new heights for the space economy.
We at Astroscale choose to take action; to contribute to the development of a space ecosystem with affordable on-orbit services, such as active space debris removal, life extension, refueling, orbital transfers, in-space manufacturing, and end-of-life management. We choose to transform the usage of the orbital environment from a waste culture to a sustainable ecosystem.
This transformation will benefit all users of space and expand its value chain, like the automotive, shipping and aviation industries. We call on all private and public actors in space to see the net positive of a sustainable space ecosystem, and to realize its benefits by taking action on sustainability now.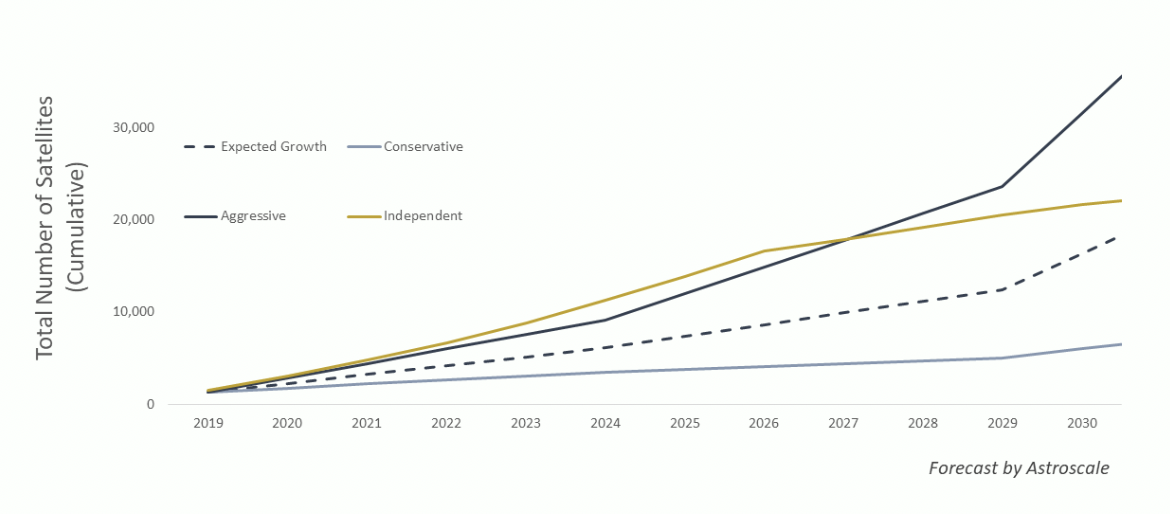 Set clear and consistent rules to prevent space debris
Rajeev Suri, CEO, Inmarsat
Timely action to preserve the freedom to operate in and through space in order to maintain and protect the sustainability of all satellite orbits is a global priority shared by responsible space fairing nations and space users alike. Societies' increased dependence on space for humanitarian response, economic opportunities, human space exploration and the extension of inclusive digital societies warrants protecting the freedom to navigate and operate in and through space.
Short-term actions in space have long-term consequences, and there is a responsibility on all stakeholders to act now. Satellite operators need to act responsibly, and governments need to set clear and consistent rules. We should celebrate space missions that are sustainable and ensure that all missions employ responsible norms of behavior.
Develop collaborative tools to remove space debris
Dylan Taylor, CEO and Founder, Voyager Space
There are over 25,000 known pieces of space debris traveling at 17,000 miles an hour in space. Collisions are catastrophic, and each collision increases the space debris count exponentially. The proliferation of large LEO constellations and commercial LEO facilities creates both challenges and opportunities in the realm of space traffic management. For the space sector to succeed, sustainability must remain a vital focus for the industry.
In the near term, governments and industry alike must come together in an international forum to develop collaborative tools and rules of the road for avoiding collisions between spacecraft. It is critical that all satellites, mega-constellations, and other orbiting spacecraft have end-of-life capabilities and that all future space objects are safely and controllably disposed of or repurposed upon completion of their primary mission. Voyager is a co-architect to the World Economic Forum's Space Sustainability Rating. This rating will provide a score representing a mission's sustainability as it relates to space debris mitigation and alignment with international guidelines.
This challenge also provides an incredible long-term business opportunity. Maintaining a peaceful and profitable operating environment in space requires governments and industry to clean up space debris, capture satellites, refuel satellites, raise their orbit, push them down and burn them up. This need requires innovative in-space robotic technology, which further enables the space economy, including space manufacturing, private space stations, space-based power, space-based communication. So often in space we are presented a challenge that requires solutions never thought of before – solutions which usually improve life here on Earth.
If we're successful in this endeavor, we can enable future generations the same benefits of unfettered space access that we currently enjoy.
To help address the growing space debris challenge, the World Economic Forum in collaboration with the European Space Agency, has launched a new initiative on Space Traffic Management. For more information, please contact nikolai.khlystov@weforum.org