This weekly round-up brings you some of the key environment stories from the past seven days.
Top stories: tropical storm Ana kills more than 80 in Africa; drivers stuck in snow in Athens; bigger spend needed to reach net-zero targets; US climate change envoy John Kerry warns 'we're in trouble'.
1. Environment and climate change stories to read this week
Tropical storm Ana has killed at least 86 people across southern and eastern Africa, with recovery operations still ongoing as another storm threatened more severe weather. Madagascar declared a state of disaster on Thursday night, reporting a rise in the death toll from Ana to 48, with people killed by landslides and collapsing buildings or washed away.
The storm made landfall in Mozambique on 24 January, where 18 have been reported dead, before moving inland to Malawi, where it triggered massive power cuts. Malawi's death toll rose to 20 on Thursday.
Greek Prime Minister Kyriakos Mitsotakis apologized on Wednesday for the state's unpreparedness to deal with the impact of a severe snowstorm that brought transport in Athens to a halt and left thousands of drivers stranded on a main city motorway this week. A blanket of heavy snow covered Athens on Monday as storm Elpida swept through Greece. Heavy snowfall is rare in Athens but the city has now been hit by snowstorms for a second consecutive year.
The world's 20 richest nations should more than double their annual spending to protect and restore nature to $285 billion by 2050, the United Nations and donors said on Thursday, calling for private and overseas investments to be ramped up too. The first joint report on finance for nature in the G20 countries from the World Economic Forum, the UN Environment Programme and the Economics of Land Degradation Initiative estimated that spending by the bloc - which includes large emerging economies - was $120 billion in 2020.
Large banks in the European Union will have to show how they help or hinder the bloc from meeting climate goals by publishing "pioneering" indicators from 2024, the EU's banking watchdog said on Monday. The European Banking Authority set out ESG templates for the top 150 banks to complete each year. This will allow investors to compare each bank's exposure to polluting and environmentally-friendly companies, and monitor how fast lenders shift to more sustainable business models.
What's the World Economic Forum doing about the transition to clean energy?
Moving to clean energy is key to combating climate change, yet in the past five years, the energy transition has stagnated.
Energy consumption and production contribute to two-thirds of global emissions, and 81% of the global energy system is still based on fossil fuels, the same percentage as 30 years ago. Plus, improvements in the energy intensity of the global economy (the amount of energy used per unit of economic activity) are slowing. In 2018 energy intensity improved by 1.2%, the slowest rate since 2010.
Effective policies, private-sector action and public-private cooperation are needed to create a more inclusive, sustainable, affordable and secure global energy system.
Benchmarking progress is essential to a successful transition. The World Economic Forum's Energy Transition Index, which ranks 115 economies on how well they balance energy security and access with environmental sustainability and affordability, shows that the biggest challenge facing energy transition is the lack of readiness among the world's largest emitters, including US, China, India and Russia. The 10 countries that score the highest in terms of readiness account for only 2.6% of global annual emissions.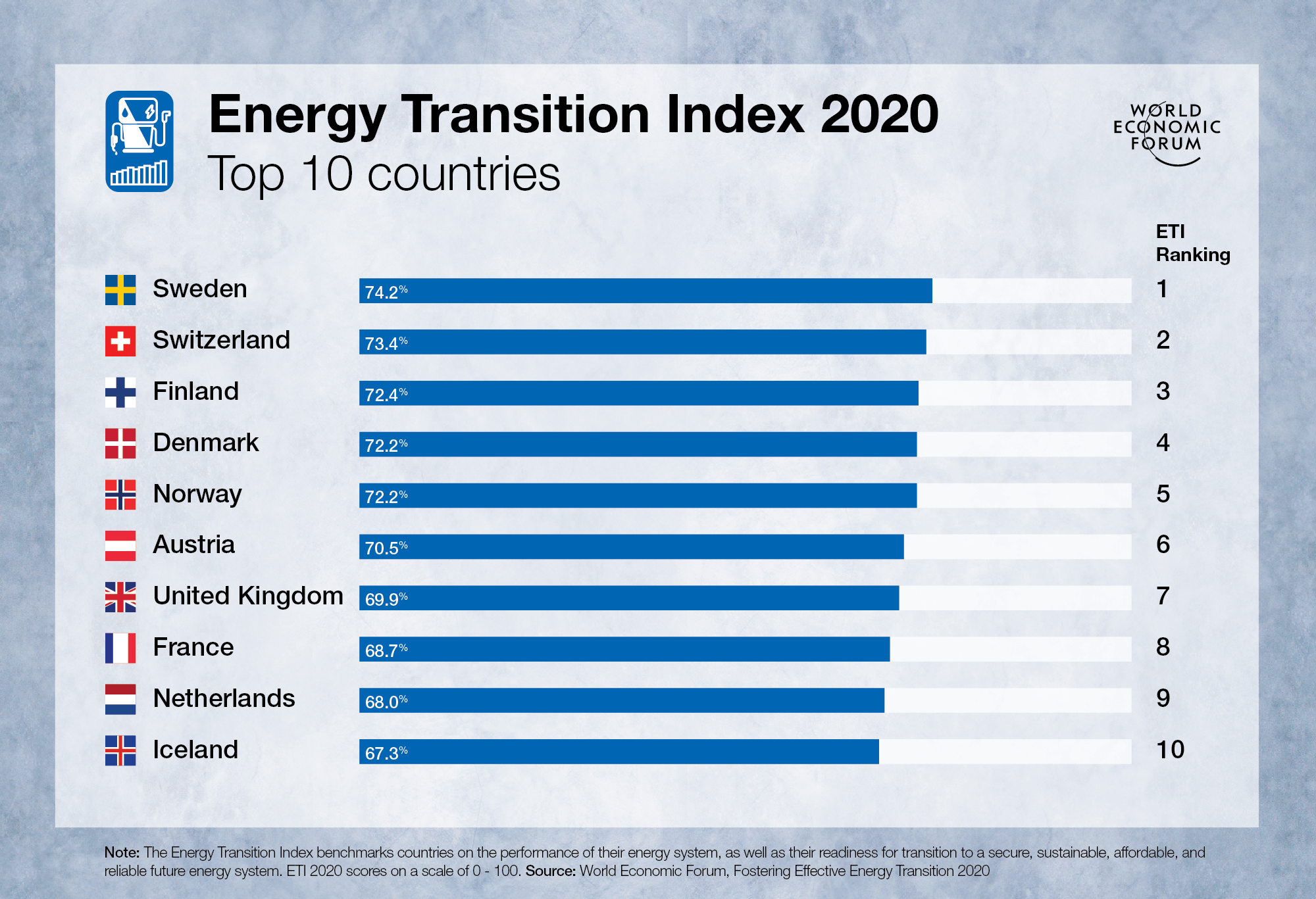 Additionally, the Mission Possible Platform (MPP) is working to assemble public and private partners to further the industry transition to set heavy industry and mobility sectors on the pathway towards net-zero emissions. MPP is an initiative created by the World Economic Forum and the Energy Transitions Commission.
Is your organisation interested in working with the World Economic Forum? Find out more here.
The European Central Bank (ECB) launched a stress test on Thursday to assess how prepared banks are to deal with potential shocks stemming from climate risk, it said in a statement. The ECB has long warned that euro zone lenders are failing to meet its climate risk management goals, and repeatedly called on them to adjust to its standards more quickly.

2. Bigger spend needed for net-zero world than assumed - McKinsey
The extra amount the world must spend each year to create a net-zero emissions economy is equivalent to half all profits currently generated by companies globally, consultancy group McKinsey estimated in a report on the energy transition.
It said its calculation was much higher than most other estimates by economists but stressed such investments could be lucrative and the long-term costs of not doing enough to tackle climate change would be greater.
"We find that the transition would be universal, significant and front-loaded, with uneven effects on sectors, geographies and communities, even as it creates growth opportunities," it concluded.
Although time is running out, reaching net-zero carbon emissions by 2050 would give the world a chance of capping temperature rises at 1.5 degrees Celsius above pre-industrial levels - avoiding the worst fall-out from climate change.
The report's main finding was that this would require spending on physical assets for energy and land-use systems of about $275 trillion, or $9.2 trillion per year on average - an annual increase of $3.5 trillion on current spending.
"The increase is approximately equivalent, in 2020, to half of global corporate profits, one-quarter of total tax revenue and 7% of household spending," it calculated.
3. 'We're in trouble' warns John Kerry
The world is "not on a good track" to meet a global goal to avoid the worst impacts of climate change and must intensify efforts to move away from fossil fuels this decade, John Kerry, the US special envoy on climate change, said on Monday.
"We're in trouble. I hope everyone understands that," Kerry told an event called Building Momentum to UN COP27 hosted by the US Chamber of Commerce and officials from Egypt, the host of the next UN climate summit.
Kerry told the event he is concerned about the recent uptick in the use of coal globally and about plans to build new coal plants without carbon capture technology.