How 4 leading companies are tackling supply chain emissions
Tackling supply chain emissions could make a meaningful impact on the climate, but progress is slow.
Four major companies from the Alliance of CEO Climate Leaders – Royal Philips, IKEA, Unilever and ZF – have shared how they are working to reduce emissions in their supply chains.
The key principles to speed up progress are collaboration, CEOs dedicated to achieving Net Zero, and supportive policies.
There is one thing we know for sure: supply chain decarbonization will be a game changer. When organizations focus on the emissions beyond their direct control, they can accelerate decarbonization throughout the economy. They might make it easier for customers to buy green, for example, or engage their suppliers to take action in regions where government has not yet brought in tough climate legislation.
Tackling supply chain emissions is an opportunity to multiply climate impact. Take the Alliance of CEO Climate Leaders as an example – 80% of the total 4.3Gt emissions footprint from these businesses is produced by their supply chains, otherwise known as Scope 3 emissions. This is much higher than both Scope 1 (emissions directly generated by a company) and Scope 2 (indirect emissions associated with the purchase of electricity or heating and cooling inputs) combined.
Progress on reducing supply chain emissions has been slow, however. A survey completed by members of the Alliance revealed some reasons why, including:
- Policy gaps delaying the scaling of green solutions, particularly in some regions;
- Difficulties with reporting and transparency due to a lack of standards and capabilities for collecting data as well as calculation complexities; and
- Limited availability of scaled solutions, driven by technical limitations and / or financing difficulties (thanks to a lack of cash or capital or other investment priorities).
In spite of these challenges, leaders in the Alliance have committed to increasing their Scope 3 ambition and have ideas on how they can make it happen. Alliance members are working towards:
- Setting 2030 Scope 3 targets;
- Investing in innovation and partnering with customers on projects to reduce emissions;
- Committing to meaningful carbon procurement criteria;
- Setting expectations with suppliers that they have science-based targets and then working with them to drive transparency;
-Implementing circularity; and
- Aligning the product portfolio to 1.5°C.
How four Alliance members are taking action
Some Alliance members have got a head start. For example, Royal Philips and Ingka Group, the largest IKEA retailer in the IKEA franchise, are working to develop closed loop, circular systems, while ZF and Unilever are working hard to harness innovation and engage with their suppliers in a path to Net Zero. The companies have taken different approaches, but all recognize that collaboration is crucial.
Royal Philips has set the ambitious target of generating 25% of its revenue from circular products, services and solutions by 2025.
In 2018, the company announced its commitment to take back and repurpose all large medical systems that its customers were prepared to return by 2020. To support this, Philips started the Capital Equipment Coalition, a group of like-minded organizations, including ASML, Cisco, Dell, KPN, Damen, Lely, Enel and Vanderlande, to develop and share best practices.
Philips now offers its customers a choice of pre-owned systems that have been thoroughly refurbished, upgraded and quality tested through the Philips Circular edition portfolio. This makes first-rate equipment available at a lower cost, with a full warranty. Where refurbishment / remanufacturing is not an option, Philips ensures responsible repurposing by removing valuable parts then recycling back any remaining raw materials through local systems.
The company has also developed new business models that allow customers to access products as a service. In many cases, this allows Philips to retain partial ownership of the product so the company can process it for further use or refurbishment after its lifespan is over.
Philips has not reached its goal yet, but its leaders recognize they cannot do it without joining forces with others. The company is collaborating closely with customers, governmental and non-governmental organizations, and other stakeholders, such as the Ellen MacArthur Foundation. Frans van Houten, Philips' former CEO, also co-chairs the Platform for Accelerating the Circular Economy (PACE), which is a global platform for public and private decision-makers to share best practices.
Ingka Group knows it has a big responsibility, and a big opportunity to make large-scale, positive impact.
The company is committed to becoming a circular business. As part of these efforts, it invested in RetourMatras, a company that dismantles mattresses and re-uses the waste, which has the capacity to recycle all mattresses disposed of in the Netherlands – 1.5 million annually. Ingka Group is not stopping there: it is targeting Belgium, Switzerland, Denmark, and Sweden next, and has made its first steps towards recycling mattresses in the United Kingdom.
Ingka Group is working across the private and public sector to make efficient mattress recycling a reality. As well as its collaboration with RetourMatras, it has been working with government interest groups at the local and European Union levels, municipalities, waste managers and other retailers.
If this diverse set of stakeholders can find a way to effectively work together, the impact would be significant. It is estimated that more than 40 million mattresses are disposed of annually in Europe. Recycling a mattress saves 76kgs of CO2 emissions, as compared to incineration. If all the mattresses disposed of in Europe were recycled, it would save over 3 billion kgs of CO2 emissions. And RetourMatras' nearly fully automated solution allows for up to 85% of the materials from a mattress (foam, metal, textile, wood) to be recovered and transformed, which increases the impact.
Unilever's focus on sustainable sourcing
Unilever's raw materials and packaging account for more than 60% of its direct value chain emissions, necessitating a firm emphasis on efforts to reduce emissions upstream of its operations.
Across its Home Care business, Unilever's 1 billion Euro Clean Future strategy is to replace fossil-fuel derived carbon with renewable or recycled carbon in all its cleaning and laundry product formulations by 2030 – a move expected to reduce product emissions by up to 20%. This includes using sources of carbon already on or above ground, instead of extracting fossil fuel from underground sources. For example, in China, its OMO brand has partnered with leading technology and chemical manufacturing firms to develop a new surfactant for its laundry capsules made with captured emissions.
Unilever has also been taking action through nature-based solutions that help to reduce emissions and protect and regenerate nature. The company is committed to achieving a deforestation-free supply chain, by the end of 2023, across palm oil, soy, paper and board, tea and cocoa. Its collaborations with technology partners and use of satellite imaging, AI, blockchain, and geolocation data improve transparency and traceability, enabling it to identify and act on deforestation risk more quickly. At the same time, the company is working to empower smallholder farmers to use regenerative agricultural practices that improve soil quality and increase yields.
Unilever is also asking its suppliers to lower their own emissions in line with climate science. The company buys products and services from around 54,000 suppliers and so identified a subset of suppliers whose materials have the highest impact on the climate. Through the 'Unilever Climate Programme', the company plans to work closely with 300 suppliers and offer hands-on guidance and access to tools and resources to help them measure, report and reduce their emissions.
In 2021, Unilever engaged a small, diverse group of suppliers to help shape the program, catering for the noticeable range in capacity and capabilities among the wider target group. After this, the company ran a pilot in 2022 with a slightly larger group to test out a set of interventions. Unilever is now incorporating supplier feedback as it prepares to roll out the program to the remaining target suppliers from 2023.

The company also developed the 'Unilever Climate Promise' which asks suppliers to set a target to halve their greenhouse gas emissions by 2030, publicly report progress, and share the GHG footprint data for the materials they supply to Unilever. While voluntary, Unilever has communicated that it is prioritizing partnerships who demonstrate shared values and a vision of a sustainable future.
Unilever does not only collaborate with its own suppliers. It is a member of the 1.5-degree Supply Chain Leaders Exponential Roadmap Initiative and the Transform to Net Zero Initiative where it collaborates with other businesses in similar and different industries to share learnings and ideas for accelerating climate action in value chains.
Downstream, Unilever has been working with transport partners to test out battery-operated refrigeration systems in its trailers, and with customers to pilot warmer ice cream cabinets coupled with innovative new ice cream formulations.
ZF supplies systems for the automotive industry and has been working to reduce its carbon footprint.
Since ZF directly and indirectly processes around 1.5 million tons of steel per year worldwide, one key lever to achieve this is the purchase of sustainable sourced material.
The company is doing this by collaborating with its suppliers. ZF recently concluded a long-term supply agreement with H2 Green Steel - from 2025 through 2032 the company will ramp up and supply ZF with 250,000 tons of steel annually from a plant in Northern Sweden. This plant has end-to-end digitization, electricity from renewable sources and uses green hydrogen instead of coal. Using green hydrogen instead of coal means that the chemical reaction that occurs during steel-making emits water as opposed to CO2.

What's the World Economic Forum doing about the transition to clean energy?
Moving to clean energy is key to combating climate change, yet in the past five years, the energy transition has stagnated.
Energy consumption and production contribute to two-thirds of global emissions, and 81% of the global energy system is still based on fossil fuels, the same percentage as 30 years ago. Plus, improvements in the energy intensity of the global economy (the amount of energy used per unit of economic activity) are slowing. In 2018 energy intensity improved by 1.2%, the slowest rate since 2010.
Effective policies, private-sector action and public-private cooperation are needed to create a more inclusive, sustainable, affordable and secure global energy system.
Benchmarking progress is essential to a successful transition. The World Economic Forum's Energy Transition Index, which ranks 115 economies on how well they balance energy security and access with environmental sustainability and affordability, shows that the biggest challenge facing energy transition is the lack of readiness among the world's largest emitters, including US, China, India and Russia. The 10 countries that score the highest in terms of readiness account for only 2.6% of global annual emissions.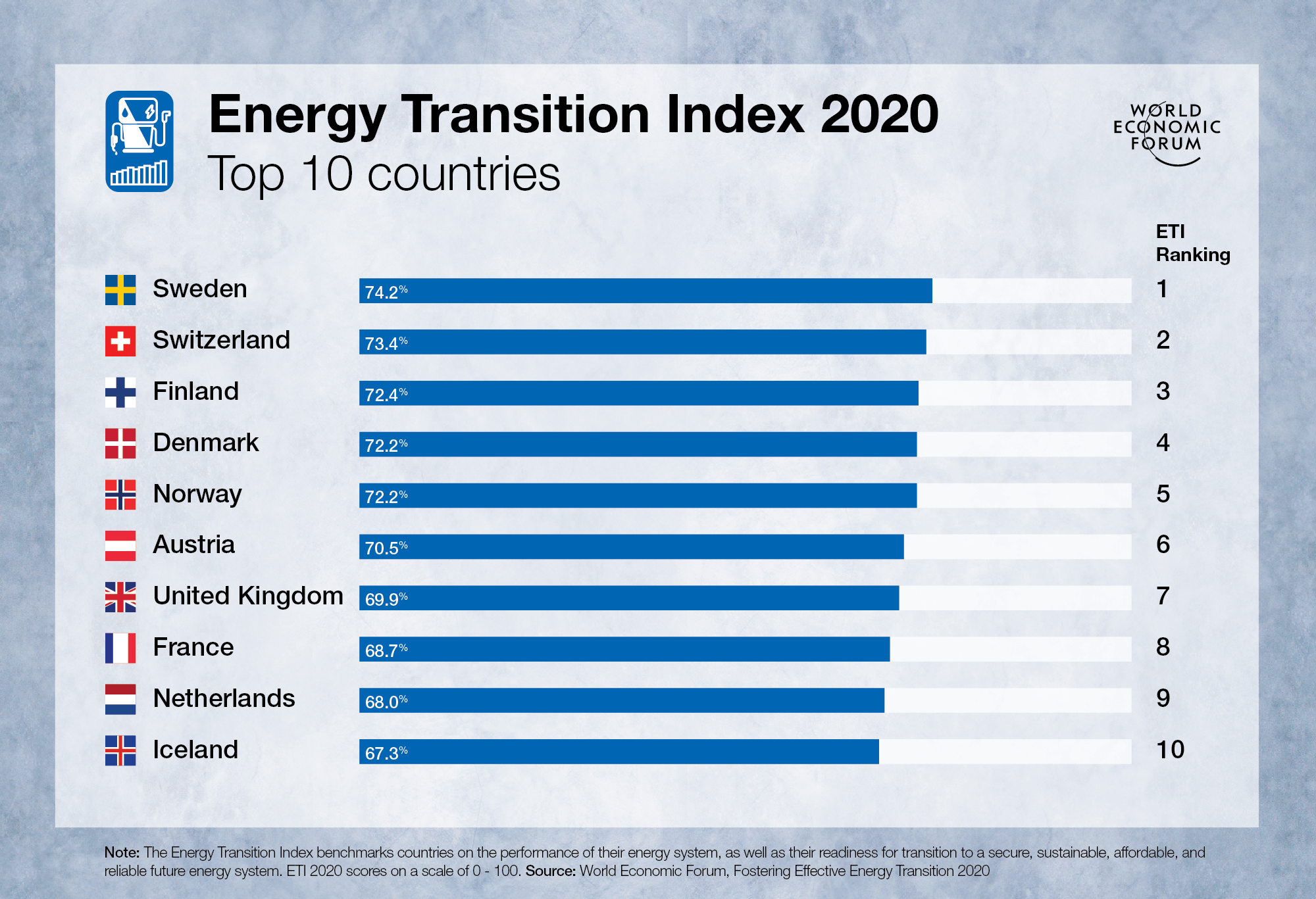 Additionally, the Mission Possible Platform (MPP) is working to assemble public and private partners to further the industry transition to set heavy industry and mobility sectors on the pathway towards net-zero emissions. MPP is an initiative created by the World Economic Forum and the Energy Transitions Commission.
Is your organisation interested in working with the World Economic Forum? Find out more here.
Long-term agreements like this play a crucial role in helping develop markets for green products, such as green steel. The agreement with H2 Green Steel will supply ZF with approximately 10% of its current steel requirements, reducing the company's emissions by around 475,000 tons of CO2 per year.
The cases of Royal Philips, Ingka Group, Unilever and ZF all clearly highlight the need for collaboration to make supply chain decarbonization a reality. At the same time, we also need leadership from the top.. It is crucial for senior leaders in companies to engage on climate issues and prioritize progress against climate goals. Finally, policy plays an extremely important role – political leaders must pave the way to enable companies to decarbonize.