The era of Big Data has unfolded over the past five to ten years, with engineers and business people focused on building new technologies to deal with both the quantity of data and the speed of its transfer.
Today, data is generated in profound volumes and, as the era progresses, data is no longer solely considered a commodity by companies who can leverage it, but a fundamental catalyst to solve some of the world's most complex social issues.
With reams of public data and open-source artificial intelligence at our fingertips, the challenge for businesses does not lie in access to data, but in how to use data creatively to stay competitive, innovative and philanthropic.
Using public data for deeper insights into social issues
Last summer, Alto Analytics, a company dedicated to helping organizations understand the world with data and artificial intelligence, took on this challenge to help understand the global water crisis in support of World Toilet Day.
Our data science team used open data from Dollar Street – a project developed by Gapminder to improve people's understanding of inequality, with a website of images of living conditions and belongings from real families around the world, organized by income levels.
Alto's analysts modelled an AI-powered image recognition analysis of toilets, for an automated and faster way to find a more exact number of people impacted by unsafe sanitation conditions on a global scale. Alto's team processed 971 Dollar Street images of toilets to test the ability of the algorithm to identify toilets according to income groups. They then used Gapminder tools to analyse the data for a clearer understanding of what proportion of the global population is using unsafe sanitary facilities.
This revealed that 30.3% of the world's toilets cannot be recognized by artificial intelligence, based on the images available on gapminder.org. Alto analysts found a direct correlation between AI results and family income, as the algorithm struggled to identify toilets from low-income families.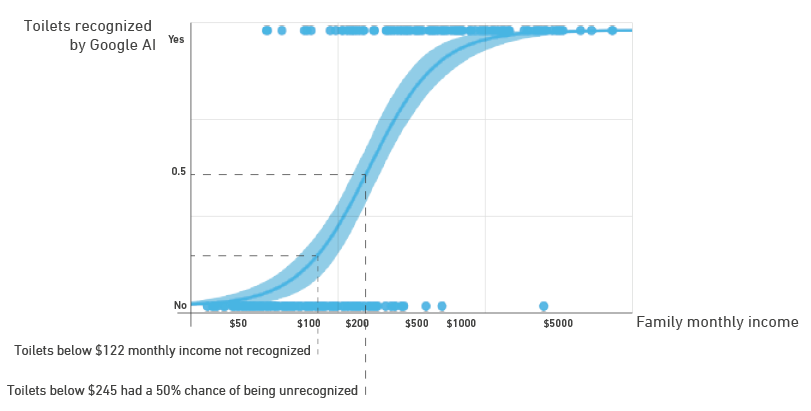 Our data science team then collated images that were recognized by the algorithm and those that were not and plotted results by income levels. This made it clear that the poorest families in the data did not have access to a distinguishable toilet.
Toilets of families with an income of less than $122.50 per month were not recognized by the AI, representing 30.3% of the world's total population, 2.22 billion people.
Toilets of families with an income of less than $245 had a 50% chance of being recognized. These families represent 47.8% of the world's population, 3.42 billion people.
Our analysis was based on Gapminder's dataset alone, but these estimates are closely aligned with UN data. What makes Alto's insights powerful is that they can be updated in real-time, as new photos are constantly uploaded to Gapminder and Dollar Street, providing an automated and real-time method to evaluate unsafe sanitation worldwide.
Why making use of public data matters
This exercise is evidence that open data and artificial intelligence can yield powerful insights to help businesses and organizations understand the world we live in to create global social change.
As data becomes democratized – through the proliferation of public data and growing awareness of our rights to data ownership – organizations must dedicate resources to data strategies.
Chief executives must develop responsible uses of data and artificial intelligence to unlock insights that will enable their businesses to create meaningful change, not only in their organizations, but for our global population.
The insights Alto revealed with this simple analysis proves any organization, whether immersed in digital transformation or not, can create value from open technologies; and that organizations can make a positive impact on the world through the creative use of data.