As China marks 70 years of Communist Party rule, its economy shows signs of slowing but remains among the fastest-growing in the world, with huge investments in technology and innovation.
The country has "experienced the fastest sustained expansion by a major economy in history," according to the World Bank.
Now the world's second-largest economy is transitioning to what President Xi Jinping has referred to as the "new normal," where consumption and services become more important drivers of expansion than investments and exports.
Most of the dramatic shifts occurred after 1979, when the nation opened up to foreign trade and investment and implemented free-market reforms. As China reflects on the changes since the Communist Party took control in 1949, here are some of its characteristics:
China is going big on research and development, with spending in the area 70% higher in 2017 than in 2012, according to analysts at Matthews Asia. It's also investing in high-tech industrial parks and incubators focusing on technologies such as artificial intelligence, robotics and big data.
Internet companies like Alibaba, Tencent and Baidu are investing billions in new research centres, AI experts and data scientists.
Partly as a consequence of this, high-value businesses are being funded faster than anywhere else in the world. As of February 2018, China ranked second behind the US in terms of its number of unicorns – privately held startup companies valued at $1 billion or more.
The government is working through a 10-year plan, Made in China 2025, to accelerate the development of high-tech industries. The plan outlines how China aims to become a world leader in telecommunication, electrical power equipment, robotics, high-end automation, and new energy vehicles.
High levels of government spending and foreign investment have enabled China to roughly double the size of its economy every eight years since the introduction of economic reforms in 1979.
The International Monetary Fund projects that GDP growth will slow each year over the next six years, falling to 5.5% in 2024. That's in part due to US tariffs on Chinese exports.
Even as the expansion continues, China still has some way to go before it's classified by the World Bank as a "high income" country. The development levels are calculated using a per capita gross national income methodology.
China's expansion has also been uneven, with some provinces outperforming others. Manufacturing in Guangzhou and Shenzhen helps make Guangdong province the biggest contributor to Chinese GDP, followed by Jiangsu province.
China ranks 28th out of 140 countries in the World Economic Forum's Global Competitiveness Report, ahead of Russia and India. It is trailing countries like Germany, the US and Switzerland, and that's partly down to what the Forum calls "softer drivers of innovation" like diversity, collaboration and openness.
What do we mean by 'competitiveness'?
What is economic competitiveness? The World Economic Forum, which has been measuring countries' competitiveness since 1979, defines it as: "the set of institutions, policies and factors that determine the level of productivity of a country." Other definitions exist, but all generally include the word "productivity".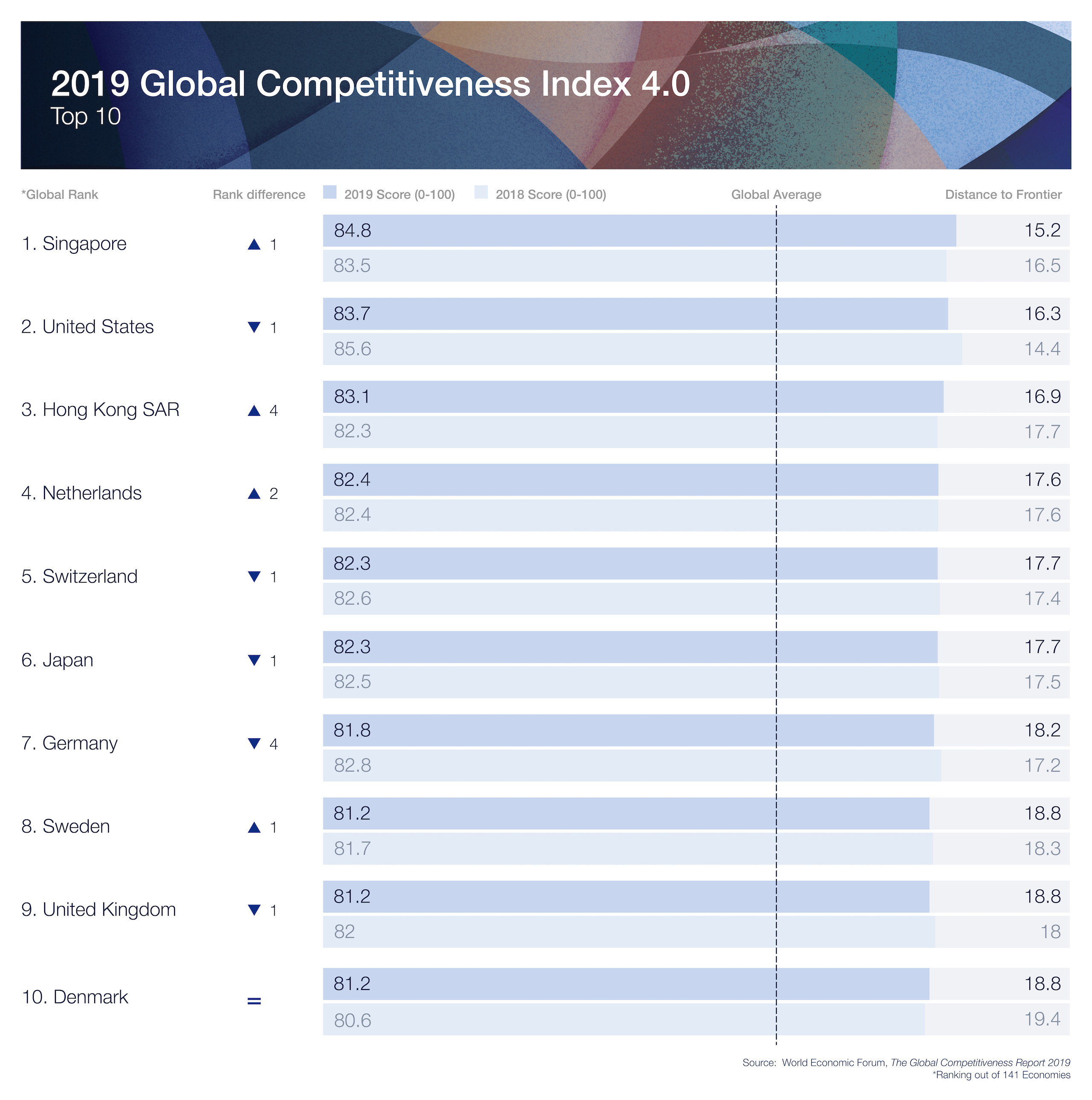 The Global Competitiveness Report is a tool to help governments, the private sector, and civil society work together to boost productivity and generate prosperity. Comparative analysis between countries allows leaders to gauge areas that need strengthening and build a coordinated response. It also helps identify best practices around the world.
The Global Competitive Index forms the basis of the report. It measures performance according to 114 indicators that influence a nation's productivity. The latest edition covered 141 economies, accounting for over 98% of the world's GDP.
Countries' scores are based primarily on quantitative findings from internationally recognized agencies such as the International Monetary Fund and World Health Organization, with the addition of qualitative assessments from economic and social specialists and senior corporate executives.
Even so, China is already more advanced than most countries when it comes to investing in research and development.