High pollution causes more than 100 extra heart attacks in Britain's cities each year, while contributing to a higher rate of strokes and new asthma cases in children, according to new research from King's College London.
"Each year on average, higher air pollution days in London are responsible for 87 more cardiac arrests outside hospital than lower air pollution days," the report notes.
The study, Personalising the Health Impacts of Air Pollution, analysed data from British cities, including London, Birmingham, Bristol, Derby, Liverpool, Manchester, Nottingham, Oxford and Southampton.
The work aims to elucidate the comprehensive impact of air pollutants - including particulate matter and nitrogen oxides - on our daily lives.
"Life years can seem a rather abstract concept and deaths may seem too distant in time for many in the population," the authors wrote. "There is a role for summary statements on more common adverse health effects of air pollution" including those that feel "more familiar to the public".
The result is shocking reading.
Roadside air pollution in Birmingham stunts lung growth in children by 7.7%, while cutting air pollution in London by one-fifth would increase children's lung capacity by around 4%, the findings show.

Worldwide, an awareness of the dangers of air pollution are growing. The World Health Organization (WHO) estimates that air pollution kills 7 million people each year - equivalent to 13 deaths every minute.
What's the World Economic Forum doing about the transition to clean energy?
Moving to clean energy is key to combating climate change, yet in the past five years, the energy transition has stagnated.
Energy consumption and production contribute to two-thirds of global emissions, and 81% of the global energy system is still based on fossil fuels, the same percentage as 30 years ago. Plus, improvements in the energy intensity of the global economy (the amount of energy used per unit of economic activity) are slowing. In 2018 energy intensity improved by 1.2%, the slowest rate since 2010.
Effective policies, private-sector action and public-private cooperation are needed to create a more inclusive, sustainable, affordable and secure global energy system.
Benchmarking progress is essential to a successful transition. The World Economic Forum's Energy Transition Index, which ranks 115 economies on how well they balance energy security and access with environmental sustainability and affordability, shows that the biggest challenge facing energy transition is the lack of readiness among the world's largest emitters, including US, China, India and Russia. The 10 countries that score the highest in terms of readiness account for only 2.6% of global annual emissions.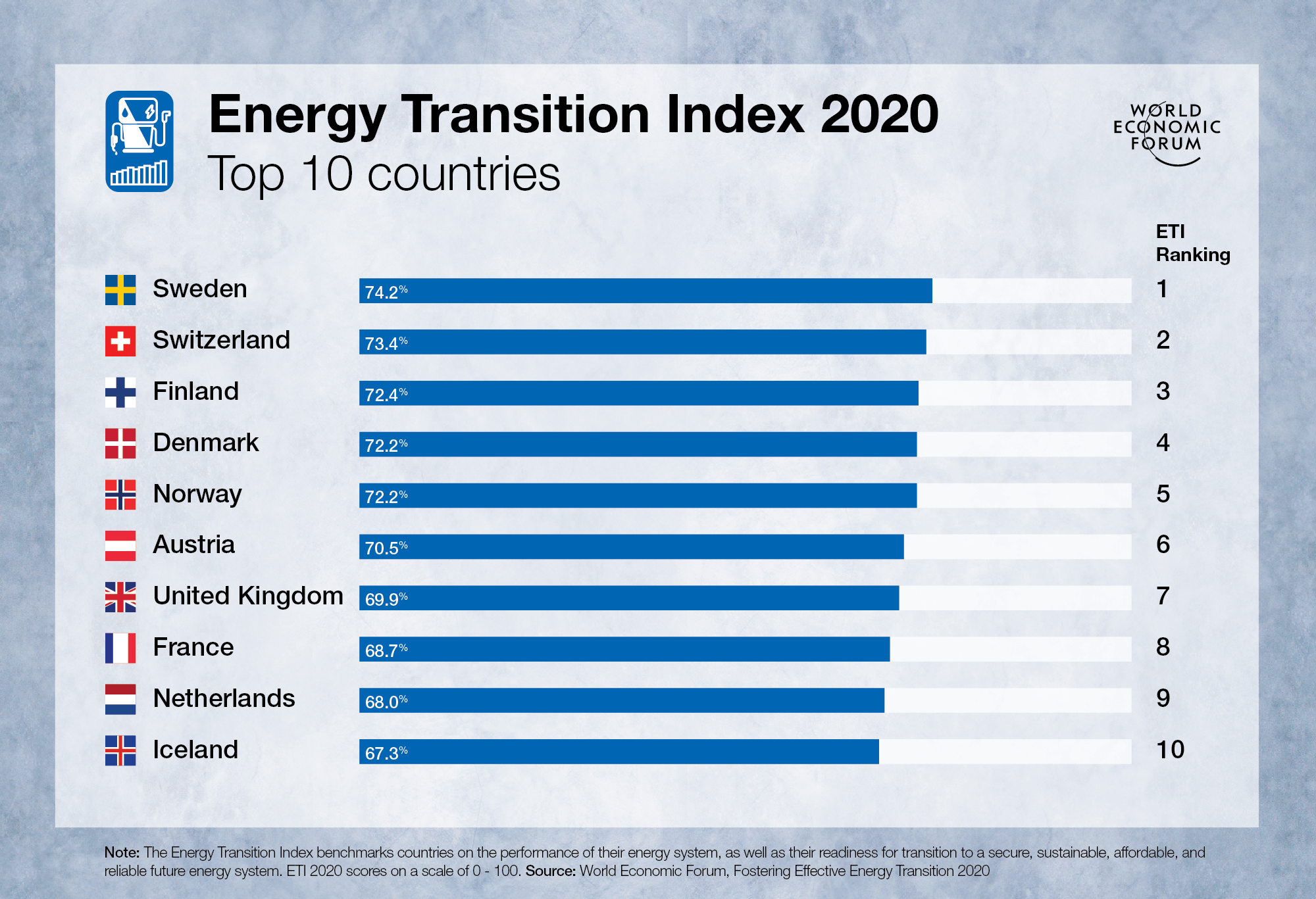 Additionally, the Mission Possible Platform (MPP) is working to assemble public and private partners to further the industry transition to set heavy industry and mobility sectors on the pathway towards net-zero emissions. MPP is an initiative created by the World Economic Forum and the Energy Transitions Commission.
Is your organisation interested in working with the World Economic Forum? Find out more here.
While many policymakers are clear air pollution needs to be tackled, progress can seem slow. In the UK, 36 out of 43 local authority areas still have illegal levels of nitrogen dioxide, according to a ClientEarth analysis of UK government data.
The WHO has called on cities around the world to take action to reduce air pollution. London is one of the first megacities to commit to achieving those targets by 2030, by offering scrappage schemes for the most polluting vehicles and by planning to expand its ultra-low-emission zones.