Tsunami caused triple reactor meltdown in 2011 .
Investors plan 11 solar and 10 wind farms on the abandoned site.
Renewable energy hub to supply electricity to the Tokyo metropolitan area.
The $2.75 billion project makes use of contaminated land that can no longer be used for farming.
The magnitude-9.0 earthquake that rocked northeastern Japan in 2011 caused a tsunami that devastated both the Fukushima nuclear plant and the lives of nearby residents, who were evacuated from a 30-km exclusion zone that's still in force.

A group of investors is converting contaminated mountainous areas and former farmland that can no longer be used to grow crops or raise livestock into 11 solar power plants and 10 wind farms.

Operating at full capacity, the hub will generate 600 megawatts of power – about two-thirds the output of a single nuclear reactor.

With costs estimated at more than $2.75 billion, the new plants will supply electricity to the Tokyo metropolitan area, connecting to the city's power network through a still-to-be-constructed 80km-wide grid within Fukushima.
A fresh start

Fukushima aims to become an international centre for renewable energy. The prefecture has set a target of meeting 100% of its energy needs from renewables by 2040.

A mixture of solar, wind and biomass, with small amounts of geothermal and small-scale hydro power, was generating nearly 1.4 gigawatts of energy for Fukushima prefecture by 2017, according to the Japan Times.
What's the World Economic Forum doing about the transition to clean energy?
Moving to clean energy is key to combating climate change, yet in the past five years, the energy transition has stagnated.
Energy consumption and production contribute to two-thirds of global emissions, and 81% of the global energy system is still based on fossil fuels, the same percentage as 30 years ago. Plus, improvements in the energy intensity of the global economy (the amount of energy used per unit of economic activity) are slowing. In 2018 energy intensity improved by 1.2%, the slowest rate since 2010.
Effective policies, private-sector action and public-private cooperation are needed to create a more inclusive, sustainable, affordable and secure global energy system.
Benchmarking progress is essential to a successful transition. The World Economic Forum's Energy Transition Index, which ranks 115 economies on how well they balance energy security and access with environmental sustainability and affordability, shows that the biggest challenge facing energy transition is the lack of readiness among the world's largest emitters, including US, China, India and Russia. The 10 countries that score the highest in terms of readiness account for only 2.6% of global annual emissions.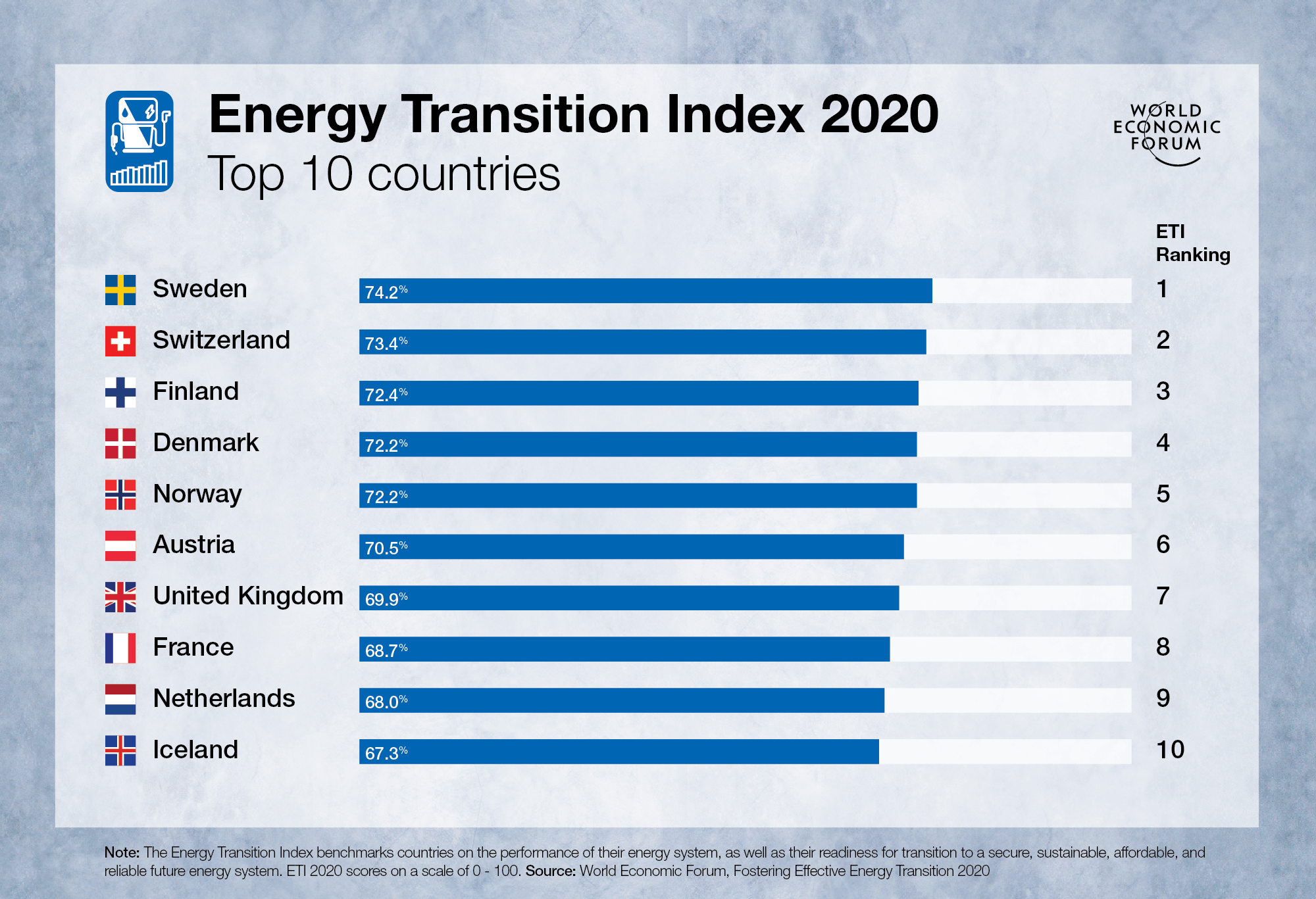 Additionally, the Mission Possible Platform (MPP) is working to assemble public and private partners to further the industry transition to set heavy industry and mobility sectors on the pathway towards net-zero emissions. MPP is an initiative created by the World Economic Forum and the Energy Transitions Commission.
Is your organisation interested in working with the World Economic Forum? Find out more here.