The World Health Organization held a media briefing on 12 June, to update the public on the COVID-19 coronavirus pandemic.
Dr Tedros Adhanom Ghebreyesus called on leaders to ensure any vaccine is a 'global public good'.
We heard more on the impact of the pandemic in the global south.
Any future COVID-19 pandemic must be a global public good, said Dr Tedros Adhanom Ghebreyesus, WHO Director-General, on Friday 12 June.
He told the WHO media briefing that political commitment is vital, but everyone has a role to play:
"This will be the commitment of not only the political leaders, but, I think, it's everybody's business too and the voice of every citizen globally will be important to assure access to vaccines and other products to those who need it."
He later called for general unity in fighting the virus. "This virus exploits the cracks between us," he said. "This virus exploits division between us. It's only when we're united that we can defeat it."
What is the World Economic Forum doing to manage emerging risks from COVID-19?
The first global pandemic in more than 100 years, COVID-19 has spread throughout the world at an unprecedented speed. At the time of writing, 4.5 million cases have been confirmed and more than 300,000 people have died due to the virus.
As countries seek to recover, some of the more long-term economic, business, environmental, societal and technological challenges and opportunities are just beginning to become visible.
To help all stakeholders – communities, governments, businesses and individuals understand the emerging risks and follow-on effects generated by the impact of the coronavirus pandemic, the World Economic Forum, in collaboration with Marsh and McLennan and Zurich Insurance Group, has launched its COVID-19 Risks Outlook: A Preliminary Mapping and its Implications - a companion for decision-makers, building on the Forum's annual Global Risks Report.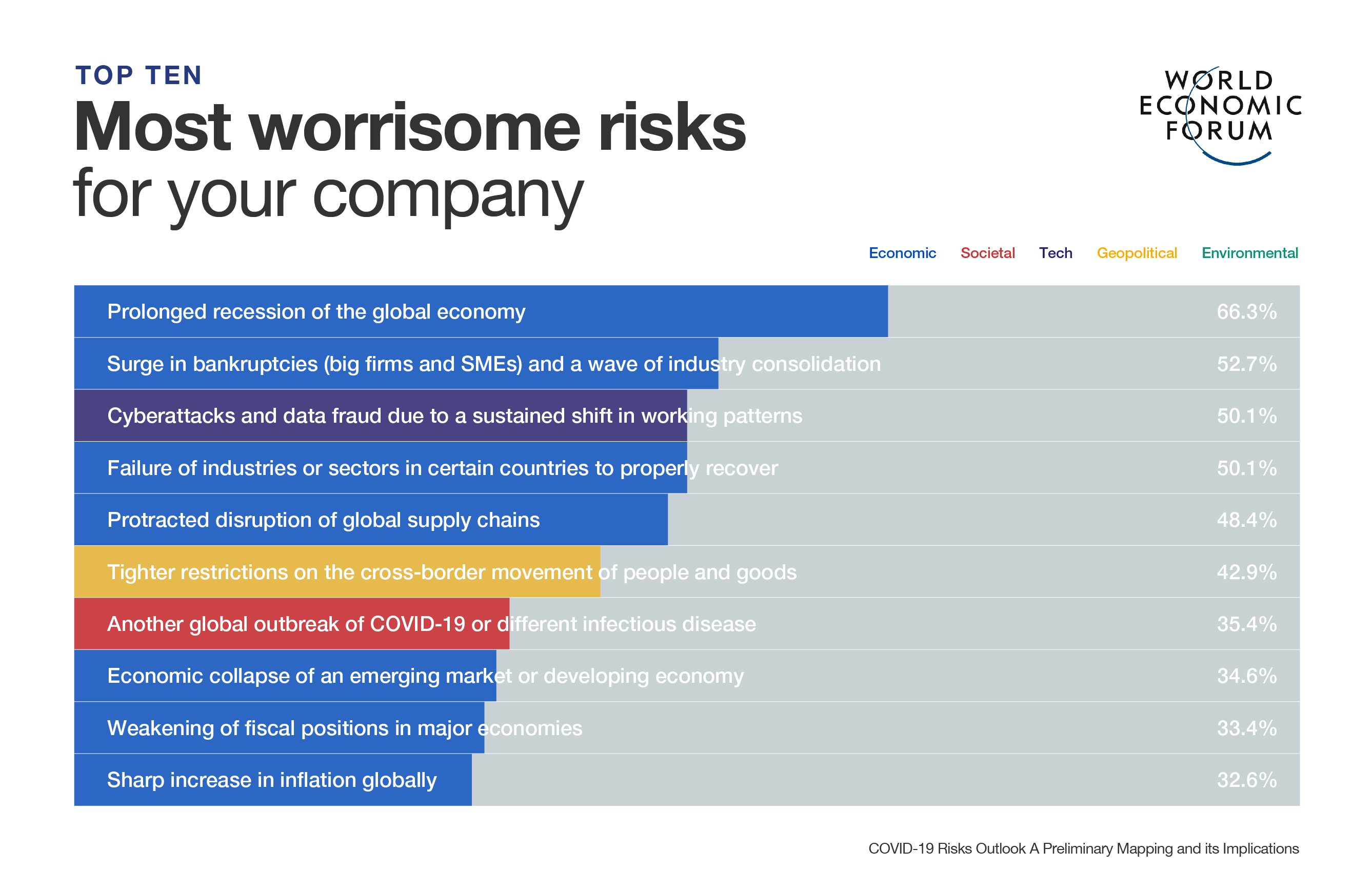 Women should continue to breastfeed
Responding to two media questions, Dr Anshu Banerjee, Dr Maria Van Kerkhove and Dr Michael Ryan reiterated existing guidance that recommends women continue to breastfeed, even with suspected or confirmed cases.
"It [breastfeeding] has been associated with preventing a whole range of different diseases, including acute infections such as diarrhoea, pneumonia and a range of various infections," added Dr Ryan.
A challenging situation in the global south
Dr Ryan also explored the ongoing challenges governments face in balancing public health and economic pressures.
"There is no playbook that can be written at a global level," he explained, discussing the balance that needs to be struck between keeping people at home to suppress the virus and the economic and social damage that would cause.
"We are concerned that we're still very much in the upswing of this pandemic in many countries, particularly of the global south," he added. "We are concerned that some countries are having difficulties in exiting the so-called lockdowns, as they're seeing increases in cases again."