Minerals are vital building blocks for many technologies that give us renewable energy.
The pandemic has uncovered weaknesses in the supply chains of critical minerals, according to an IEA report.
Production is concentrated in a few countries, subject to geopolitical challenges, while rapidly rising demand could result in shortages.
It'll take clever investments in mining capacity and responsible sourcing to stabilize the market and reach net-zero emissions by 2050.
When we think about the global switch to renewable energy, minerals are not the first thing that spring to mind. But they are crucial building blocks for all kinds of clean-energy infrastructure, from wind turbines and solar panels to electric vehicles and the batteries that power them.
Earlier this year, the World Bank predicted a 500% increase in the production of minerals such as graphite, lithium and cobalt by 2050 to feed the energy transition.
As in so many other industries, the COVID-19 pandemic has brought to light little-known weaknesses in global mineral supply chains for clean energy. For example, in Peru, a major world supplier of copper, mining came to a halt due to the country's confinement measures. In South Africa, lockdown significantly disrupted the global production of platinum, another essential mineral in many clean-energy technologies.
This underlines some of the risks associated with the availability of critical minerals. Much of their global production is concentrated in a few countries, which are affected by geopolitical challenges and could therefore struggle to meet demand.
Critical minerals: ensuring availability
Rising demand
Clean-energy technologies often require more critical minerals than their traditional counterparts. An electric car uses five times the amount of minerals as a combustion-engine vehicle, and a wind farm on land requires eight times the minerals needed by a conventional gas-fired power plant with the same capacity. Similarly, energy-efficient, fossil-fuelled power plants need significantly more nickel than their less efficient peers.
The rapid rise of cobalt prices between 2016 and 2018 was an example of the pressure decarbonization can put on critical minerals, the report says: cobalt is used in batteries, alongside lithium.
The geopolitical landscape of
Compared to fossil fuels, the production of many critical minerals is concentrated in fewer countries: indeed, the top three producers control well over three-quarters of global output.
Close to two-thirds of the global supply of rare earth elements – which are used in everything from magnets to fuel cells – are produced in China, which also dominates the rare earth supply chain beyond extraction.
Such geographic concentration of critical minerals means that supplies may be affected not only by local geological and market parameters, but also by regulatory change. Restrictions of rare earths from China and nickel from Indonesia, along with a premium on cobalt imposed by the Democratic Republic of the Congo (which produces over 70% of global supplies), are examples of how geopolitics can help or hinder the world's race to net zero, says the IEA.
Sourcing responsibly
What the IEA's report shows is that while public discourse on fighting climate change largely focuses on the shop window – the new technologies we all see contributing to CO2 reduction – it's equally important to watch the back end.
This means that the critical minerals from which these technologies – such as wind turbines, solar panels and batteries – are made also need to be sourced sustainably and responsibly.
As the IEA points out, in some markets, miners have to work in highly hazardous conditions and some extraction processes are, in themselves, polluting. For example, rare earth extraction uses harmful chemicals and produces high volumes of waste and waste water, the agency says.
Time to invest in critical minerals
But turning this around and establishing a "circular economy" ecosystem for critical minerals poses a sizeable challenge.
"Many of the techniques for creating sustainable minerals supply still need to be invented," Bénédicte Cenki-Tok, an associate professor at Montpellier University, wrote in The Conversation. "We must invest in geosciences, create new tools for exploration, extraction, beneficiation and recovery; treat the leftover material from mining as a resource instead of waste; develop urban mining and find substitutes and effective recycling procedures."
What's the World Economic Forum doing about the transition to clean energy?
Moving to clean energy is key to combating climate change, yet in the past five years, the energy transition has stagnated.
Energy consumption and production contribute to two-thirds of global emissions, and 81% of the global energy system is still based on fossil fuels, the same percentage as 30 years ago. Plus, improvements in the energy intensity of the global economy (the amount of energy used per unit of economic activity) are slowing. In 2018 energy intensity improved by 1.2%, the slowest rate since 2010.
Effective policies, private-sector action and public-private cooperation are needed to create a more inclusive, sustainable, affordable and secure global energy system.
Benchmarking progress is essential to a successful transition. The World Economic Forum's Energy Transition Index, which ranks 115 economies on how well they balance energy security and access with environmental sustainability and affordability, shows that the biggest challenge facing energy transition is the lack of readiness among the world's largest emitters, including US, China, India and Russia. The 10 countries that score the highest in terms of readiness account for only 2.6% of global annual emissions.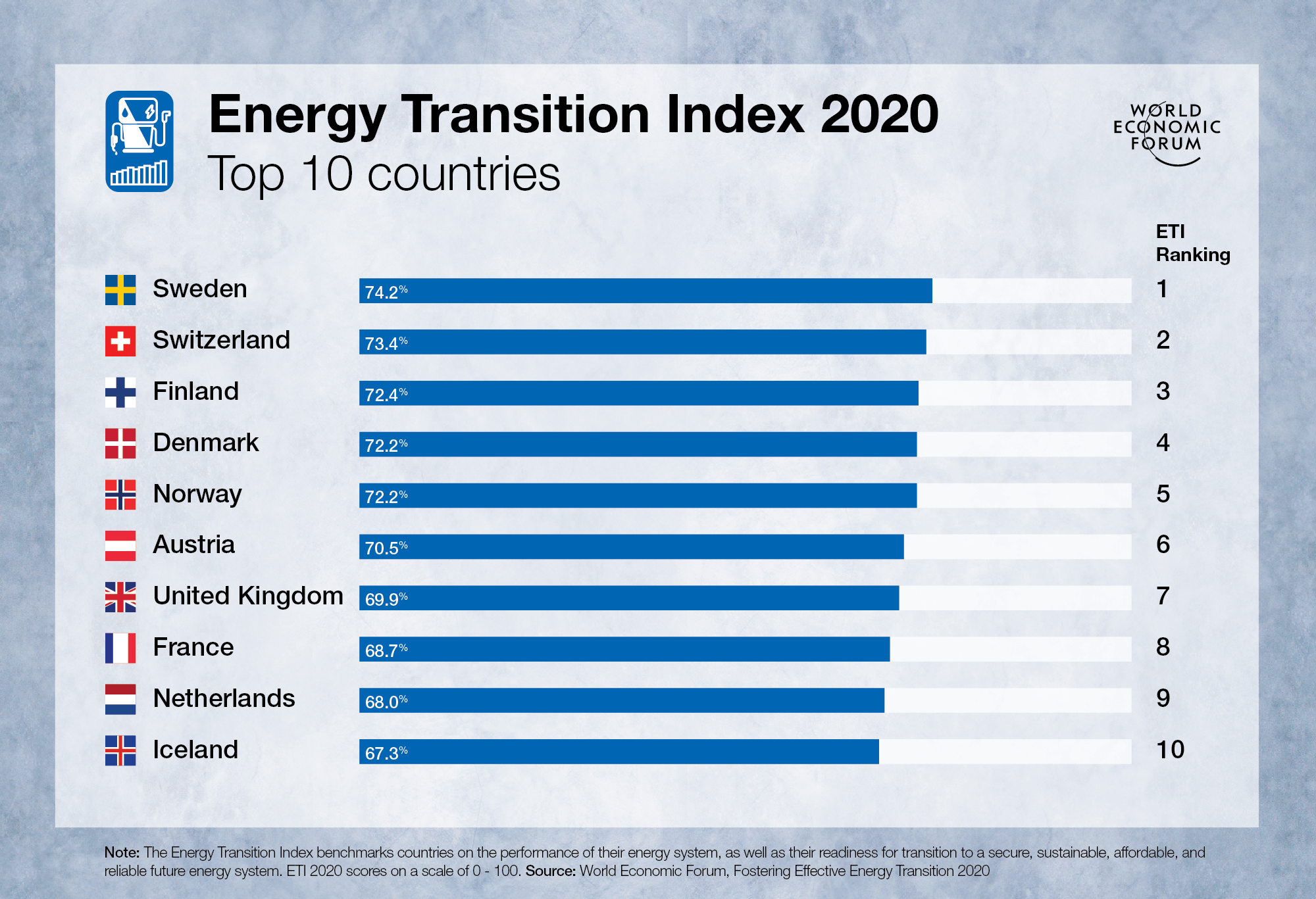 Additionally, the Mission Possible Platform (MPP) is working to assemble public and private partners to further the industry transition to set heavy industry and mobility sectors on the pathway towards net-zero emissions. MPP is an initiative created by the World Economic Forum and the Energy Transitions Commission.
Is your organisation interested in working with the World Economic Forum? Find out more here.
When it comes to protecting the mineral supply chain, the IEA has a number of recommendations for both businesses and governments. There is an urgent need for continued investment in new mines to build capacity for future growth, for example. And sustainable and responsible sourcing and recycling of critical minerals needs to be boosted from current levels.
Without these considerations, there's a risk that the basic building blocks of sustainable technologies will stand in the way of their own goal - that of reaching net-zero emissions in the next 30 years.