Unless more money is invested in green energy, the world will heat by 3°C.
But change is achievable and affordable, according to a panel at the World Economic Forum's Green Horizons Summit.
About 1.5% of global GDP would fund a clean energy transition.
And some experts believe net-zero carbon could be achieved sooner than planned.
Achieving net-zero emissions by 2050 is perfectly achievable if investment in fossil fuels is redirected to zero-carbon alternatives, according to speakers at the World Economic Forum's Green Horizons Summit.
And the pace of technological advances is so fast the goal could even be achieved before that date.
The session was led by Lord Adair Turner, former head of the UK financial regulator and now co-chair of the Energy Transitions Commission, a global coalition of energy business leaders committed to achieving net-zero emissions by mid-century.
The green transition is an urgent existential imperative, he said. "Climate change threatens to produce global impacts which, if we allow them to occur, will be irreversible, at least for many hundreds of years and will have catastrophic impact on human welfare."
Despite commitments made by companies and countries and rapid technological progress, Lord Turner warned that the world was still on a path that would lead to 3°C of warming by the end of the century – twice the level targeted by the Paris climate accord.
'Massive electrification'
"It's a challenge that we have to meet but it's also a challenge to which we have answers," he added. "We are absolutely confident that it can be done and that getting to net zero is technologically and economically possible."
Calling for "massive electrification" of the global economy, Lord Turner added: "It is absolutely possible to do it. But it requires a major shift in where the global economy is investing money. In macroeconomic terms, the extra investment required is not worrying. Overall we have to increase global investment by maybe 1-1.5% of GDP.
"And in an environment where, across the world, there are huge amounts of savings pursuing inadequate investment opportunities and therefore producing negative real interest rates, that macroeconomic problem is not challenging at all."
Investment decisions would be driven partly by new carbon taxes but also because the global financial community was increasingly committed to supporting the switch to a zero-carbon economy, he said.
An even more optimistic assessment was delivered by Paddy Padmanathan, President and CEO of international renewable power investor ACWA Power. "I think we will get to pretty much fully renewables way way faster," he said.
"Given the phenomenal and relentless advances of technology in solar and wind energy we are able to deliver electricity at way less than two cents per kilowatt hour – a price at which electricity has never ever been generated using any resource ever."
Padmanathan predicted that wind and solar power would also enable production of green hydrogen: "I would imagine 75% of the cost of splitting water's hydrogen-oxygen bond to generate hydrogen is energy. By combining wind and solar, cost-competitive hydrogen is no longer a dream but a realistic proposition."
Describing the energy transition as "the first inevitable industrial revolution" Nigel Topping, the UK's climate champion, responsible for organizing the 2021 COP26 conference to monitor implementation of the Paris Agreement, said every industrial change started slowly.
"Every significant industrial transition has always followed an "S" curve – it takes a long time to start and then it goes exponential and those who were asleep at the wheel lose and those who were driving that transition do really very well," he added.
Predicting that by 2050 there would still be a need for "energy dense, portable liquid and gaseous fuels", Jeremy Bentham, Shell's Head of Environmental Strategy, said it was likely that some of the demand would be met by synthetic fuels made from hydrogen.
Even if companies were tempted to cling to fossil fuels, they might find they could not access finance, according to Anne Marie Verstraeten, UK head of BNP Paribas. She said her bank would stop lending to coal-related industries by 2030.
"To make genuine progress, we need to see a clear commitment of our clients towards decarbonized business models," she added. Asset manager Deirdre Cooper of investment house Ninety One agreed that the financial industry had a duty to support the energy transition.
What's the World Economic Forum doing about the transition to clean energy?
Moving to clean energy is key to combating climate change, yet in the past five years, the energy transition has stagnated.
Energy consumption and production contribute to two-thirds of global emissions, and 81% of the global energy system is still based on fossil fuels, the same percentage as 30 years ago. Plus, improvements in the energy intensity of the global economy (the amount of energy used per unit of economic activity) are slowing. In 2018 energy intensity improved by 1.2%, the slowest rate since 2010.
Effective policies, private-sector action and public-private cooperation are needed to create a more inclusive, sustainable, affordable and secure global energy system.
Benchmarking progress is essential to a successful transition. The World Economic Forum's Energy Transition Index, which ranks 115 economies on how well they balance energy security and access with environmental sustainability and affordability, shows that the biggest challenge facing energy transition is the lack of readiness among the world's largest emitters, including US, China, India and Russia. The 10 countries that score the highest in terms of readiness account for only 2.6% of global annual emissions.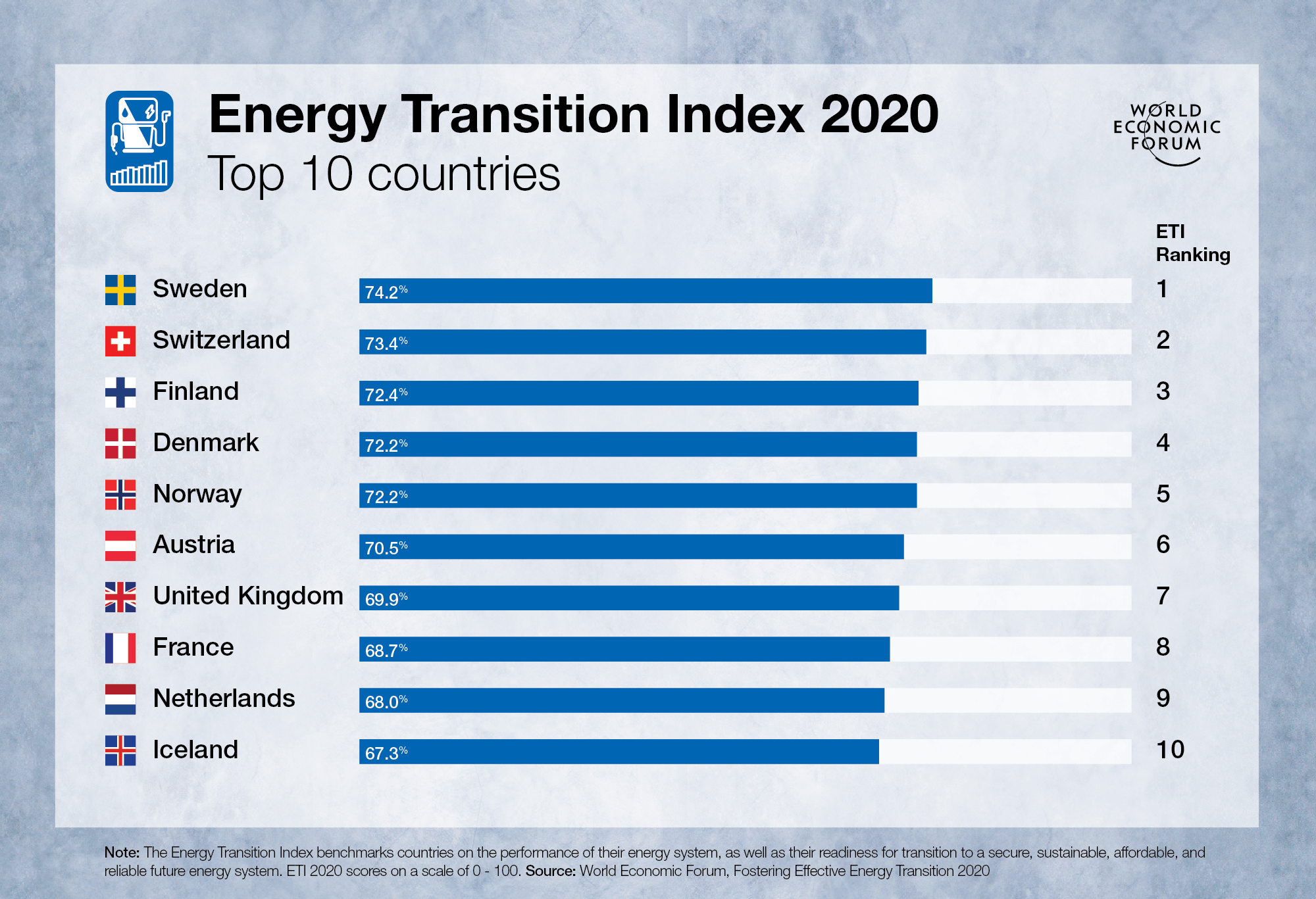 Additionally, the Mission Possible Platform (MPP) is working to assemble public and private partners to further the industry transition to set heavy industry and mobility sectors on the pathway towards net-zero emissions. MPP is an initiative created by the World Economic Forum and the Energy Transitions Commission.
Is your organisation interested in working with the World Economic Forum? Find out more here.
But she warned that simply relying on emissions reporting by companies risked "defunding emerging market companies where disclosure is weakest, but where energy demand and the need for climate finance investment is greatest."
"There are some potentially significant negative consequences to an ESG-by-numbers approach. Of course, the investment management industry has both a huge responsibility, but also an incredible opportunity to be a part of investing in a significant growth area."
The World Economic Forum's Energy Transition Index 2020 tracked the progress of 115 nations as they entered the "decade of delivery" on energy transition globally. It found that although there had been good progress, it was inconsistent between countries.