Buildings are responsible for 40% of global energy consumption and 33% of greenhouse gas emissions.
Ensuring new buildings are sustainable and energy-efficient will be key to our efforts to tackle climate change.
Green buildings can also benefit employees, bottom lines and investors. Here's how.
COVID-19 and climate-related events have taken a big toll on the world this year. But all shocks, while painful, are also opportunities – to review past policies, to think more holistically, to do things more efficiently, and to build buffers for future challenges.
It is clear that we can and must become greener and more efficient. To do so, companies, policy-makers, investors and others need to take a fresh approach – one in which the wider systemic value of investments and policy decisions, rather than narrow financial considerations, is central; and where the digital tools and innovations that can accelerate the transition to a lower-carbon future are incentivized and put to full use.
That is why Schneider Electric, together with the World Economic Forum's Electricity Industry community of CEOs and supported by Accenture, have created a new system value framework. This framework more holistically evaluates the effect of policies and investments on the economy, society, the environment and the energy system. It aims to guide policy-makers, business leaders and the energy community's stakeholders to thoroughly evaluate the outcomes of their investments.
Why aim for zero-carbon buildings?
Buildings are a critical piece of our transition to a lower-carbon future. They are where we live, where we rest, and where we work – and they are responsible for about 40% of global energy consumption and about one-third of global greenhouse gas emissions.
In Europe alone, more than 220 million existing buildings – or 75% of the building stock – are energy-inefficient, with many relying on fossil fuels for heating and cooling. European analysis from our System Value initiative shows that a 20% shift in heating towards heat pump applications running on clean electricity would reduce CO2 emissions by 9%. Coupled with smart solutions, it could save €3 billion in human health benefits from decreased air pollution between now and 2030. Bear in mind that any building constructed today will be around for the next 50 years or more – so ensuring that new buildings are green, and that existing buildings are decarbonized, is key to our efforts to combat climate change.
There are two main ways to achieve this. The traditional way is to improve insulation to reduce the amount of heating (or cooling) loss. Think double glazing and roof insulation. The more innovative, more efficient and cheaper way is to equip buildings with the digital tools that allow them to automatically adjust heating, lighting and other systems to the number of people present at any given time, using real-time data analysis. Such "autonomous buildings" are ultra-efficient, fully electric, perhaps using solar panels to supply power, and can be managed remotely.
The energy and carbon emissions reduction potential of such "active" solutions is still widely underestimated, and tops that of "passive" insulation. The cost of investment is generally recouped much faster – in less than five years with digital technologies, compared to more than 15 years for "passive" energy-efficiency solutions. Similarly, with the same budget, digital technologies can renovate 10 times the space of traditional technologies.
So it is important that public initiatives to promote renovation programmes factor in more fully the role that digital technologies can play in making building stock cleaner and smarter. And to help cities, for instance, decide where best to focus efforts, they need to better measure the condition of their building stock – via macro-indicators that help assess the best set of technologies and incentives to be deployed.
Ticking many boxes: the wider benefits of making buildings green
For a sense of what's already possible, take a look at Deloitte's The Edge building in Amsterdam, one of the most sustainable office buildings in the world. Constructed in partnership with Schneider Electric, it is equipped with solar panels and thermal energy storage, generates all the energy required for its own heating and cooling, and has a BREEAM-NL rating of 98.36%. Deloitte was able to improve the health, comfort and productivity of its employees, going as far as allowing them to use an application on their smartphones to control the lighting and climate in their individual workspaces.
This takes us to the wider benefits of investing in greener buildings. These range from improved working conditions to enhanced job opportunities for the 10% of the global workforce that is employed in the building sector. The EU, for one, estimates that by 2030 an additional 160,000 green jobs could be created in the EU construction sector through a €90 billion-a-year Renovation Wave.
The world can and must become more efficient, digital and green – and taking a wider system value approach will help get us there. Decarbonizing our existing and future building stock through deploying digital technologies more fully is no exception; it makes not just financial sense, but environmental, health, reputational and labour-market sense too. Time for companies, real estate developers, regulators and policy-makers to apply that wider lens in their decision making. Future generations will thank them for it.
What's the World Economic Forum doing about the transition to clean energy?
Moving to clean energy is key to combating climate change, yet in the past five years, the energy transition has stagnated.
Energy consumption and production contribute to two-thirds of global emissions, and 81% of the global energy system is still based on fossil fuels, the same percentage as 30 years ago. Plus, improvements in the energy intensity of the global economy (the amount of energy used per unit of economic activity) are slowing. In 2018 energy intensity improved by 1.2%, the slowest rate since 2010.
Effective policies, private-sector action and public-private cooperation are needed to create a more inclusive, sustainable, affordable and secure global energy system.
Benchmarking progress is essential to a successful transition. The World Economic Forum's Energy Transition Index, which ranks 115 economies on how well they balance energy security and access with environmental sustainability and affordability, shows that the biggest challenge facing energy transition is the lack of readiness among the world's largest emitters, including US, China, India and Russia. The 10 countries that score the highest in terms of readiness account for only 2.6% of global annual emissions.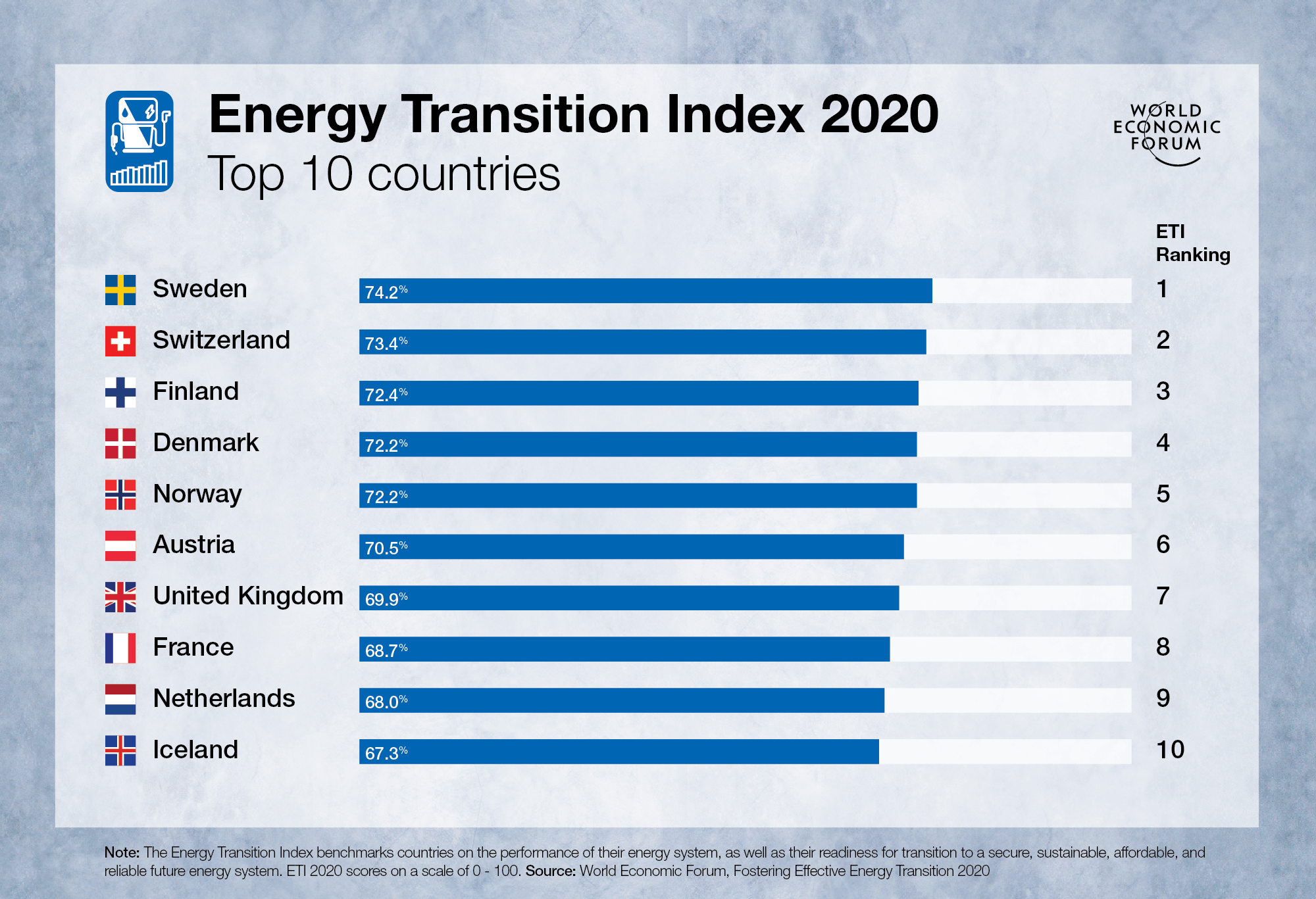 Additionally, the Mission Possible Platform (MPP) is working to assemble public and private partners to further the industry transition to set heavy industry and mobility sectors on the pathway towards net-zero emissions. MPP is an initiative created by the World Economic Forum and the Energy Transitions Commission.
Is your organisation interested in working with the World Economic Forum? Find out more here.