This daily round-up brings you a selection of the latest news and updates on the COVID-19 pandemic, as well as tips and tools to help you stay informed and protected.
Top stories: Pentagon to seek approval to make COVID-19 vaccines mandatory for troops; Premier League to introduce random COVID-19 status checks for ticket holders; Sydney reports record daily rise in COVID-19 cases.
1. How COVID-19 is affecting the globe
Confirmed cases of COVID-19 have passed 203.4 million globally, according to Johns Hopkins University. The number of confirmed deaths stands at more than 4.3 million. More than 4.46 billion vaccination doses have been administered globally, according to Our World in Data.
Indonesia has extended COVID-19 restrictions on its populous Java and Bali islands until at least 16 August. They've been eased in 26 areas though, with data showing infections have fallen in Jakarta but are rising elsewhere.
Nearly 20% of hospitals in the Philippines are close to full capacity, the health ministry warned yesterday, as the Delta variant drives a surge in COVID-19 cases.
Nearly 60% of the US population has received at least one dose of a COVID-19 vaccine. 61% of the adult population are fully vaccinated, according to data from the US Centers for Disease Control and Prevention.
Sydney has reported a record number of daily new COVID-19 cases – 343, up from 66 the day before – as authorities said they will increase policing of existing restrictions.
Only eight intensive care beds were available across the US state of Arkansas, its governor warned yesterday, as the spread of the Delta variant pushed COVID-19 cases and hospitalizations higher.
2. Pentagon to seek approval to make COVID-19 vaccines mandatory for US troops
The Pentagon is set to seek US President Joe Biden's approval to require 1.3 million military members to be vaccinated against COVID-19.
It's set to seek approval by mid-September in anticipation that the Food and Drug Administration will give full regulatory approval to the Pfizer/BioNTech vaccine. The jab is currently under an emergency use authorization.
"I strongly support ... the Department of Defense's plan to add the COVID-19 vaccine to the list of required vaccinations for our service members not later than mid-September," Biden said in a statement.
The US military said that around half of US armed forces are already fully vaccinated – and that number rises significantly when counting on active-duty troops.
India's leading COVID-19 last-mile responders
Each of our Top 50 social enterprise last mile responders and multi-stakeholder initiatives is working across four priority areas of need: Prevention and protection; COVID-19 treatment and relief; inclusive vaccine access; and securing livelihoods. The list was curated jointly with regional hosts Catalyst 2030's NASE and Aavishkaar Group. Their profiles can be found on www.wef.ch/lastmiletop50india.
Top Last Mile Partnership Initiatives to collaborate with: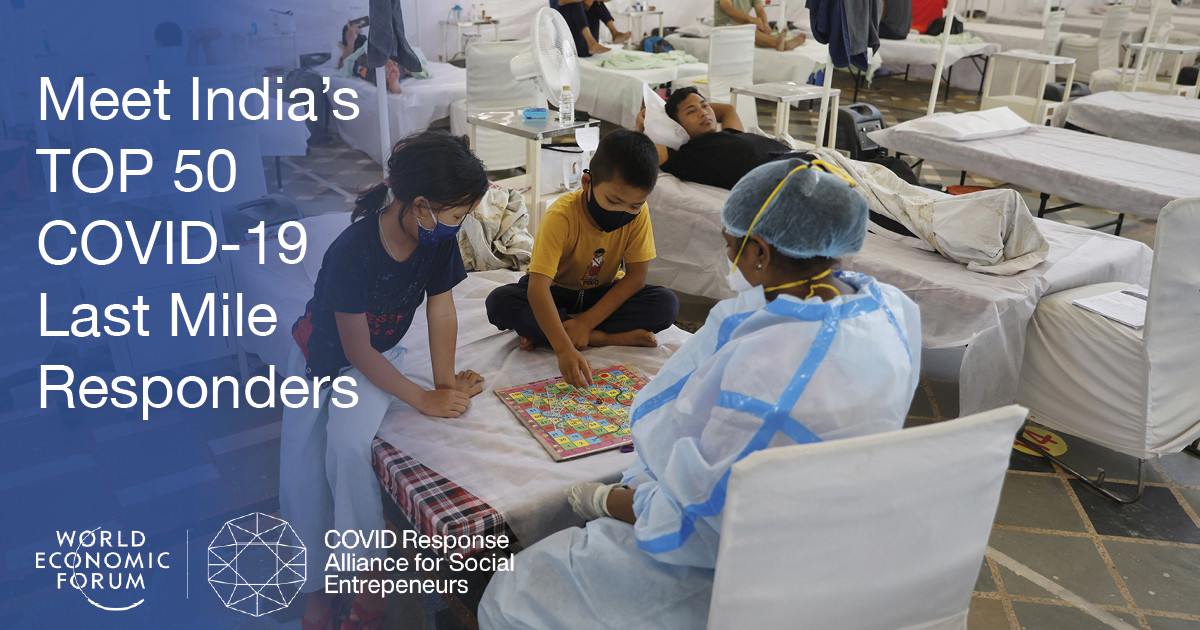 3. Premier League to introduce random COVID-19 status checks for ticket holders
Fans attending Premier League games are set to face random spot checks of their COVID-19 status at some stadiums during the opening weeks of the season.
Ticket holders should provide proof of full vaccination or a negative lateral flow test result within 48 hours before a game via the NHS COVID Pass, England's top-flight football league said in a statement.
Other measures will also remain in place, with supporters adhering to a new code of conduct. It includes wearing masks indoors, avoiding close contact with strangers and following one-way signage in stadiums.
"Even though the nation is reopening, the government has made it clear that this pandemic is still far from over. It is possible the safety measures for matches could be subject to change at short notice," the statement added.