When nuclear power makes the news, it's often for all the wrong reasons. The disasters at Chernobyl and Fukushima, ageing infrastructure in current plants, the spiralling costs of building new ones, and the unsolved issue of nuclear waste.
And yet as the world looks for ways to reduce its dependence on fossil fuels to take action on climate change, some think nuclear power, which does not produce direct carbon dioxide emissions, could play an increasingly important role in the future power mix.
China (48), Japan (37) and Russia (36) make up the rest of the top five.
What's the World Economic Forum doing about the transition to clean energy?
Moving to clean energy is key to combating climate change, yet in the past five years, the energy transition has stagnated.
Energy consumption and production contribute to two-thirds of global emissions, and 81% of the global energy system is still based on fossil fuels, the same percentage as 30 years ago. Plus, improvements in the energy intensity of the global economy (the amount of energy used per unit of economic activity) are slowing. In 2018 energy intensity improved by 1.2%, the slowest rate since 2010.
Effective policies, private-sector action and public-private cooperation are needed to create a more inclusive, sustainable, affordable and secure global energy system.
Benchmarking progress is essential to a successful transition. The World Economic Forum's Energy Transition Index, which ranks 115 economies on how well they balance energy security and access with environmental sustainability and affordability, shows that the biggest challenge facing energy transition is the lack of readiness among the world's largest emitters, including US, China, India and Russia. The 10 countries that score the highest in terms of readiness account for only 2.6% of global annual emissions.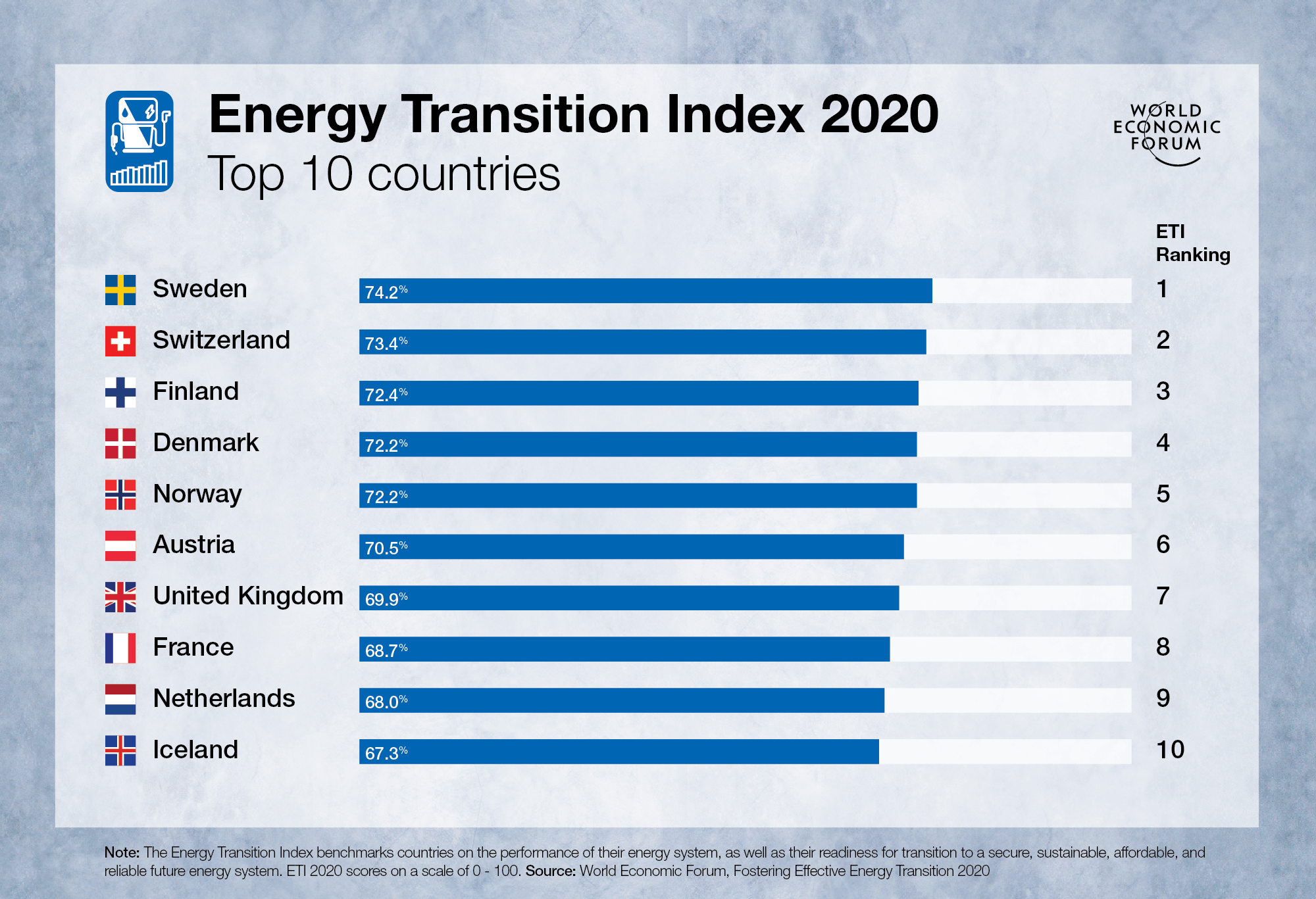 Additionally, the Mission Possible Platform (MPP) is working to assemble public and private partners to further the industry transition to set heavy industry and mobility sectors on the pathway towards net-zero emissions. MPP is an initiative created by the World Economic Forum and the Energy Transitions Commission.
Is your organisation interested in working with the World Economic Forum? Find out more here.
Anti-nuclear campaigners say the high cost of nuclear means the money would be better spent on renewables and energy efficiency.