Coronavirus lockdowns have cleared parks, streets and famous landmarks around the world.
From São Paulo to Santorini, aerial photos reveal the impact of the pandemic.
During the COVID-19 pandemic, public spaces have emptied. Even from ground level, the change is clear – landmarks are deserted and our roads free of cars – but from up high, the contrast is even more stark.
As restrictions start to ease, these pictures are a reminder of the extraordinary changes seen around the world.
Time to stay home
18 March - One of the world's most famous spots, Times Square, New York, is much quieter than usual.

The human cost
2 April - Workers preparing more graves at Brazil's largest cemetery, Vila Formosa in São Paulo.
The impact on religion
24 April - Mecca's Grand Mosque is deserted on the first day of the holy month of Ramadan.
A rollercoaster ride
30 April - This Japanese theme park has been closed to the public during the pandemic.
What is the World Economic Forum doing to manage emerging risks from COVID-19?
The first global pandemic in more than 100 years, COVID-19 has spread throughout the world at an unprecedented speed. At the time of writing, 4.5 million cases have been confirmed and more than 300,000 people have died due to the virus.
As countries seek to recover, some of the more long-term economic, business, environmental, societal and technological challenges and opportunities are just beginning to become visible.
To help all stakeholders – communities, governments, businesses and individuals understand the emerging risks and follow-on effects generated by the impact of the coronavirus pandemic, the World Economic Forum, in collaboration with Marsh and McLennan and Zurich Insurance Group, has launched its COVID-19 Risks Outlook: A Preliminary Mapping and its Implications - a companion for decision-makers, building on the Forum's annual Global Risks Report.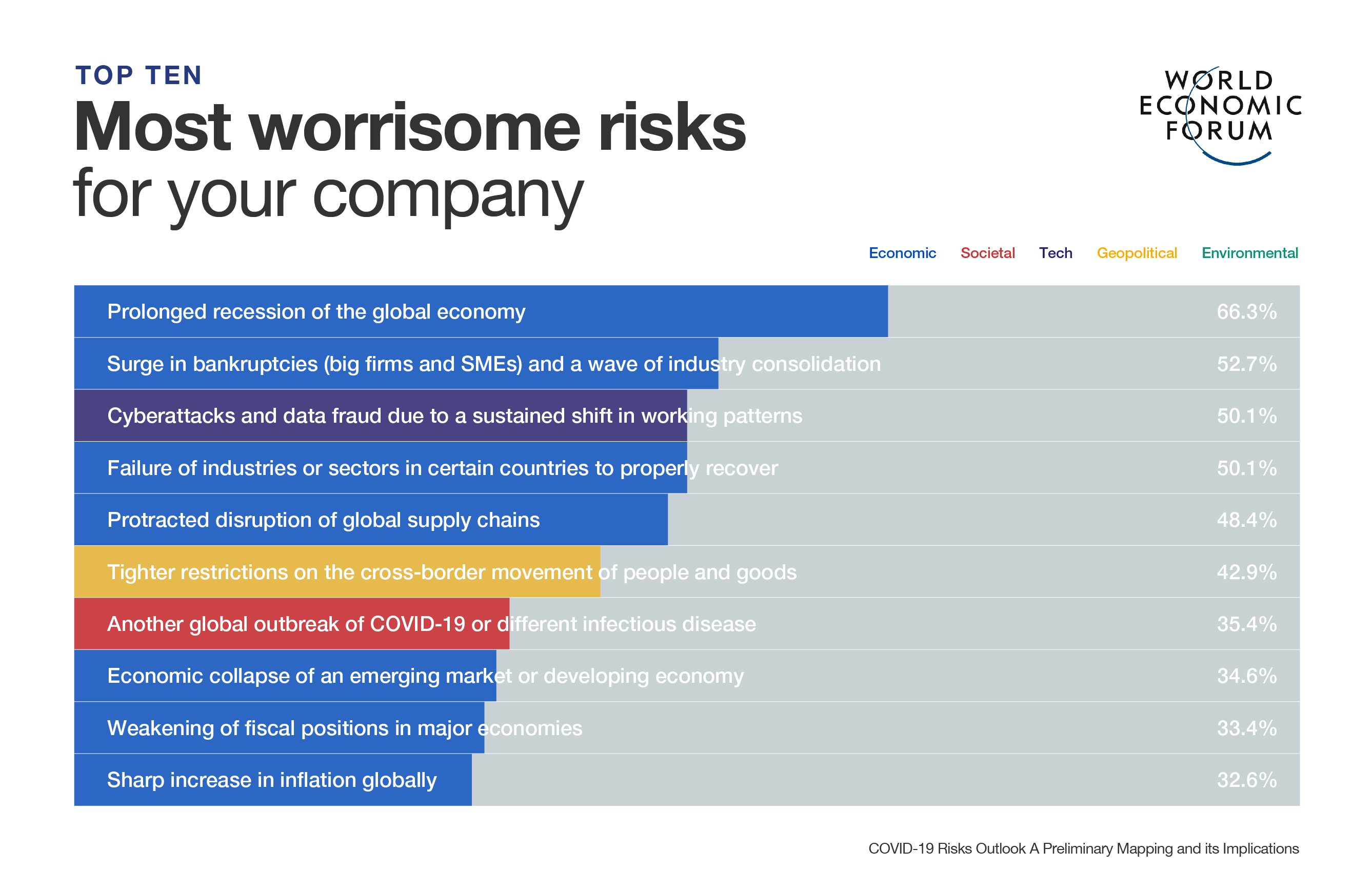 Tourism troubles
7 May - No people to be seen in Oia, on the (usually) popular Greek island of Santorini.
Sunbathing circles
21 May - In San Francisco's Dolores park, circles have been painted to help with social distancing.
Any spaces?
21 May - The car park of this New Jersey mall is empty, with only tyre marks visible from above.