A group of Danish companies are planning one of the world's largest hydrogen and synthetic fuel production facilities.
The project will use renewable energy to create low-carbon fuels for the country's transport sector.
Bringing down the costs of such hydrogen fuels is vital to meeting climate targets.
A group of Danish companies are joining forces to build one of the world's largest facilities producing synthetic hydrogen fuels. The unique partnership aims to help decarbonize the country's transport sector by manufacturing sustainable alternatives to fossil-based fuels like petrol and diesel.

Participating companies include many of Denmark's key transport and logistics players: Copenhagen Airports, A.P. Moller – Maersk, DSV Panalpina, DFDS, SAS and Ørsted. The vision includes generating hydrogen, an emissions-free alternative fuel, using electrolysis powered by renewable energy, as well as synthetic fuels for sectors which currently have limited low-carbon fuel options (producing methanol for the shipping or e-kerosene for aviation).

Fully scaled up, the finished facility in 2030 would have capacity to deliver 250,000 tonnes of synthetic fuel each year, to power buses, trucks, maritime vessels and aircraft, reducing annual carbon emissions by 850,000 tonnes.
As well as positioning Denmark at the vanguard of sustainable-fuel technology, the project could create numerous jobs and establish a mass-scale clean fuel model for others to follow.

Generating hydrogen fuels
When an electrolyzer is powered by renewable energy sources like offshore wind, the hydrogen produced is emissions-free. Unlike fossil-based fuels like petrol or diesel, when hydrogen combusts it doesn't produce carbon dioxide emissions.
Although still at the planning stage, the entire Danish project will be powered by renewable energy sources, like offshore wind, and comprises three phases.
What's the World Economic Forum doing about the transition to clean energy?
Moving to clean energy is key to combating climate change, yet in the past five years, the energy transition has stagnated.
Energy consumption and production contribute to two-thirds of global emissions, and 81% of the global energy system is still based on fossil fuels, the same percentage as 30 years ago. Plus, improvements in the energy intensity of the global economy (the amount of energy used per unit of economic activity) are slowing. In 2018 energy intensity improved by 1.2%, the slowest rate since 2010.
Effective policies, private-sector action and public-private cooperation are needed to create a more inclusive, sustainable, affordable and secure global energy system.
Benchmarking progress is essential to a successful transition. The World Economic Forum's Energy Transition Index, which ranks 115 economies on how well they balance energy security and access with environmental sustainability and affordability, shows that the biggest challenge facing energy transition is the lack of readiness among the world's largest emitters, including US, China, India and Russia. The 10 countries that score the highest in terms of readiness account for only 2.6% of global annual emissions.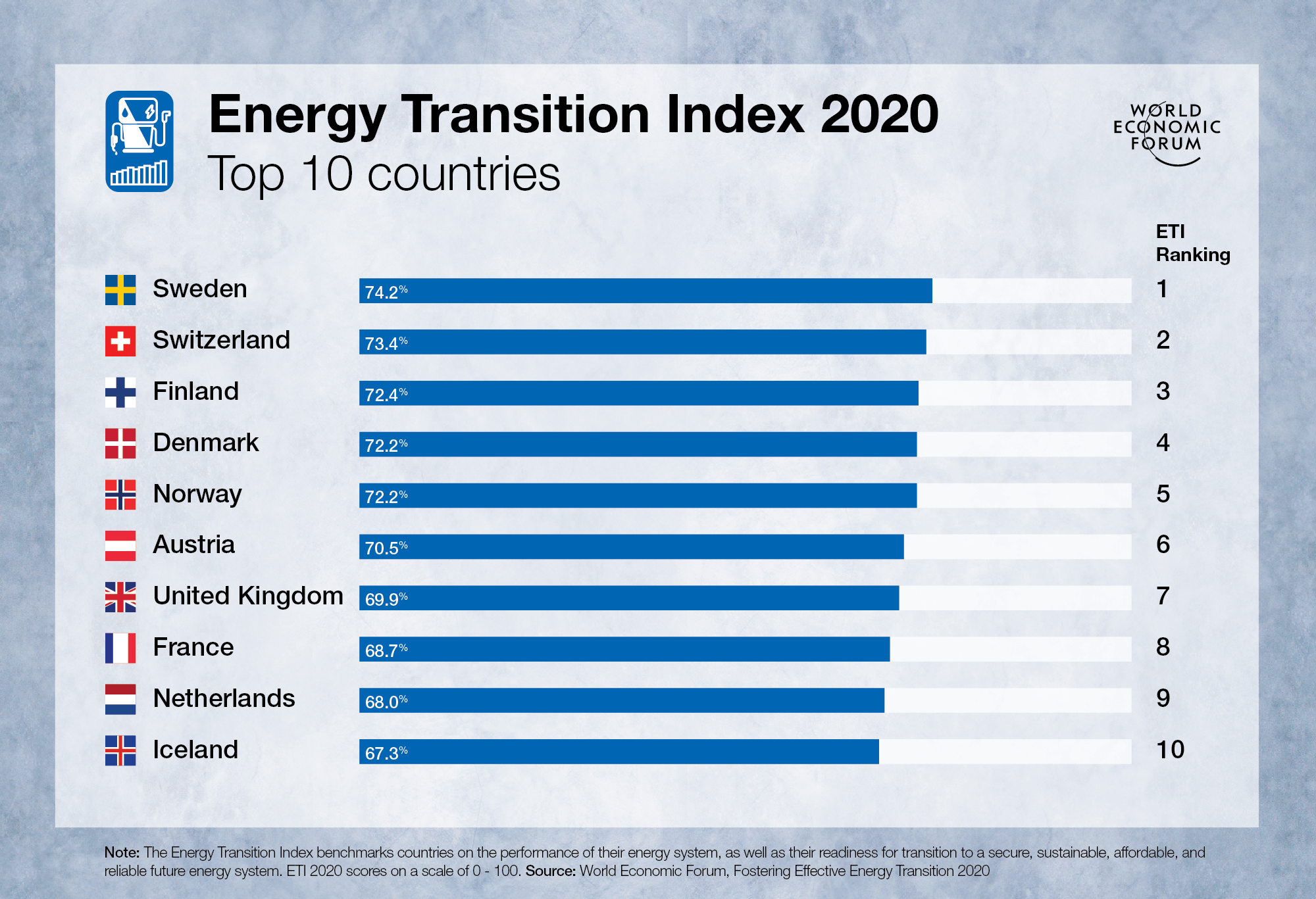 Additionally, the Mission Possible Platform (MPP) is working to assemble public and private partners to further the industry transition to set heavy industry and mobility sectors on the pathway towards net-zero emissions. MPP is an initiative created by the World Economic Forum and the Energy Transitions Commission.
Is your organisation interested in working with the World Economic Forum? Find out more here.
The first phase involves constructing a 10MW electrolyzer producing clean hydrogen to fuel buses and trucks, which could be operational by 2023. By phase two, the electrolyzer facility will increase to 250MW, and hydrogen will be used to produce renewable methanol to power maritime vessels and renewable jet-fuel for aviation. This is done by reacting the hydrogen with carbon dioxide captured from sources in Copenhagen.
The final phase will upgrade electrolyzer capacity to 1.3GW – making the facility one of the largest of its kind in the world. Given the current plans, this could be fully operational by 2030.
Cutting costs of hydrogen fuels production
This sort of industrial scale is key to bringing down the cost of sustainable hydrogen fuels– and meeting climate targets, like Denmark's moves to cut carbon emissions to 70% of 1990 levels by the end of the decade.
The group behind the project believe that to be competitive the production of these fuels will need to see similar cost reductions as offshore and onshore wind and solar.
But challenges remain. The COVID-19 crisis has paused some countries' efforts toward renewable energy. Resulting economic downturns could create barriers to the types of investments needed to make these shifts a reality. Additionally, as the IEA explains, a broad portfolio of clean energy technologies will be needed to truly decarbonise all parts of a country's economy.
As part of its Shaping the Future of Energy and Materials platform, the World Economic Forum has set up the Accelerating Clean Hydrogen initiative to help overcome these challenges by helping forge new collaborations to scale clean hydrogen fuels.