As we begin the recovery from COVID-19, we need to ask ourselves how we can build back better.
The pandemic has brought existing inequalities into sharp focus - and could make them worse.
But with a response driven by collaboration between all nations and societies, we can achieve true and lasting change.
'The new normal' is a phrase we have heard repeatedly in recent weeks, as some governments begin to ease lockdown restrictions and look for ways to reopen the economy. I believe that this is the time to be thinking more radically about the long-term future.
We need to acknowledge that life should not return to the way it was. Instead, we should ask ourselves how we can do things differently so we can build a better future for generations to come.
The COVID-19 pandemic is casting a stark light on the many intersecting inequalities that our economies and societies create, inequalities that devastate people's lives and opportunities, inequalities that should have no place in the future we want to create.
Around the world, countless people are struggling to make it through the day. That has always been true, and it remains true now; this virus is categorically not affecting all people equally. The most vulnerable are those living in poverty and those forced to leave their homes because of conflict, disaster or the lack of decent work locally. The pandemic will most probably act as a catalyst to make things even worse in areas that are already suffering from famine, drought, unemployment and conflict — leading to more people being displaced from their homes.
At the same time, the pandemic is showing us that pathways to a better future do exist — a future in which we can work together to build a different kind of society and find ways of protecting our planet instead of harming it.
We have a chance to do things better, a chance to get things right.
Following these pathways requires a collective response and unprecedented collaboration between all countries and all sections of society. I am optimistic that this is possible.
1. Protect the planet
We are all eager to see and feel signs of environmental recovery. Not only are we becoming more aware of our global economy's effect on the planet, but we are also eager for the planet's health to improve. We should be gathering evidence about how changes to our business-as-usual approach can heal the environment. Now more than ever, we need to search for solutions that are practical, affordable, and easily adoptable so that we put an end to our most destructive habits and ensure a liveable planet for generations to come. We must invest in solutions that help people and planet thrive together.
2. Champion access to renewable energy for all
The pandemic has shown us the drastic impact fossil fuels are having on our environment – and how quickly the planet starts to show signs of recovery when we stop using them. The need for renewable energy is even more critical now; it provides a lifeline for millions of people, but it's also a catalyst to ensure a bright, prosperous and healthy future for generations to come. Renewable energy is a golden thread that weaves all aspects of our lives together. It can power homes, businesses, schools and hospitals without endangering the health of people or our planet. Now more than ever, we need to champion access to renewable energy for the most vulnerable and remote communities, so no one is left behind.
3. Change our relationship to food production
We are all starting to understand how fragile our agricultural systems are and how the relationship between people, land and animals in one part of the world can affect everyone everywhere. Now more than ever, we need to advocate for more circular models, a different relationship with our food, a different relationship with the people who produce it, and with the land, plants and animals that nourish our families.
4. Support dignified work conditions and entrepreneurship
People are becoming more aware of the relationship between work and society. Job functions that were once ignored or undervalued are now recognised as vital, and many workers are—quite rightly—demanding better working conditions. Now more than ever, we should be advocating for safe, secure, and dignified employment, particularly for those people working in traditionally low-paid, undervalued roles and for those who are often excluded from earning a living, such as migrants and refugees. Everybody should have the opportunity to develop a sustainable income, contribute to society, own assets and build their family's resilience.
I also believe that entrepreneurs are crucial to lifting their communities out of poverty after the pandemic. They are the change-makers who have the creativity, the passion and the energy to transform their communities. Governments, big businesses and foundations must support entrepreneurs' creativity and skills so they can grow, create new livelihoods and opportunities, and help their local economies thrive.
5. Leave no one behind
We need everyone on board to ensure that these pathways lead to a better future. Refugees are particularly vulnerable to the impact of the COVID-19 crisis and the uncertainty it brings. At the same time, many refugees have been living with this lack of certainty and long-term perspective for years. Climate change will almost certainly exacerbate the problems they face. Yet, COVID-19 has shown so many examples of the valuable role refugees are playing in supporting local communities that have been hit by this health crisis. The IKEA Foundation's initiatives show how both host communities and refugees benefit if interventions are developed in an integrated way, promoting the self-reliance of not only refugees but local populations, too. Investing in the needs and building the resilience of local community organizations is one of the most effective ways to help families respond to and recover from problems they face, irrespective of their origin.
What is the World Economic Forum doing to manage emerging risks from COVID-19?
The first global pandemic in more than 100 years, COVID-19 has spread throughout the world at an unprecedented speed. At the time of writing, 4.5 million cases have been confirmed and more than 300,000 people have died due to the virus.
As countries seek to recover, some of the more long-term economic, business, environmental, societal and technological challenges and opportunities are just beginning to become visible.
To help all stakeholders – communities, governments, businesses and individuals understand the emerging risks and follow-on effects generated by the impact of the coronavirus pandemic, the World Economic Forum, in collaboration with Marsh and McLennan and Zurich Insurance Group, has launched its COVID-19 Risks Outlook: A Preliminary Mapping and its Implications - a companion for decision-makers, building on the Forum's annual Global Risks Report.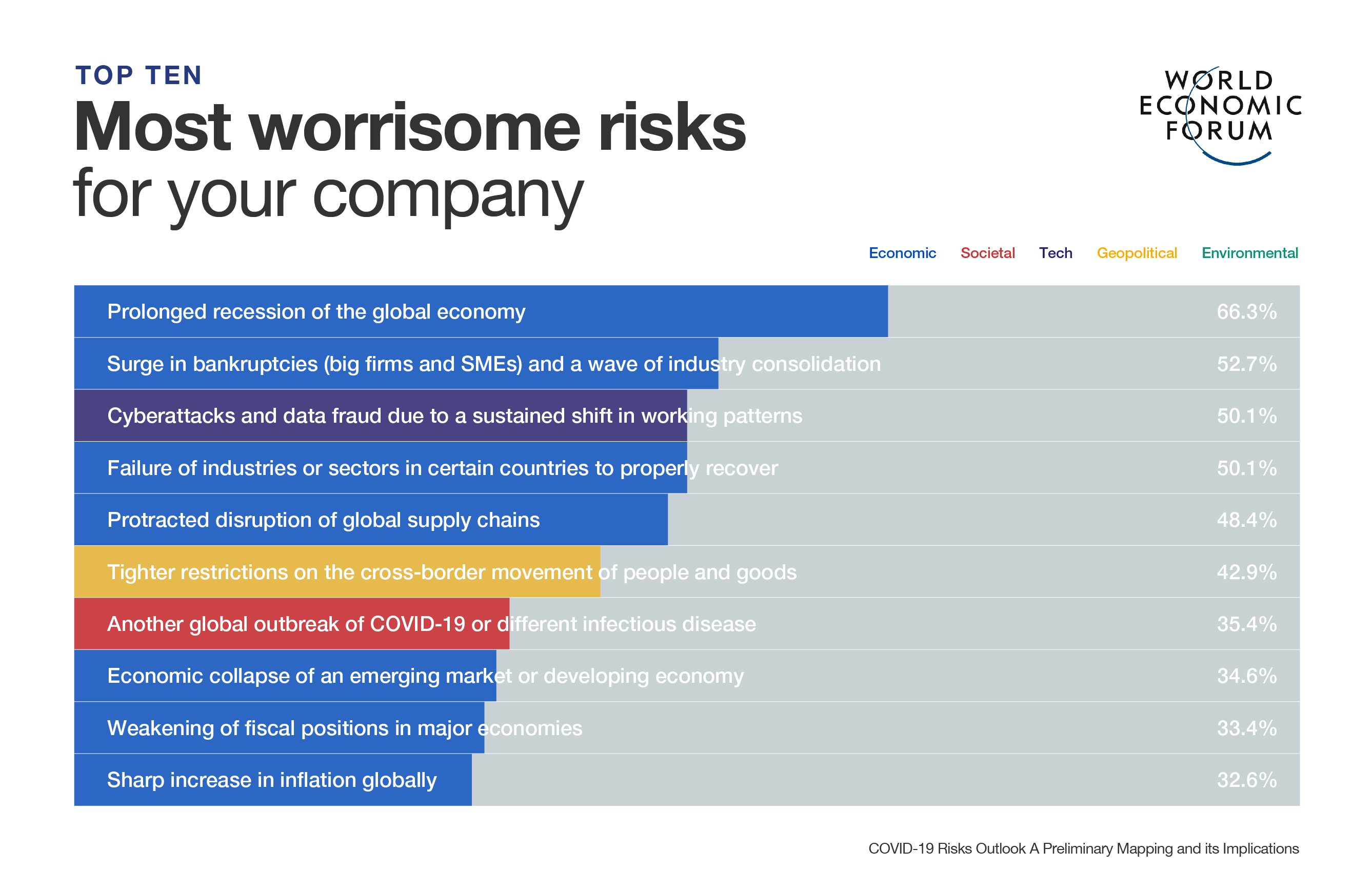 Challenging situations can bring out the best in people. Solidarity, unprecedented collaboration and new ways of thinking can help us emerge stronger and smarter from this pandemic. We at the IKEA Foundation are taking the first steps forward on this journey with our partners, and we urge you all to join us.