This daily round-up brings you a selection of the latest news updates on the COVID-19 coronavirus pandemic, as well as tips and tools to help you stay informed and protected.
Top stories: Oil prices fall, millions return to lockdown in the Philippines and a warning from the WHO.
1. How COVID-19 is affecting the globe
The Australian state of Victoria will deploy more military personnel to impose strict new COVID-19 lockdown measures. People breaking isolation orders could face a A$20,000 ($14,140) fine.
Oil prices have fallen as concerns about a recovery in fuel demand persist in the face of new COVID-19 infections around the world.
An Italian survey suggests coronavirus is much more prevalent in the country than previously thought. The survey, by statistics agency Istat and the health ministry, suggests that around 1.5 million people in the country have developed coronavirus antibodies - six times more than official figures reported.
2. 'There's no silver bullet at the moment and there might never be'
In a press conference, he said while progress was being made towards a number of effective vaccines, there might never be a silver bullet in fighting the disease.
"For now, stopping outbreaks comes down to the basics of public health and disease control," he said. "Testing, isolating and treating patients, and tracing and quarantining their contacts. Do it all. Inform, empower and listen to communities. Do it all."
He also called on individuals to play their part by wearing masks, social distancing and maintaining personal hygiene.
And countries must "keep going" even if they have the virus under control by improving health systems and surveillance, keeping safeguards in place and engaging with communities. "If we act together today, we can save lives, we can save livelihoods if we do it all together."
What is the World Economic Forum doing to manage emerging risks from COVID-19?
The first global pandemic in more than 100 years, COVID-19 has spread throughout the world at an unprecedented speed. At the time of writing, 4.5 million cases have been confirmed and more than 300,000 people have died due to the virus.
As countries seek to recover, some of the more long-term economic, business, environmental, societal and technological challenges and opportunities are just beginning to become visible.
To help all stakeholders – communities, governments, businesses and individuals understand the emerging risks and follow-on effects generated by the impact of the coronavirus pandemic, the World Economic Forum, in collaboration with Marsh and McLennan and Zurich Insurance Group, has launched its COVID-19 Risks Outlook: A Preliminary Mapping and its Implications - a companion for decision-makers, building on the Forum's annual Global Risks Report.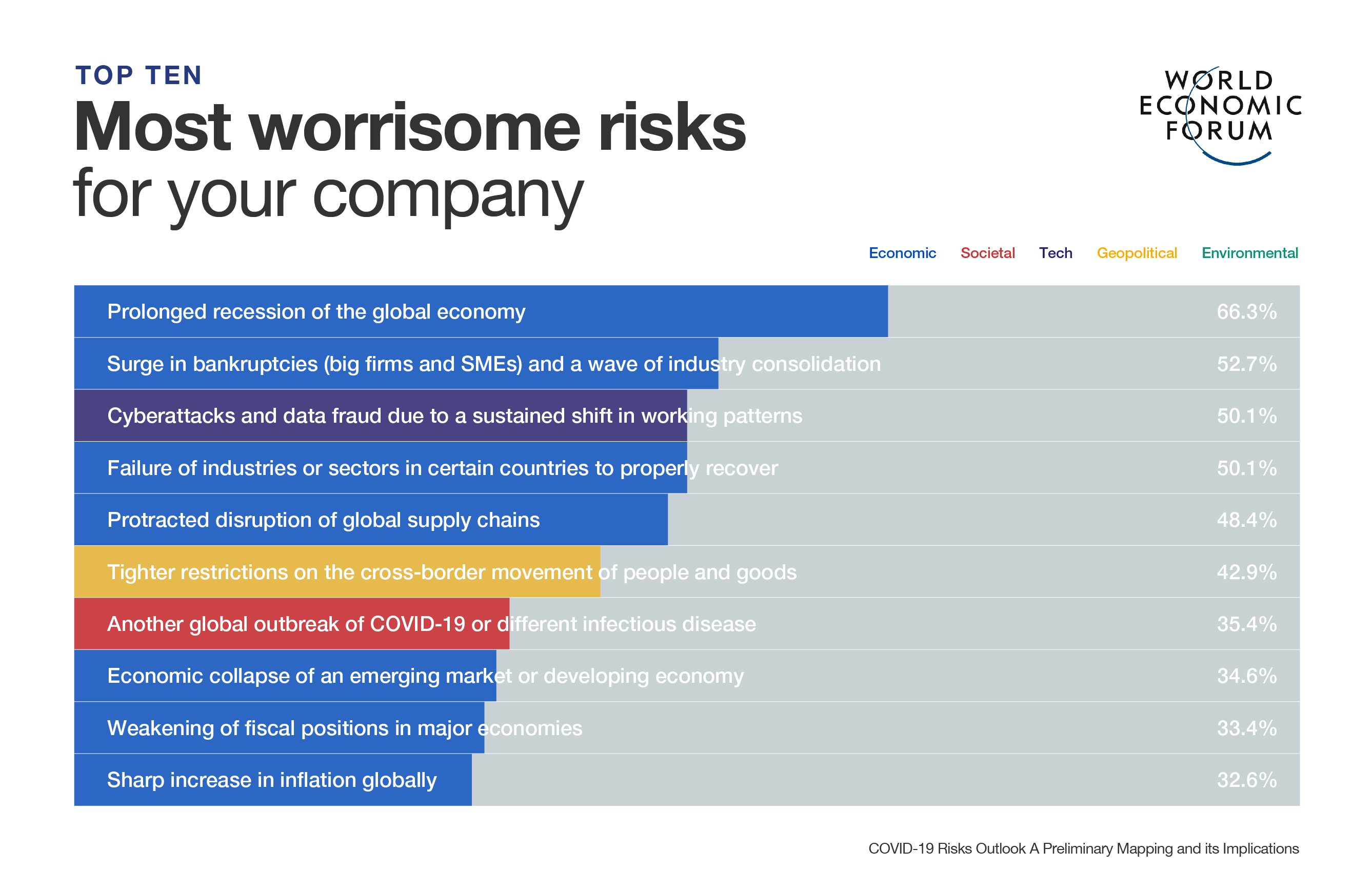 3. UN launches 'Save our Future' campaign
"We face a generational catastrophe that could waste untold human potential, undermine decades of progress, and exacerbate entrenched inequalities," he said.
The new campaign and policy brief calls for action in four key areas - starting with the reopening of schools once it's safe to do so. The Secretary-General also called for greater investment in education to plug funding gaps.
"We must take bold steps now, to create inclusive, resilient, quality education systems fit for the future," he said.