Think of an industrial cluster like a city with groups of manufacturing industries physically in the same location.
Industrial clusters account for 20% of Europe's emissions, which could rise as others sectors decarbonize first.
A suite of solutions can drive industrial clusters to net-zero: systemic efficiency, clean electrification, hydrogen and CCUS.
Industrial clusters have a big role to play in the clean energy transition. But what are they? And how can they help?
Industrial clusters are groups of industries, such as cement, steel and chemicals, physically in the same location. Europe is home to 3,000 such industrial clusters, representing 54 million jobs. Notable global examples include Humber (UK), Nagoya (Japan) and Suzhou Industrial Park (China).
As many countries and regions have set net-zero greenhouse gas (GHG) emission targets looking out to 2050, abating industrial emissions is coming into greater focus. The industries in these clusters are heavy users of fossil fuels and account for some of the hardest-to-abate emissions in our economy. Today, industrial clusters represent around 20% of Europe's GHG emissions (excluding transport), but that share could rise to a majority of emissions as other sectors decarbonize earlier.
So what role can industrial clusters play in the clean energy transition? The answer lies in the proximity of the businesses in each cluster. This size and aggregation of energy demand across industries not only creates opportunities for systemic efficiencies, electrification, demand optimization, and carbon capture, utilisation and storage (CCUS), but also an internal market for hydrogen – the most promising technology for decarbonizing hard-to-abate sectors of the economy. The production and consumption of hydrogen can be co-located, meaning you don't need to invest in long-distance infrastructure.
Think of an industrial cluster like a city
These clusters share many characteristics of a city, and thinking of them in that vein helps focus on the levers for decarbonization. In the same way as a city, think about pursuing efficiency and demand optimization opportunities to improve system efficiency as well as electrifying what you can. In the case of industrial clusters, this would mean electrifying light industrial and medium-pressure processes. But today this will only take you so far: high-temperature, high-pressure processes or heavy goods transport cannot be easily electrified. You may need other solutions – and that's where hydrogen comes in.
Today, most hydrogen is produced via fossil fuels such as coal or natural gas (grey hydrogen). However, alternate hydrogen production methods that can significantly reduce or eliminate emissions are advancing. Examples include splitting water into hydrogen and oxygen through electrolysis using electricity from wind and solar or producing hydrogen from nuclear generation (green hydrogen); as well as capturing, using and/or storing the CO2 produced when hydrogen is made using fossil fuels (blue hydrogen).
For instance, offshore wind generates electricity that can be converted to hydrogen via the electrolysis of seawater and transported via existing gas pipelines. Demonstration projects are already underway: Shell, Gasunie and Groningen Seaports have teamed up for a renewable hydrogen project to achieve annual production of 800,000 tons of green hydrogen by 2040 with power from up to 10 GW of offshore wind.
Implementing hydrogen, combined with cost-effective electrification opportunities, can chart a zero-carbon future for Europe's industrial clusters. Hydrogen can be used for:
Industry: as a feedstock for high-pressure, high-heat industries which are difficult to electrify
Storage: when electricity from wind and solar exceeds demand
Mobility: to derive fuels for long-haul land and maritime shipping and aviation
Heat: through long-term, large-scale storage replacing natural gas for heat
Industrial clusters: a true team sport
Humber, in the North of England, is home to one of many ongoing projects to decarbonize clusters across Europe. Currently, Humber is the UK's largest cluster by industrial emissions, emitting over 12 million tonnes of CO2 each year.
The goal is to transform the Humber region into the UK's first net-zero carbon cluster by 2040. The best strategy would be to electrify what is possible, create efficiencies and ramp up efforts on CCUS and blue hydrogen. This would then allow the hydrogen infrastructure that is initially developed for blue hydrogen to also be used for green hydrogen, as Humber is close to two of the largest offshore wind farms in the UK – Hornsea and Dogger Bank. The industrial cluster is able to decarbonize by using blue/green hydrogen as a replacement for fossil fuels in industrial processes and power stations.
The effort is a true team sport, bringing together supporters and partners across the value chain, including Associated British Ports, British Steel, Centrica Storage Limited, Drax, Equinor, Mitsubishi Power, National Grid Ventures and SSE Thermal. Because industrial clusters are about industry co-location, they are often found in more socially disadvantaged areas. Decarbonization of industrial clusters is poised to create significant jobs; blue and green hydrogen could create upwards of 900,000 jobs in Europe by 2050.
What's the World Economic Forum doing about the transition to clean energy?
Moving to clean energy is key to combating climate change, yet in the past five years, the energy transition has stagnated.
Energy consumption and production contribute to two-thirds of global emissions, and 81% of the global energy system is still based on fossil fuels, the same percentage as 30 years ago. Plus, improvements in the energy intensity of the global economy (the amount of energy used per unit of economic activity) are slowing. In 2018 energy intensity improved by 1.2%, the slowest rate since 2010.
Effective policies, private-sector action and public-private cooperation are needed to create a more inclusive, sustainable, affordable and secure global energy system.
Benchmarking progress is essential to a successful transition. The World Economic Forum's Energy Transition Index, which ranks 115 economies on how well they balance energy security and access with environmental sustainability and affordability, shows that the biggest challenge facing energy transition is the lack of readiness among the world's largest emitters, including US, China, India and Russia. The 10 countries that score the highest in terms of readiness account for only 2.6% of global annual emissions.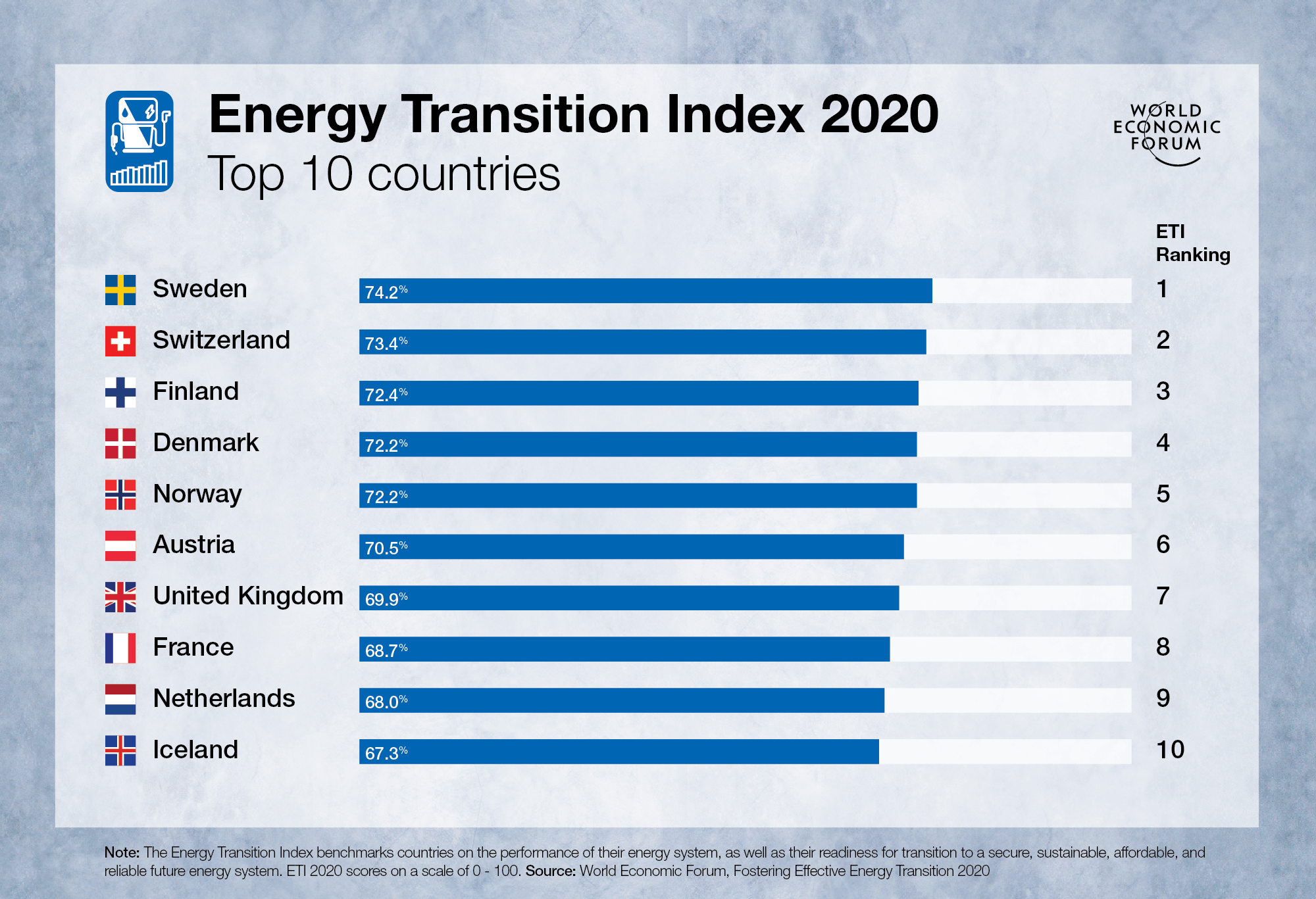 Additionally, the Mission Possible Platform (MPP) is working to assemble public and private partners to further the industry transition to set heavy industry and mobility sectors on the pathway towards net-zero emissions. MPP is an initiative created by the World Economic Forum and the Energy Transitions Commission.
Is your organisation interested in working with the World Economic Forum? Find out more here.
New partnerships for integrated energy systems
As we move to net-zero carbon, systemic efficiency, clean electrification and hydrogen – combined into an integrated energy system – are part of the solution. And the European hydrogen opportunity is big. For example, if 80% of industrial energy needs were met by green hydrogen by 2050, an estimated 45 million tonnes of hydrogen would be required, and more than 400 GW of associated wind and solar.
Cross-industry collaboration and an ecosystem are required to make this work, with industrial companies essential to the cluster. The industrial cluster is a way to decarbonize, generate new jobs in underserved areas, and deliver vital benefits like better air quality and health. We're excited to support collaboration around this essential part of the energy transition as we look ahead to a net-zero future.