A World Economic Forum, AARP and the OECD study finds that investing in multi-generational workforces will raise GDP per capita by almost 19% in three decades.
Key findings show that there are social and business benefits to a thriving workforce inclusive of employees from all life stages.
As we search for ways to accelerate growth in the post-pandemic world, companies that invest in an age-diverse workforce will capitalise.
Longevity has accelerated at an unprecedented pace in human history during the past century. Today, we are living longer than at any other time, with the 65+ population growing faster than other age groups. The impacts of this demographic shift are already being felt in all facets of the economy and society, such as health care and pension systems. But one area in which we have yet to fully explore the implications of longevity is in the future of work.
For the first time ever, five generations are working side by side in the workplace, creating a true multi-generational workforce. Age and health spans are improving into later life, while many workers are deferring retirement and working longer. Emerging research suggests this new workforce demographic is a powerful potential source of growth for companies.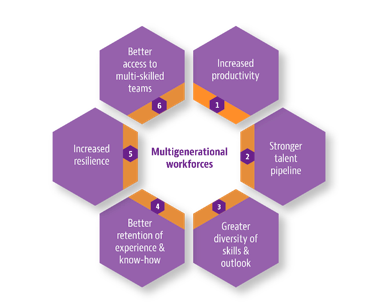 Key learnings that have emerged from this initiative show that there are clear benefits to a thriving multi-generational workforce. At the societal level, the OECD estimates that age-diverse workforces will create a more efficient, productive and profitable economy and raise GDP per capita by almost 19% in the next three decades.
At the company level, the report found several distinct competitive advantages, namely that older workers can boost firm productivity not only through their own experience and wisdom, but also enhancing team performance through skills matching – knowledge sharing between junior and senior employees, resulting in intergenerational learning and collaborating. Furthermore, older workers are far less likely than their younger counterparts to move to other companies, providing stability and continuity.
However, the Living, Learning and Earning Longer initiative has also found this key finding: most employers are not yet meaningfully focused on building an age-diverse talent pool of employees. Many employers are just beginning to ask how they can invest in a multigenerational workforce, and our work points to three areas that form the foundation of an age-diverse workforce strategy:
Attract talent of all ages
Companies should make an increased effort to eliminate age-bias when recruiting. The OECD recommends using age-neutral imagery and language in job descriptions, as well as software programs to sort applications.Help to retain workers by offering phased retirement programs that allow employees to leave the workforce on a more flexible timeline. Studies show that 57% of workers globally want to work beyond traditional retirement ages, but less than one in three have the option to move from full- to part-time work.
Create a holistic work environment
Create a work environment that is suitable for all employee life stages. One of the best tools for employer satisfaction is that which most of us have experienced during the pandemic – flexible working. Offering an adaptable work schedule that can be used by workers, no matter their stage in life, is crucial to keeping employees satisfied. It needs to remain as an available option after the pandemic. Investing in wellness programs that focus not just on physical health, but mental and financial wellbeing. Employees expect their companies to support them in multiple ways throughout life, including providing assistance for issues such as retirement planning.
Support upskilling and reskilling throughout an employee's career
Many workers are eager to learn new skills and continue to grow in their jobs. A recent report from PricewaterhouseCoopers estimates that encouraging people nearing retirement age to remain in the workforce could add $3.5 trillion to the economies of the 37 member countries in the OECD.Upskilling and reskilling is a trend that many companies are embracing. However, it shouldn't be limited to younger employees – anyone should have the chance to continually upskill their proficiencies and benefit from new tools.
Finally, a fundamental finding from our study is the need to challenge the common stereotype that a multi-generational workforce can be contentious and competitive. One of the key learnings from the LLEL initiative was that having different generations working together creates more innovation and improves team performance. This is consistent with the World Economic Forum's Future of Jobs Report 2020, in which the Forum mapped out the 15 skills employers will need most by 2025 to thrive.
While many of these skills are technical and focus on knowledge most often associated with younger workers, they also include several that human beings tend to hone over time and with age – critical thinking and analysis, emotional intelligence, and persuasion and negotiation skills.
So, taken together, this work paints a clear picture – investing in a multi-generational workforce makes strong business sense. As we now search for ways to accelerate economic growth in a post-pandemic world, we need to retire the notion that promoting age diversity is just a feel-good story.
Rather, the future of the workplace is already here, and those who truly invest in multi-generational workforces will be best positioned to emerge as the innovators and business leaders of tomorrow.