Future of Work
How a multi-generational workforce is key to economic growth
Research is showing that employing multi-generational workforces can create a significant competitive advantage, generating a stronger pipeline of talent. Image: Unsplash
Head, Financial Services Industries,
World Economic Forum
Centre Curator, Financial Services,
World Economic Forum
Stay up to date:
Future of Work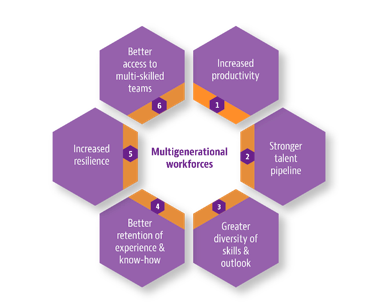 Older workers can boost productivity not only through their own experience and wisdom, but also by enhancing team performance through knowledge sharing. Image: Citation: OECD (2020), Promoting an Age-Inclusive Workforce: Living, Learning and Earning Longer, OECD Publishing, Paris
Don't miss any update on this topic
Create a free account and access your personalized content collection with our latest publications and analyses.
License and Republishing
World Economic Forum articles may be republished in accordance with the Creative Commons Attribution-NonCommercial-NoDerivatives 4.0 International Public License, and in accordance with our Terms of Use.
The views expressed in this article are those of the author alone and not the World Economic Forum.
Related topics:
Global Agenda
The Agenda
Weekly
A weekly update of the most important issues driving the global agenda