Creating a truly circular economy will take transforming existing systems. Today, two leaders shared the roles their governments are playing to trigger change at the opening session of today's Japan Circular Economy Roundtable, hosted by the World Economic Forum.
What is the World Economic Forum doing about the circular economy?
The World Economic Forum has created a series of initiatives to promote circularity.

1. Scale360° Playbook was designed to build lasting ecosystems for the circular economy and help solutions scale.
Its unique hub-based approach - launched this September - is designed to prioritize circular innovation while fostering communities that allow innovators from around the world to share ideas and solutions. Emerging innovators from around the world can connect and work together ideas and solutions through the UpLink, the Forum's open innovation platform.
Discover how the Scale360° Playbook can drive circular innovation in your community.
2. A new Circular Cars Initiative (CCI) embodies an ambition for a more circular automotive industry. It represents a coalition of more than 60 automakers, suppliers, research institutions, NGOs and international organizations committed to realizing this near-term ambition.
CCI has recently released a new series of circularity "roadmaps", developed in collaboration with the World Economic Forum, the World Business Council for Sustainable Development (WBCSD), McKinsey & Co. and Accenture Strategy. These reports explain the specifics of this new circular transition.

Connect to Learn More →
Shaping new systems
Governments can help shape new behaviors. Such work is important, said Shinjirō Koizumi, Japan's Minister of the Environment, as the country prioritizes decarbonization, and moves toward a world that is more circular and decentralized.
To that end, Japan has developed a range of instruments, including guidance on sustainable finance and new policies, such as a new bill aimed at advancing plastic material circulation.
Said Koizumi, "It is essential for all of us to redesign our economic systems to make them sustainable and resilient."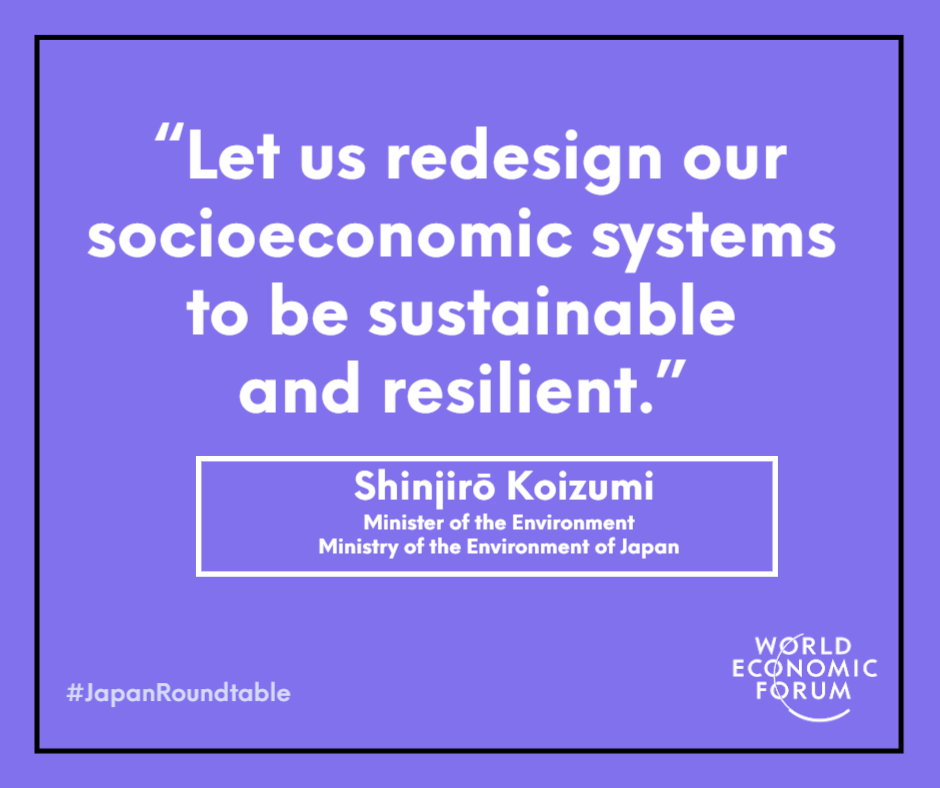 Forging new collaborations
Collaboration will also be key, said Koizumi. To that end, the government announced the Partnership on Circular Economy Tuesday, a new public-private partnership intended to help aggregate best practices and identify barriers and solutions both internationally and domestically.
"Partnership between public and private sectors is absolutely necessary," said the Japanese Minister. "I truly believe we can make a difference only when we join forces."
The Netherlands also believes that collaboration is critical to the circular economy. Said Stientje van Veldhoven, Minister of Environment Netherlands: "Collaboration must transcend sectors and borders."
Creating incentives
Governments play an important role in those collaborations by acting as facilitators, stimulating marketing and creating incentives for circularity. For instance, as a major construction client, the Dutch government can set expectations for circular practices, van Veldhoven explained. Through procurement of sustainably designed uniforms for defense workers, the government can also help promote circular principles for textiles.
Other initiatives, such as one that promotes circular office furniture, can help encourage the country's 100,000 workplaces to reuse where possible to meet shifting demands.
Additionally, a government-wide circular economy program in the Netherlands aims to halve the use of natural resources by 2030, said the Dutch minister.
"Action is what it's all about," said van Veldhoven. "There's no way to carbon neutrality without a circular economy."
About the Roundtable: The Roundtable – presented in collaboration with the Ministry of Environment, Japan – was organized by the World Economic Forum's Circular Economy Initiative. The event, held 2-3 March, featured two days of high-level discussions exploring trends, policies and leading practices to scale circular economy ambitions.
The Roundtable was kicked off by a public livestreamed session that included the following speakers: Shinjirō Koizumi, Minister of the Environment, Japan; Stientje van Veldhoven, Minister of Environment Netherlands; Børge Brende, President and CEO, World Economic Forum; Naoko Ishii, The University of Tokyo; Masayuki Waga, CEO Mitsubishi Chemical Corporation; Tsutomu Sugimori, Vice Chair Keidanren (Japan Business Federation).