By taking more ambitious climate action, corporations can both help the planet and spur innovation.
More than 200 companies have taken their ambition public by signing The Climate Pledge to reach net zero by 2040.
Businesses should also decide where they'll scale change to have the greatest impact, and invest in sustainable and zero-carbon technologies.
In August, the Intergovernmental Panel on Climate Change (IPCC) finalized the first part of the Sixth Assessment Report, Climate Change 2021: The Physical Science Basis. The report presents a stark warning that human activity is changing the Earth's climate in unprecedented, inevitable and irreversible ways.
In February 2021, the United States rejoined the Paris Agreement, the ambitious global accord created to fight against the worst effects of climate change. The move reestablished the country's leadership in responding to the climate crisis. However, it is only an initial step.
For years, many companies have been leading and investing in climate. Others are realizing that tackling climate change is not only essential for the health of our planet but it's also table stakes from a business perspective. And customers continue to push business to do more.
All companies have a role to play in investing in solutions to protect the planet and the economy. And all companies – including Amazon – have work to do to further reduce their operations' carbon footprint and carbon intensity. In addition to being the right thing to do, taking ambitious climate action can spur innovation that helps a business and its customers.
So, what do you do if you want to do more? Here are 3 steps companies can take to be more ambitious on climate – and ensure we reach the net-zero future we need.
1. Go public with your ambition.
If you have ambitious climate goals, you need accountability – and making your goals public is one of the best ways to get the accountability needed to drive change.
In 2019, Amazon worked with Christiana Figueres, one of the architects of the Paris Agreement, to co-found The Climate Pledge. The pledge, which invites organizations to take urgent action, is a commitment to reach net-zero carbon emissions by 2040 – 10 years ahead of the Paris Agreement.
So far, more than 200 companies – including Best Buy, IBM, Microsoft, Procter & Gamble, Salesforce, Unilever and Verizon – have signed the Climate Pledge. Signatories in total generate more than $1.8 trillion in global annual sales and have more than 7 million employees across 26 industries in 21countries – demonstrating the collective impact The Pledge can have in addressing climate change. And we're just getting started. By uniting to fight climate change, we send an important signal that it's time to invest in the products and services pledge signatories will need to achieve net-zero carbon by 2040.
2. Decide where you'll scale change.
You can't do everything – but you can start with the challenges where your company can have the greatest impact. Let me tell you about Amazon's progress in decarbonizing our transportation operations.
One of the leading sectors driving up global carbon emissions is transportation. A quarter of global energy-related greenhouse gas emissions come from transport due to the high amount of fossil fuel consumed across the sector. If we do nothing, this could grow to a third by 2050, according to World Bank.
Alternative transport solutions, along with efficiency and optimization, are essential in creating the low-carbon economy of the future.
Amazon has made tangible, operational changes and investments throughout our business, including those in the transportation and logistics spaces. Already, Amazon lowered its carbon intensity by 16% from 2019 to 2020, reflecting our early progress to decarbonize our operations as we continue to grow on behalf of our customers. We also placed an order for 100,000 electric delivery vehicles with Rivian in 2019, the largest order ever of electric delivery vehicles. They've already begun to hit the road, testing customer deliveries ahead of a planned rollout of 10,000 as early as 2022, and all 100,000 vehicles on the road by 2030. We partnered with Mahindra Electric and Mercedes-Benz for thousands of electric vehicles to power our fleet in Europe and Asia. To date, we have delivered more than 20 million packages to customers in electric delivery vehicles across North America and Europe, and we are committed to making all Amazon shipments net-zero carbon through Shipment Zero, with a goal of delivering 50% of all shipments with net-zero carbon by 2030.
3. Tackle tomorrow's technology today.
It's not enough for companies to address today's operations. In addition to reducing existing emissions, we need to ensure we don't emit more later by thinking ahead and designing sustainable and zero-carbon technology for future use.
We launched The Climate Pledge Fund in 2020 to support the development of sustainable and decarbonizing technologies and services. This dedicated investment program – with an initial $2 billion in funding – invests in visionary companies whose products and solutions will facilitate the transition to a low-carbon economy.
To date, we've invested in companies like:
BETA Technologies, an electric Vertical Takeoff and Landing (eVTOL) company that is building electric aircraft that can be used in cargo and logistics.
Infinium, a renewable electrofuels solution provider that converts carbon dioxide and hydrogen feedstocks into net-zero carbon fuels for use in today's air transport, marine freight and heavy truck fleets.
ZeroAvia, a leader in zero-emission aviation, focused on developing hydrogen-electric aviation solutions that will progressively enable turbo-propeller aircraft to transport passenger or cargo payloads with zero-carbon emissions.
What's the World Economic Forum doing about the transition to clean energy?
Moving to clean energy is key to combating climate change, yet in the past five years, the energy transition has stagnated.
Energy consumption and production contribute to two-thirds of global emissions, and 81% of the global energy system is still based on fossil fuels, the same percentage as 30 years ago. Plus, improvements in the energy intensity of the global economy (the amount of energy used per unit of economic activity) are slowing. In 2018 energy intensity improved by 1.2%, the slowest rate since 2010.
Effective policies, private-sector action and public-private cooperation are needed to create a more inclusive, sustainable, affordable and secure global energy system.
Benchmarking progress is essential to a successful transition. The World Economic Forum's Energy Transition Index, which ranks 115 economies on how well they balance energy security and access with environmental sustainability and affordability, shows that the biggest challenge facing energy transition is the lack of readiness among the world's largest emitters, including US, China, India and Russia. The 10 countries that score the highest in terms of readiness account for only 2.6% of global annual emissions.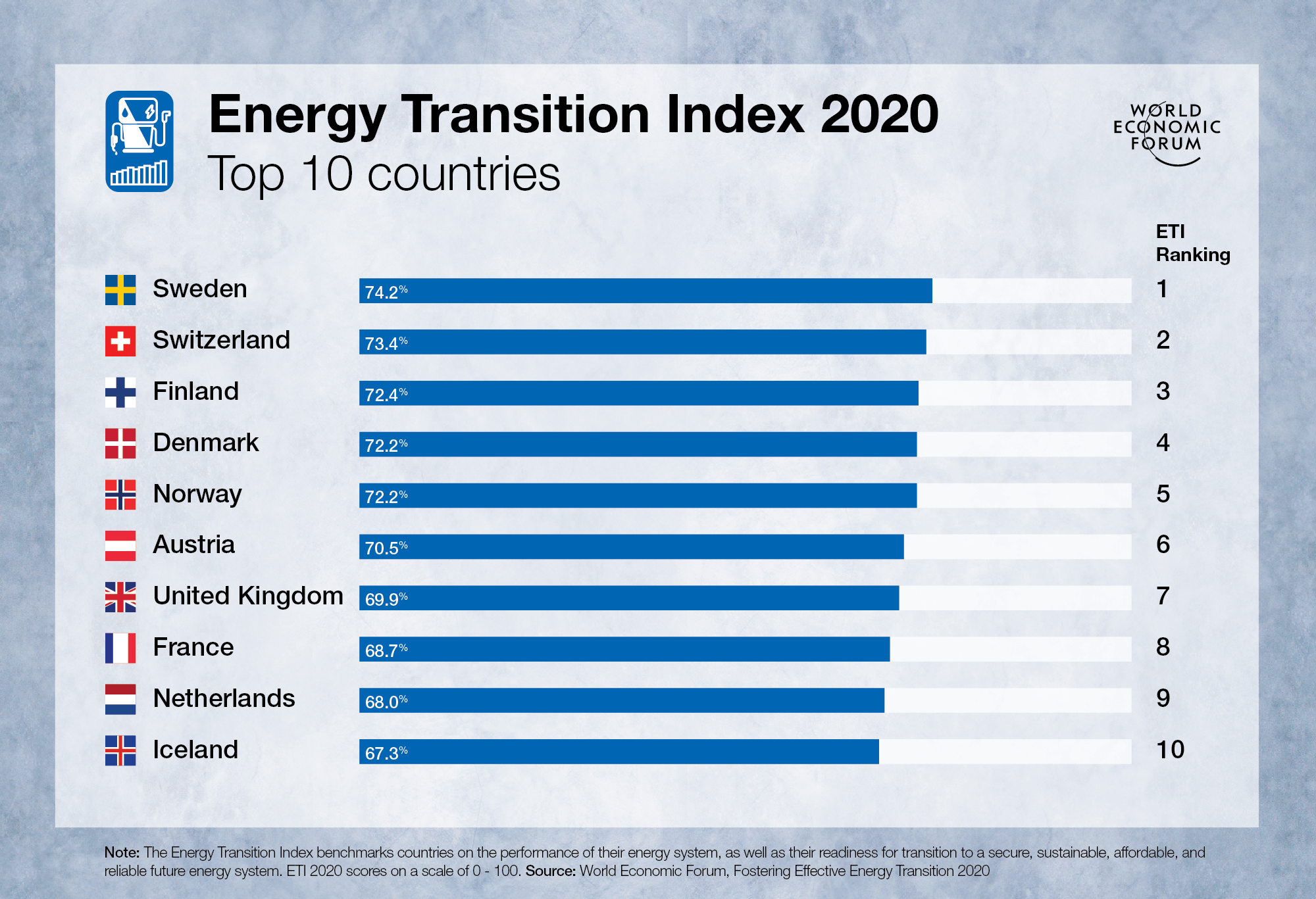 Additionally, the Mission Possible Platform (MPP) is working to assemble public and private partners to further the industry transition to set heavy industry and mobility sectors on the pathway towards net-zero emissions. MPP is an initiative created by the World Economic Forum and the Energy Transitions Commission.
Is your organisation interested in working with the World Economic Forum? Find out more here.
While world governments must align on the dire need to address climate change, this challenge weighs on us all. And while we are a big company, we cannot do this alone. Together with those 200-plus companies that have already joined The Climate Pledge, we can spur innovation, share best practices and work toward advancing our collective decarbonization goals through collaboration and joint action.
Only together can we build a cleaner, more sustainable planet and deliver the low-carbon economy of the future.